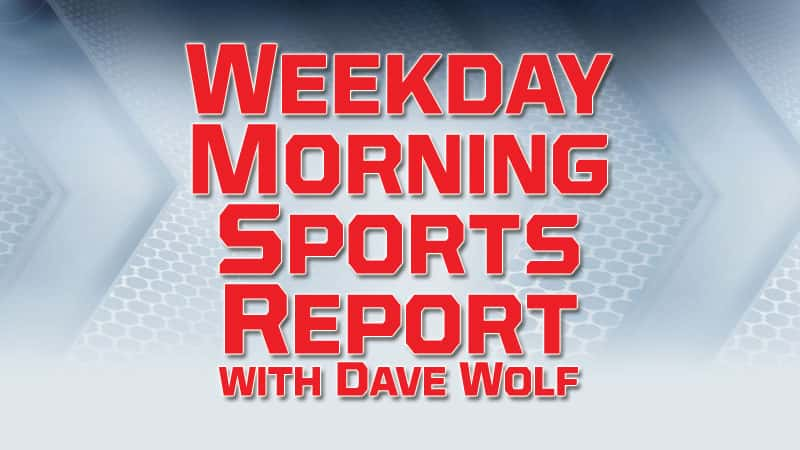 NFL – National Football League – Week 15
Last Night
New Orleans Saints 12, Carolina Panthers 9
Saints 12, Panthers 9 – Saints stifle Panthers
The New Orleans Saints have control of the No. 1 seed in the NFC playoffs after putting the clamps on Cam Newton and the Carolina Panthers. Alvin Kamara had 103 yards from scrimmage and scored a go-ahead touchdown in the fourth quarter of the Saints' 12-9 win at Carolina. The Saints were held to a pair of Will Lutz field goals until Kamara ripped off a 16-yard scoring run with 12:12 remaining. New Orleans held Newton to 132 yards passing, sacked him four times and forced turnovers. The Saints' defense didn't allow a point following Chris Manhertz's 50-yard scoring pass to Chris McCaffrey on a trick play in the first quarter.  The Saints are 12-2 and one game ahead of the Rams for the top seed in the NFC postseason. The Panthers have played themselves out of playoff contention by losing six straight since a 6-2 start.
NBA – National Basketball Association
Last Night
Milwaukee Bucks 107, Detroit Pistons 104
Oklahoma City Thunder 121, Chicago Bulls 96
Bucks 107, Pistons 104 – Bucks hold on late for 107-104 win over Pistons
Giannis Antetokounmpo had 32 points and 12 rebounds, and the Milwaukee Bucks held on for a 107-104 victory over the Detroit Pistons on Monday night when Blake Griffin missed a last-second 3-pointer.  Griffin actually missed two 3s in the final 14 seconds. The Detroit star already had a triple-double after three quarters, but it was a quiet fourth for him. Griffin finished with 19 points, 11 assists and 10 rebounds, but he also had 10 turnovers. The Pistons rallied from a 15-point, third-quarter deficit and took an 89-86 lead in the fourth when Stanley Johnson connected from 3-point range. Milwaukee was up 100-99 when Eric Bledsoe of the Bucks missed three straight free throws, but Antetokounmpo briefly took over after that.
Thunder 121, Bulls 96 – George, Westbrook lead Thunder past Bulls 121-96
Paul George scored 16 of his game-high 24 points in the final five minutes of the first half and the Oklahoma City Thunder rolled to a 121-96 victory over the Chicago Bulls on Monday night. George's scoring outburst came in the final 4:47 of the second quarter as Oklahoma City outscored the Bulls 23-7 and built a 64-44 lead by the break. He scored just one point in the second half. Russell Westbrook had 13 points, 16 rebounds and 11 steals for his 111th career triple-double. Steven Adams added 19 points and Dennis Schroder scored 18 for the Thunder. Lauri Markkanen and Bobby Portis had 16 points apiece to lead Chicago. Markkanen adding 15 rebounds.
Tonight
Cleveland Cavaliers at Indiana Pacers, 7:00 p.m.
NCAAFB – Notre Dame's Kelly wins AP Coach of the Year for second time
Notre Dame's Brian Kelly is The Associated Press college football Coach of the Year, becoming the third multiple winner since it was established in 1998.  Kelly received 16 of 58 first-place votes from AP college football poll voters and 81 total points. Alabama's Nick Saban was second with 16 first-place votes and 66 points and Central Florida first-year coach Josh Heupel (HY'-pul) was
third with 33 points. Kelly joins Saban and TCU's Gary Patterson as two-time winners. Kelly was also coach of the year in 2012.
NCAAFB – College Football – Bowls
Tonight
Cheribundi Boca Raton Bowl – FAU Stadium, Boca Raton, FL
UAB vs. Northern Illinois, 7:00 p.m.
NCAAMBB – Men's College Basketball
Tonight
Binghamton at Notre Dame, 7:00 p.m.
NCAAMBB – Top three spots unchanged
Kansas, Duke and Tennessee are atop the latest AP Top 25 men's college basketball poll for the second straight week.  The Jayhawks earned 56 of 65 first-place votes to stay at No. 1, a perch they held in the preseason before being overtaken by Duke and later Gonzaga. Kansas returned to the top last week then beat reigning national champion Villanova. Michigan and Virginia each climbed a spot into the top 5. Gonzaga slid four spots to eighth after losing at North Carolina, which jumped three spots to ninth.  No. 25 Nebraska was the only addition to this week's poll, though the Cornhuskers were ranked earlier this month. Villanova fell out for the second time this season after losing at Kansas and to Penn.
NCAAWBB – Baylor drops out of top 5 in AP women's basketball poll
Baylor fell out of the top five for the first time in nearly a year after losing at Stanford.  The Lady Bears dropped from third to sixth in The Associated Press women's basketball poll on Monday after losing 68-63 on Saturday to the then-No. 11 Cardinal. Stanford moved up to eighth. Kim Mulkey's team last was ranked outside the top five on Jan. 1, 2018, when Baylor was No. 6.
UConn and Notre Dame still are the top two teams in the country.
AP MEN'S TOP 25

1

Kansas (56)

9-0

2

Duke (5)

9-1

3

Tennessee (2)

8-1

4

Michigan (1)

11-0

5

Virginia (1)

9-0

6

Nevada

11-0

7

Auburn

9-1

8

Gonzaga

9-2

9

North Carolina

8-2

10

Michigan State

9-2

11

Florida State

8-1

12

Texas Tech

10-0

13

Virginia Tech

9-1

14

Buffalo

10-0

15

Ohio State

9-1

16

Wisconsin

9-2

17

Mississippi State

9-1

18

Arizona State

8-1

19

Kentucky

8-2

20

Marquette

8-2

21

Houston

10-0

22

Indiana

9-2

23

Iowa

8-2

24

Furman

12-0

25

Nebraska

9-2

AP WOMEN'S TOP 25

1

UConn(31)

9-0

2

Notre Dame

9-1

3

Louisville

11-0

4

Mississippi State

10-0

5

Maryland

10-0

6

Baylor

8-1

7

Oregon

8-1

8

Stanford

7-1

9

Tennessee

8-0

10

NC State

11-0

11

Oregon State

8-2

12

Texas

8-2

13

Minnesota

10-0

14

California

9-0

15

Syracuse

9-2

16

Iowa

8-2

17

Arizona State

8-2

18

Kentucky

10-1

19

Marquette

8-2

20

DePaul

7-3

21

Gonzaga

10-1

22

Michigan State

9-1

23

Texas A&M

8-2

24

Miami

9-2

25

South Carolina

6-4
NHL – National Hockey League
Tonight
Detroit Red Wings at Philadelphia Flyers, 7:00 p.m.
Nashville Predators at Chicago Blackhawks, 8:30 p.m.
NHL – Blackhawks place G Crawford on injured reserve
The Chicago Blackhawks have placed goaltender Corey Crawford on injured reserve after he suffered a concussion for the second straight season.  Crawford got hurt in the first period of Sunday's 7-3 loss to San Jose when the back of his head struck the right post during a goalmouth pileup. He also missed the final part of last year and the start of this season because of a concussion.  Crawford, who turns 34 on Dec. 31, is 6-14-2 this season with a 3.28 goals-against average and a .902 save percentage. Also Monday, the last-place Blackhawks recalled goaltender Collin Delia on an emergency basis from Rockford of the American Hockey League. He made his NHL debut in March and went 1-1 in two starts with Chicago.  The Blackhawks host Nashville on Tuesday night.
NHL – Flyers fire coach Hakstol, Gordon is interim replacement
The Philadelphia Flyers have fired head coach Dave Hakstol and replaced him with Scott Gordon on an interim basis.  The Flyers have lost 11 of their last 14 games and are in last place in the Eastern Conference, prompting newly-hired general manager Chuck Fletcher to dismiss Hakstol.  Gordon was in his third season as head coach of the AHL's Lehigh Valley Phantoms and spent two-plus seasons as head coach of the New York Islanders. Hakstol was originally hired by Ron Hextall, who was fired as GM two weeks ago. The 50-year-old Hakstol led the Flyers to the playoffs in two of his three full seasons at the helm and went 134-101-42.  Gordon will make his debut tonight against the Red Wings.
MCCAA – Junior College Basketball
Tonight
Women:        Joliet Junior College at Lake Michigan College, 5:30 p.m.
Men:             Joliet Junior College at Lake Michigan College, 7:30 p.m.
MHSAA – High School Sports
Last Night
Boys Basketball
River Valley 64, Covert 10
Kalamazoo Central 62, Battle Creek Central 37
Kalamazoo Loy Norrix 62, Gull Lake 55
Girls Basketball
Michigan Lutheran 52, Bridgman 4
Mara Rugen scored 23 points, while Jessi Jewell added 11 as Michigan Lutheran beat Bridgman 52-4.  Michigan Lutheran improves to 2-0 on the season.
Dowagiac 50, Benton Harbor 28
Despite a game high 22 points from the Tigers Joh'nae Poindexter, Benton Harbor fell 50-28 at Dowagiac.  Kellyn Daly had 19 points for Dowagiac with Allie Conner scoring 16.
Niles 37, Buchanan 21
Alycia Patterson had a game high 11 points, Alexis Rauch added 10 as Niles defeated Buchanan 37-21. 
River Valley 49, Covert 27
Westview (IN) 38, Sturgis 19
Kalamazoo Central 57, Battle Creek Central 48
Gull Lake 60, Kalamazoo Loy Norrix 17
Competitive Cheer
SMAC Meet at Portage Central
Round 1

Round 2

Round 3

Total

1

Portage Central

221.60

204.98

303.20

729.78

2

Portage Northern

220.40

209.16

296.10

725.66

3

Kalamazoo Central

209.60

191.20

275.70

676.50

4

Gull Lake

208.70

190.84

274.80

674.34

5

Mattawan

210.00

198.38

263.20

671.58

6

Lakeshore

202.90

194.82

264.50

662.22

7

BC Lakeview

194.20

161.24

261.80

617.24
Tonight
Boys Basketball
St. Joe at Battle Creek Central, 7:15 p.m. WSJM Sports
Three Rivers at Berrien Springs, 7:00 p.m.
Lakeshore at Dowagiac, 7:00 p.m.
Lake Michigan Catholic at Countryside, 7:30 p.m.
Michigan Lutheran at Howardsville Chr., 7:30 p.m.
South Haven at Holland, 7:00 p.m.   Cosy-FM
Lawrence at New Buffalo, 7:30 p.m.
Fennville at Brandywine, 7:00 p.m.
Constantine at Edwardsburg, 6:00 p.m.
Comstock at Allegan, 7:15 p.m.
Portage Central at Harper Creek, 7:00 p.m.
Gull Lake at Marshall, 7:00 p.m.
Battle Creek Lakeview at Plainwell, 7:15 p.m.
Portage Northern at Vicksburg, 7:00 p.m.
Hamilton at Otsego, 7:15 p.m.
Watervliet at Paw Paw, 7:15 p.m.
Bangor at Centreville, 7:30 p.m.
Hartford at Decatur, 7:30 p.m.
Cassopolis at Eau Claire, 7:30 p.m.
Bloomingdale at Marcellus, 7:30 p.m.
White Pigeon at Mendon, 7:30 p.m.
Saugatuck at Holland Black River, 5:30 p.m.
Delton Kellogg at Kalamazoo Christian, 7:00 p.m.
Galesburg-Augusta at Lawton, 7:00 p.m.
Girls Basketball
Battle Creek Central at St. Joseph, 7:15 p.m.
Berrien Springs at Three Rivers, 7:00 p.m.
Gobles at South Haven, 7:00 p.m.
Mattawan at Edwardsburg, 7:30 p.m.
Kal. Loy Norrix at Holland West Ottawa, 7:30 p.m.
Fennville at Brandywine, 5:30 p.m.
Plainwell at Battle Creek Lakeview, 7:15 p.m.
Coldwater at Kalamazoo Central, 7:30 p.m.
Harper Creek at Portage Central, 7:00 p.m.
Vicksburg at Portage Northern, 7:15 p.m.
Marshall at Gull Lake, 7:15 p.m.
Allegan at Comstock, 6:30 p.m.
Watervliet at Paw Paw, 5:45 p.m.
Centreville at Bangor, 6:00 p.m.
Cassopolis at Eau Claire, 6:00 p.m.
Decatur at Hartford, 7:30 p.m.
Bloomingdale at Marcellus, 6:00 p.m.
Mendon at White Pigeon, 7:30 p.m.
Kalamazoo Christian at Delton-Kellogg, 7:00 p.m.
Lawton at Galesburg-Augusta, 7:00 p.m.
Saugatuck at Holland Black River, 7:00 p.m.
Kalamazoo Hackett at Schoolcraft, 7:00 p.m.