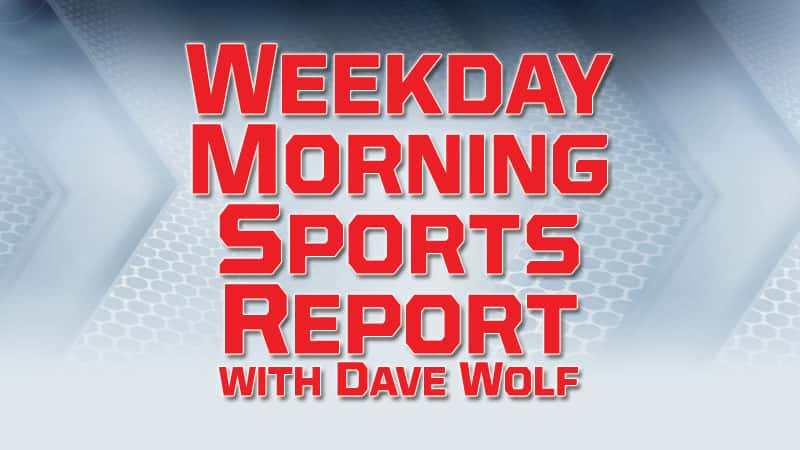 NHL – National Hockey League
Last Night
Chicago Blackhawks 6, Pittsburgh Penguins 3
Blackhawks 6, Penguins 3 – Blackhawks end 8-game slide with 6-3 win over Penguins
Jonathan Toews had a goal and two assists, and the Chicago Blackhawks snapped an eight-game losing streak by topping the Pittsburgh Penguins 6-3 on Wednesday night.  Marcus Kruger, Brent Seabrook, Andreas Martinsen, Brandon Saad each had a goal and an assist for Chicago, which rebounded after blowing 2-0 and 3-2 leads to win for just the second time in 12 contests. Alex DeBrincat scored a power-play goal. Toews became the 16th active player to reach 700 career points with the same franchise. He assisted on Saad's empty-netter for his 701st point.  Kruger snapped a 3-all tie when he beat Casey DeSmith from the front of the crease 3:49 into the third period. Martinsen set up Kruger's fourth goal of the season with a centering pass from below the goal line.  Toews also had an empty-netter before Saad made it 6-3 with his ninth goal at 19:39.
NBA – National Basketball Association
Last Night
Charlotte Hornets 108, Detroit Pistons 107
Indiana Pacers 113, Milwaukee Bucks 97
Hornets 108, Pistons 107 – Lamb's jumper helps Hornets beat Pistons 108-107 in wild win
Jeremy Lamb hit a 22-foot jumper from the right wing with 0.3 seconds left, and the Charlotte Hornets rallied from a late 10-point deficit for a wild 108-107 win over the Detroit Pistons on Wednesday night.  Lamb's buzzer-beater did not come without controversy or drama. As Lamb released the ball, Malik Monk ran off the Hornets' bench and onto the floor early to celebrate the made basket. Officials reviewed the play and called one-shot technical on the Hornets for having six men on the court. The basket still counted. The Pistons made the technical free throw, but the ensuing long inbounds pass was intercepted.  Kemba Walker finished with a game-high 31 points and had nine assists and eight rebounds for the Hornets, who won their third straight and moved into sixth place in the Eastern Conference _ a half-game ahead of Detroit.  Blake Griffin had 26 points, 10 rebounds and seven assists for the Pistons, who have lost six in a row.
Pacers 113, Bucks 97 – Pacers win 5th straight by pulling away from Bucks 113-97
Thaddeus Young had 25 points, 11 rebounds and four assists, and Myles Turner added 23 points to lead the Indiana Pacers to their fifth straight win _ 113-97 over Milwaukee on Wednesday night.  Indiana seized control early, never trailed and pulled within a half-game of the Central Division-leading Bucks.  Eric Bledsoe scored 26 points and Malcolm Brogdon finished with 15 to lead Milwaukee. Giannis Antetokounmpo had a season-low 12 points, grabbed 10 rebounds and dealt out seven assists after missing Monday's game at Cleveland with a sore neck.
Tonight
Chicago Bulls vs. Orlando Magic, 9:30 p.m.             at Mexico City
NBA – Phoenix council postpones vote on Suns arena renovation
The Phoenix City Council has postponed a vote on a proposed $230 million renovation of the Talking Stick Resort Arena that would keep the Suns in downtown Phoenix.  The council agreed unanimously Wednesday to postpone a decision until Jan. 23 so residents can attend five public meetings to be held around Phoenix to discuss the project.  Suns President and CEO Jason Rowley says the organization looks forward to the public discussions and to answering any questions about the proposed renovation.  The deal would revamp the nearly 30-year-old arena, the oldest in the NBA that is not currently being renovated.  The Suns agreed to a 40-year lease in 1992, but the deal included a provision for the team to opt out at 30 years.
NFL – National Football League – Week 15
Tonight
Los Angeles Chargers at Kansas City Chiefs, 8:20 p.m.                 95.7 & 1400 WSJM Sports 8:00
NFL – Bears place cornerback Callahan on IR with broken left foot
The Chicago Bears have placed cornerback Bryce Callahan on injured reserve because of a broken left foot.  Coach Matt Nagy says Callahan will need surgery. He was hurt in Chicago's 15-6 victory over the Los Angeles Rams on Sunday night. A fourth-year pro, Callahan has 45 tackles, two interceptions, two sacks and six pass breakups. Sherrick McManis figures to get the bulk of the snaps at nickel back with him out. The Bears also signed cornerback Marcus Williams on Wednesday. He has appeared in 51 games over five seasons with the New York Jets (2014-17), Houston Texans (2017) and Tampa Bay (2018). The Buccaneers placed him on IR on Oct. 13 because of a hamstring injury and released him nine days later.
NFL – The NFL draft is heading to Las Vegas for 2020
The NFL draft is heading to Las Vegas for 2020.  It almost certainly will arrive before the Raiders do. The league announced Wednesday at an owners meeting that the city where the Raiders will begin play in September 2020 will host the draft that April.  The NFL began to bring the draft to different cities in 2015, when it was in Chicago. It was held there in 2016, too, then went to Philadelphia in 2017. Last April, the Cowboys hosted it in their stadium in Arlington, Texas, and next year it will be in Nashville. April 23-25 will be the dates for the Las Vegas draft, which the league said will be held on and around the Strip.
NCAAFB – Michigan dismisses RB Samuels after domestic violence charge
Michigan dismissed running back O'Maury Samuels from its football program on the same day he was arraigned on two charges, including one for domestic violence. The school did not say why the move was made Wednesday, when Samuels was charged with domestic violence and malicious destruction of personal property. The date of the alleged offenses was Dec. 8 and Samuels is scheduled for a hearing on Dec. 27 in Ann Arbor District Court. The sophomore finished the season with 13 rushing attempts for 66 yards. He did not run the ball for the eighth-ranked Wolverines after Oct. 13, when he had one carry for 3 yards in a win over Wisconsin.  An email seeking comment was sent to Samuels.
MLB – Tigers won't rush back Miguel Cabrera after biceps surgery
Detroit Tigers slugger Miguel Cabrera might play only a game or two each week at the start of spring training as he returns from season-ending biceps surgery. Manager Ron Gardenhire plans to check in regularly with Cabrera to determine his availability when Grapefruit League exhibition games begin in February. There's no plan yet as to how much action the two-time AL MVP might see at first base. Cabrera ruptured his left biceps tendon in mid-June. Gardenhire has no plans of rushing back Cabrera, even if the rebuilding Tigers could use his powerful bat in the middle of the order. The plan as of now? There isn't one _ just constant communication between Gardenhire, Cabrera and certainly the medical staff to evaluate what Cabrera can do on the field and at the plate. Turning 36 in April, Cabrera will look to bounce back after his 2017 year was disappointing in another way: just 16 home runs, an unusually low .399 slugging percentage _ it had been in the .500-.600s every season but his rookie year _ and .249 batting average. Cabrera received a $292 million, 10-year contract in March 2014 that takes him through at least 2023.
MLB – AP source: Jordy Mercer, Tigers agree to $5.25M, 1-year deal
A person familiar with the negotiations says shortstop Jordy Mercer and the Detroit Tigers have agreed to a $5.25 million, one-year contract. The person spoke to The Associated Press on condition of anonymity Wednesday because the agreement was subject to a successful physical.  Mercer had spent his entire seven-season big league career with Pittsburgh. The 32-year-old hit .251 with six homers and 39 RBIs, down from 14 homers and 58 RBIs in 2017.  His agreement was first reported by Fancred.
ECHL – ECHL Hockey
Last Night
Kalamazoo Wings 4, Brampton Beast 2
NBAGL – NBA 'G' League
Last Night
Grand Rapids Drive 101, Texas Legends 99
Long Island Nets 103, Windy City Bulls 89
MHSAA – High School Sports
Last Night
Girls Basketball
South Bend Community Baptist 73, Benton Harbor 34
Wrestling
Niles 58, St. Joseph 10
Lakeshore 70, Portage Central 3
Mattawan 50, Portage Northern 30
Kalamazoo Loy Norrix 60, Benton Harbor 21
Parchment 51, Benton Harbor 21
Kalamazoo Loy Norrix 60, Parchment 12
Edwardsburg 36, Dowagiac 30
Coloma 47, Galesburg-Augusta 21
Coloma 44, Lawton 34
Gobles 30, Fennville 15
Fennville 30, Cassopolis 12
Tonight
Boys Basketball
Michigan Lutheran at Kalamazoo Heritage Christian, 6:00 p.m.
Girls Basketball
Lake Michigan Catholic at River Valley, 7:30 p.m.
Bridgman at Berrien Springs, 7:00 p.m.
Brandywine at Comstock, 7:30 p.m.