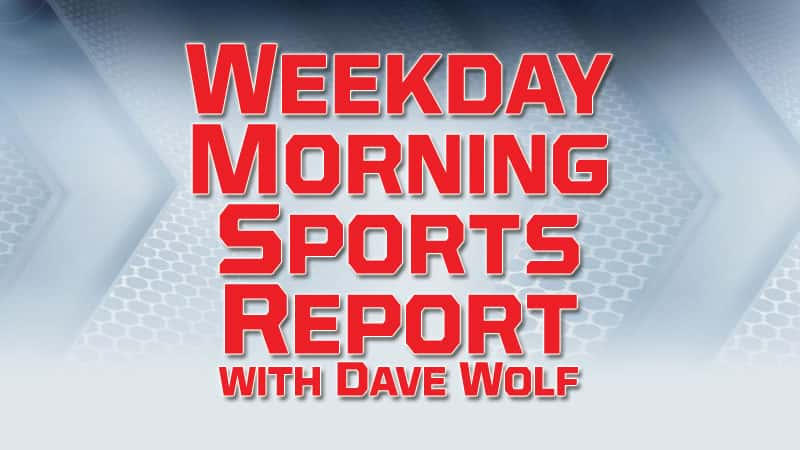 NFL – National Football League – Week 14
Last Night
Seattle Seahawks 21, Minnesota Vikings 7
Seahawks 21, Vikings 7 – Seahawks top Vikings
The Seattle Seahawks took a major step toward an NFC playoff berth by turning a blocked field goal and a fumble into a pair of late touchdowns in a 21-7 victory over the Minnesota Vikings. Seattle led just 6-0 when Bobby Wagner provided the block midway through the fourth quarter to set up Chris Carson's two-yard scoring run with 2:53 remaining. Just 18 seconds later, Justin Coleman brought back a fumble 29 yards for a game-clinching TD that allowed the Seahawks to improve to 8-5 and dropped the Vikings to 6-6-1.
NHL – National Hockey League
Last Night
Detroit Red Wings 3, Los Angeles Kings 1
Red Wings 3, Kings 1 – Howard makes 42 saves, Red Wings beat Kings 3-1
Jimmy Howard made a season-high 42 saves and Dylan Larkin scored his 12th goal of the season to lift the Detroit Red Wings to a 3-1 victory over the Los Angeles Kings on Monday night.   Dennis Cholowski and Frans Nielsen also scored the Red Wings, who improved to 13-6-2 in their last 21 games. Howard came within 6:38 of his first shutout of the season.  Anze Kopitar scored the only goal for Los Angeles, who are tied with Chicago for the fewest points in the NHL.
Tonight
Detroit Red Wings at Washington Capitals, 7:30 p.m.
Chicago Blackhawks at Winnipeg Jets, 8:00 p.m.
NBA – National Basketball Association
Last Night
Philadelphia 116, Detroit 102
Indiana 109, Washington 101
Sacramento 108, Chicago 89
Sixers 116, Pistons 102 – Embiid powers Sixers past slumping Pistons, 116-102
Joel Embiid scored 24 points in his return to the lineup after a one-game absence, Ben Simmons and Furkan Korkmaz added 18 points apiece, and the Philadelphia 76ers beat the Detroit Pistons for the second time in four days, winning 116-102 on Monday night. Jimmy Butler, who had 38 points to lead Philadelphia to a 117-111 victory in Detroit on Friday, exited in the first half with a strained groin and did not return. Luke Kennard finished with a career-high 28 points and Andre Drummond had 21 for the slumping Pistons (13-12), who have dropped five straight after five consecutive wins. Detroit was missing Blake Griffin, 10th in the NBA in scoring. Griffin, who had 50, 38 and 31 points against the Sixers this season, was rested after Detroit hosted New Orleans the previous night.
Pacers 109, Wizards 101 – Turner helps Pacers escape with 109-101 victory over Wizards
Myles Turner had a season-high 26 points, 12 rebounds and five blocks and Bojan Bogdanovic added 22 points Monday to help the Indiana Pacers stave off Washington's frenetic second-half charge for a 109-101 victory. Indiana extended its winning to streak to four straight, a season-best, after nearly blowing a 25-point, third-quarter lead. Bradley Beal scored 30 points and Kelly Oubre Jr. had a season-high 23 points for the Wizards, who played without injured All-Star guard John Wall.
Kings 108, Bulls 89 – Fox sparks 2nd-half rally, Kings beat Bulls 108-89
De'Aaron Fox scored 23 of his 25 points in the second half, and the Sacramento Kings rallied to beat the Chicago Bulls 108-89 on Monday night.  Fox went 8 for 11 from the field after missing each of his first five shots in the first half. Bogdan Bogdanovic and Marvin Bagley III added 16 points apiece as Sacramento closed out a 3-1 road trip. Chicago led by as many as 14 in its ninth loss in 10 games. The Bulls were coming off a franchise-record 133-77 loss to the Boston Celtics on Saturday. Zach LaVine led Chicago with 19 points, and Lauri Markkanen had 13.
NCAAMBB – Kansas back to Number 1
Preseason No. 1 Kansas is again the top-ranked team in the AP Top 25 following Gonzaga's loss to Tennessee. The Jayhawks were the overwhelming top pick among voters despite struggling to get past New Mexico State at home. Duke moved up to No. 2 and Tennessee is No. 3 after beating the Zags in Phoenix. Kansas has returned to No. 1 in The Associated Press Top 25 following Gonzaga's loss to Tennessee. The Jayhawks received 57 first-place votes from a 65-person media panel on Monday despite struggling to get past New Mexico State.  No. 2 Duke received four first-places votes, with No. 3 Tennessee, No. 4 Gonzaga, No. 5 Michigan and No. 6 Virginia getting one each. Kansas (8-0) was preseason No. 1, but dropped a spot after Duke rolled over Kentucky to open the college basketball season. Gonzaga, the top-ranked team after beating the Blue Devils at the Maui Invitational, fell back after a 76-73 loss to the Vols Sunday in Phoenix.  No. 7 Nevada, Auburn, Michigan State and Florida State round out the top 10.
NCAAWBB – MSU enters AP women's poll after beating Oregon
A win over Oregon vaulted Michigan State into the women's AP Top 25.  The Spartans enter the poll at No. 23 on Monday, a day after upsetting the then-third ranked Ducks 88-82. Michigan State (8-1) only had three votes from the 31-member national media panel last week. It's the first ranking for Michigan State in two years. The win was the Spartans first over a top-three opponent since April 3, 2005, when they defeated No. 3 Tennessee, 68-64 in the Final Four.  It's also the team's first regular-season win over a top-three opponent since Dec. 2, 2004, when they won at No. 3 Notre Dame, 82-73 in overtime.  The Ducks fell to seventh after suffering their first loss of the season.  There wasn't much other movement in the poll with many teams starting their exam breaks. UConn and Notre Dame remain No. 1 and 2. Baylor, Louisville and Mississippi State round out the first five teams in the poll.  Drake fell out of the Top 25 after losing at South Dakota State.
MLB – RHP Tyson Ross, Tigers agree on 1-year deal
Free agent right-hander Tyson Ross and the Detroit Tigers have reached a one-year deal for $5.75 million.  The agreement came Monday at the winter meetings.  Ross went a combined 8-9 with a 4.15 ERA for San Diego and St. Louis last season. He made 22 starts for the Padres, was claimed off waivers by the Cardinals in early August and pitched nine times for them, eight in relief.  The 31-year-old Ross held righty hitters to a .176 batting average.  Ross is 43-65 with a 3.95 ERA in nine seasons. He made his debut with Oakland in 2010 and was an All-Star with San Diego in 2014. Ross' contract includes $250,000 in roster bonuses, $50,000 for being with the major league team on opening day and $100,000 each for May 1 and June 1.
AHL – American Hockey League
Tonight
Grand Rapids Griffins at Milwaukee Admirals, 8:00 p.m.
NBAGL – NBA "G" League
Last Night
Fort Wayne Mad Antz 108, Grand Rapids Drive 101
MHSAA – High School Sports
Last Night
Girls Basketball
Buchanan 30, Andrews Academy 29
White Pigeon 57, River Valley 42
Holland Black River 50, Covert 29
Howardsville Christian 50, Battle Creek Academy 27
Tonight
Boys Basketball
SMAC
Lakeshore at Battle Creek Central, 7:15 p.m.
St. Joseph at Kalamazoo Central, 7:15 p.m.
Kalamazoo Loy Norrix at Niles, 7:15 p.m.
Gull Lake at Mattawan, 7:15 p.m.
Portage Northern at Lakeview, 7:15 p.m.
Wolverine
Three Rivers at South Haven, 7:15 p.m.       COSY-FM
Dowagiac at Plainwell, 7:15 p.m.
Edwardsburg at Paw Paw, 7:15 p.m.
Sturgis at Allegan, 7:15 p.m.
Vicksburg at Otsego, 7:15 p.m.
BCS
Countryside at Lake Mich. Cath., 7:30 p.m.  WSJM Sports
Berrien Springs at New Buffalo, 7:30 p.m.
Southwest 10
Eau Claire at Bloomingdale, 7:30 p.m.
Hartford at Mendon, 7:30 p.m.
Cassopolis at White Pigeon, 7:30 p.m.
Decatur at Bangor, 7:30 p.m.
Centreville at Marcellus, 7:30 p.m.
SAC
Kalamazoo Christian at Coloma, 7:00 p.m.
Watervliet at Kalamazoo Hackett, 7:15 p.m.
Fennville at Lawton, 7:00 p.m.
Gobles at Galesburg-Augusta, 7:15 p.m.
Schoolcraft at Saugatuck, 7:00 p.m.
Non-Conference
Constantine at Buchanan, 7:30 p.m.
River Valley at Holland Black River, 7:00 p.m.
Martin at Byron City Zion Christian, 7:00 p.m.
Maple Valley at Delton Kellogg, 7:00 p.m.
Girls Basketball
SMAC
Battle Creek Central at Lakeshore, 7:15 p.m.
Kalamazoo Central at St. Joseph, 7:15 p.m.
Niles at Kalamazoo Loy Norrix, 7:15 p.m.
Mattawan at Gull Lake, 7:15 p.m.
Lakeview at Portage Northern, 7:15 p.m.
Wolverine
South Haven at Three Rivers, 7:15 p.m.
Plainwell at Dowagiac, 7:15 p.m.
Paw Paw at Edwardsburg, 7:15 p.m.
Allegan at Sturgis, 7:15 p.m.
Otsego at Vicksburg, 7:15 p.m.
BCS
Countryside at Lake Mich. Cath., 6:00 p.m.  WSJM Sports
New Buffalo at Bridgman, 7:30 p.m.
Southwest 10
Eau Claire at Bloomingdale, 6:00 p.m.
Hartford at Mendon, 6:00 p.m.
White Pigeon at Cassopolis, 7:30 p.m.
Bangor at Decatur, 7:30 p.m.
Marcellus at Centreville, 7:30 p.m.
SAC
Kalamazoo Christian at Coloma, 6:45 p.m.
Kalamazoo Hackett at Watervliet, 7:00 p.m.
Lawton at Fennville, 7:00 p.m.
Galesburg-Augusta at Gobles, 7:00 p.m.
Saugatuck at Schoolcraft, 7:00 p.m.
Non-Conference
Constantine at Berrien Springs, 7:00 p.m.