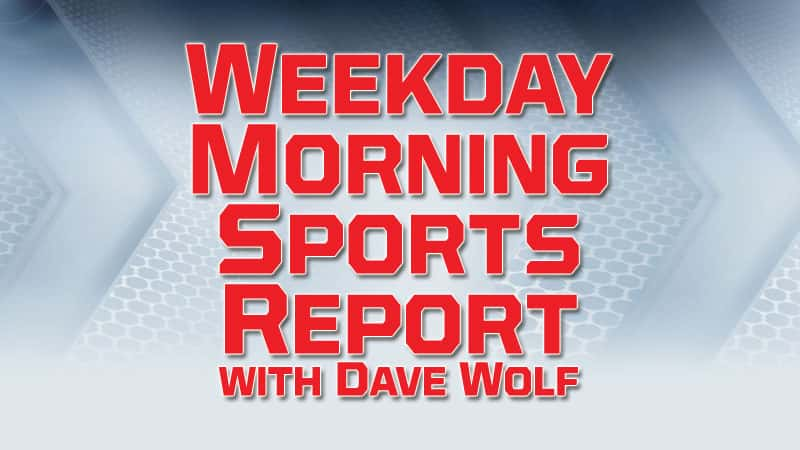 NCAAMBB – Men's College Basketball
Last Night
(5) Michigan 62, Northwestern 60
Oklahoma 85, Notre Dame 80
Central Michigan 100, Youngstown State 94 – 3 OT
#5 Michigan 62, Northwestern 60 – No. 5 Michigan holds off Northwestern for 62-60 win
Ignas Brazdeikis scored 13 of his 23 points in the second half and Jordan Poole made two big plays in the last 2 ½ minutes to help No. 5 Michigan hold off Northwestern for a 62-60 victory Tuesday night. Poole finished with 15 points as the Wolverines (9-0, 2-0 Big Ten) added to their best start since they opened the 2012-13 season with 16 straight victories. Zavier Simpson scored 10 points, and Jon Teske had eight points and 10 rebounds. The game was tied at 58 when Poole fed Teske for a dunk with 2:30 left. After Ryan Taylor made a jumper for Northwestern, Poole drove inside for another dunk that made it 62-60 with 1:53 left. Michigan had a shot-clock violation with 14 seconds to go, giving Northwestern one last chance. Taylor was long on a desperation 3-pointer as time expired. Dererk Pardon led the Wildcats (6-3, 0-2) with 20 points on 9-for-10 shooting. Vic Law shook off a slow start and finished with 19.
Oklahoma 85, Notre Dame 80 – Oklahoma beats Notre Dame, 85-80 to open the Jimmy V Classic
Christian James scored a game-high 25 points and grabbed 10 rebounds to lead Oklahoma to an 85-80 win over Notre Dame in the first game of the Jimmy V Classic Tuesday at Madison Square Garden. Oklahoma improved to 7-1 with its third straight win. Brady Manek chipped in with 17. Aaron Calixte finished with 12, and Matt Freeman had 11. Despite an 18-point performance from TJ Gibbs, Notre Dame dropped to 6-2 with its first loss since Nov. 14. Juwan Durham and John Mooney had 15 each, and DJ Harvey finished with 11. The first ever meeting between the programs was a back and forth affair throughout.
CMU 100, Youngstown State 94 – 3 OT – Central Michigan rallies past Youngstown St, 100-94 in 3OT
Shawn Roundtree scored 10 of his 23 points in the third overtime and Central Michigan beat Youngstown State, 100-94 Tuesday night for its seventh win in nine starts.  Roundtree hit the second of two free throws with :11 left in the second overtime to tie the game at 82-82 and force the third extra period.  The Chippewas scored nine more points in three five-minute overtime periods than they did the entire second half.  Larry Austin led Central Michigan with 24 points and 11 rebounds. Kevin McKay and David DiLeo grabbed 12 and 11 rebounds, respectively.
NCAAWBB – Women's College Basketball
Tonight
Michigan State at Oakland, 7:00 p.m.
Detroit Mercy at Eastern Michigan, 7:00 p.m.
NCAAFBB – Ohio State coach Meyer to retire after Rose Bowl
Ohio State coach Urban Meyer says it was a series of factors that led to his decision to step down.  He announced Tuesday that he will be retiring after the Rose Bowl on January 1. Co-offensive coordinator Ryan Day will become the team's 25th head coach after that game. Meyer says his headaches have become a persistent problem. He also says he is not sure he is able to coach at the intense, demanding level he has used for more than 30 years. Meyer was suspended for three games at the start of this season for his role in handling domestic violence allegations against a now-fired assistant coach. He says the investigation of him also played a role in his decision. Meyer was 81-9 with a national championship at Ohio State after six years at Florida, where he won two national titles.
NBA – National Basketball Association
Last Night
Indiana Pacers 96, Chicago Bulls 90
Pacers 96, Bulls 90 – Turner's double-double leads Pacers past Bulls 96-90
Myles Turner matched his season high with 18 points and added 11 rebounds and five blocked shots as the Indiana Pacers defeated Chicago 96-90 on Tuesday night and spoiled the debut of new Bulls coach Jim Boylen. Darren Collison had 23 points and eight rebounds, Bojan Bogdanovic scored 14 points and Tyreke Evans finished with 10 for Indiana. Domantis Sabonis added nine points and 11 rebounds off the bench for the Pacers. Lauri Markkanen led the Bulls with 21 points and 10 rebounds. Justin Holiday, facing off against his brother, Indiana rookie Aaron Holiday, finished with 15 points. Chicago has lost seven straight games. Boylan was named Bulls coach on Monday, taking over for the fired Fred Hoiberg, who was let go following a 5-19 start this season. Hoiberg had a 115-155 mark with one playoff appearance in three-plus seasons.
Tonight
Detroit Pistons at Milwaukee, Bucks, 8:00 p.m.
NHL – National Hockey League
Last Night
Tampa Bay Lightning 6, Detroit Red Wings 5 – Shootout
Lightning 6, Red Wings 5 – SO – Lightning beat Red Wings 6-5 in shootout
Nikita Kucherov and defenseman Victor Hedman scored in a shootout to give the Tampa Bay Lightning a 6-5 comeback victory over the Detroit Red Wings on Tuesday night. The Lightning, who have won seven of eight, erased a 5-3 deficit in the third period and overcame Frans Nielsen's hat trick. Mathieu Joseph had two goals and an assist for Tampa Bay. Steven Stamkos, J.T. Miller and Cedric Paquette also scored.  Ryan Callahan had two assists and Edward Pasquale made 19 saves to win his NHL debut. He stopped Nielsen and Thomas Vanek in the tiebreaker. Despite the shootout goal, Kucherov's 10-game point streak came to an end. Nielsen scored three times for his second career hat trick. Gustav Nyquist scored twice, plus a shootout goal. Andreas Athanasiou and Dylan Larkin had two assists apiece, and Jimmy Howard made 30 saves for Detroit.
 
Tonight
Chicago Blackhawks at Anaheim Ducks, 10:30 p.m.
NHL – NHL adds Seattle as league's 32nd team, play begins in 2021
The National Hockey League is expanding to Seattle.  The NHL Board of Governors has unanimously approved adding Seattle as the league's 32nd franchise. Play will begin in 2021 to allow enough time for arena renovations. The as-yet unnamed franchise will be the Emerald City's first major winter sports team since the NBA's SuperSonics left town in 2008. The decision was widely expected after the Seattle Hockey Partners group impressed the board's executive committee in October and had all the ingredients the NHL was looking for.  The owners will pay a $650 million expansion fee, up from the $500 million the Vegas Golden Knights paid to join the league.
MLB – Moore finalizes $2.5M, 1-year deal with Tigers
Left-hander Matt Moore and the Detroit Tigers finalized a $2.5 million, one-year contract that allows him to earn an additional $1 million in performance bonuses. The 29-year-old pitcher has a chance to compete for a rotation spot after going 3-8 with a 6.79 ERA for Texas in 12 starts and 27 relief appearances. He is 54-56 with a 4.56 ERA over eight seasons with Tampa Bay, San Francisco and Texas
NBAGL – NBA "G" League
Tonight
Memphis Hustle 109, Grand Rapids Drive 93
AHL – American Hockey League
Tonight
San Antonio Rampage at Grand Rapids Griffins, 7:00 p.m.
ECHL – ECHL Hockey
Today
Cincinnati Cyclones at Toledo Walleye, 10:35 a.m.
MHSAA – St. Joseph football coach Gandalf Church steps down
St. Joseph football coach Gandalf Church announced Tuesday that he is stepping down. Church spoke with his players after school to inform them of his decision.  Church took over the program in 2011 after Elliot Uzelac stepped down. The Bears were 53-28 under Church's guidance. The 53 wins ties him for third place for most wins at St. Joseph. He led the team to the Southwest Michigan Athletic Conference West Division Championship and a District Championship in 2015.  Church had served as an assistant coach under Uzelac and John Van Wagoner at St. Joseph. Before that, he was an assistant coach at Paw Paw, Kalamazoo Christian, and Sturgis.
MHSAA – High School Sports
Last Night
Boys Basketball
Benton Harbor 71, Grandville 47
Benton Harbor pulled away in the second half to post a 71-47 win over Grandville.  With the Bulldogs leading by three at the half, the Tigers dominated the third quarter, outscoring Grandville by 22.  Carlos Johnson led Benton Harbor with a game high 31 points.  With the win, the Tigers improve to 2-0 on the season.
Berrien Springs 90, Lake Michigan Catholic 30
Berrien Springs outscored Lake Michigan Catholic 27-5 in the 2nd quarter and coasted to a 90-30 victory over the Lakers.  Four Shamrocks scored in double figures, led by a game high 19 points from Sam Spaulding, Evan Hage has 15, Danny Vinson and Garrett Jones had 10.  Christian Monconduit had 14 to lead LMC.
Howardsville Christian 85, Countryside 33
Coloma 73, Buchanan 70
Brandywine 55, Saugatuck 43
Niles 67, Three Rivers 49
Plainwell 56, Portage Northern 53
Portage Central 64, Edwardsburg 45
Otsego 69, Gull Lake 62
Hartford 65, Eau Claire 47
Gobles 61, Lawton 50
Decatur 55, Marcellus 52
Zeeland West 65, Fennville 42
Cassopolis 79, Bangor 66
Parchment 63, Allegan 54
Sturgis 69, Battle Creek Harper Creek 41
Coldwater 67, Battle Creek Lakeview 56
Schoolcraft 64, Constantine 50
Marshall Academy 51, Galesburg-Augusta 40
Girls Basketball
Battle Creek Harper Creek 41, St. Joseph 31
Harper Creek held the Lady Bears to just 9 points in the second half as the visitors beat St. Joseph 41-31 at the Bear Den.  Maddie Alexander led all scorers with 23 points for Harper Creek.  Emma Inman and Mikayela Scott had 6 points each to lead St. Joe.
Three Rivers 43, Niles 36
Allegan 40, Parchment 19
Brandywine 67, Saugatuck 40
South Haven 42, Bridgman 29
Martin 41, Lawrence 22
Comstock 57, Vicksburg 38
Dowagiac 60, Cassopolis 41
Mattawan 40, Paw Paw 23
Edwardsburg 46, Portage Central 43
Plainwell 58, Portage Northern 13
Schoolcraft 59, Constantine 33
Gobles 55, Lawton 11
Coldwater 57, Battle Creek Lakeview 40
Gull Lake 49, Caledonia 43
Fennville 44, Holland Black River 21
Tonight
Boys Basketball
Decatur at Lawrence, 7:00 p.m.
Girls Basketball
Bangor at South Haven, 6:30 p.m.