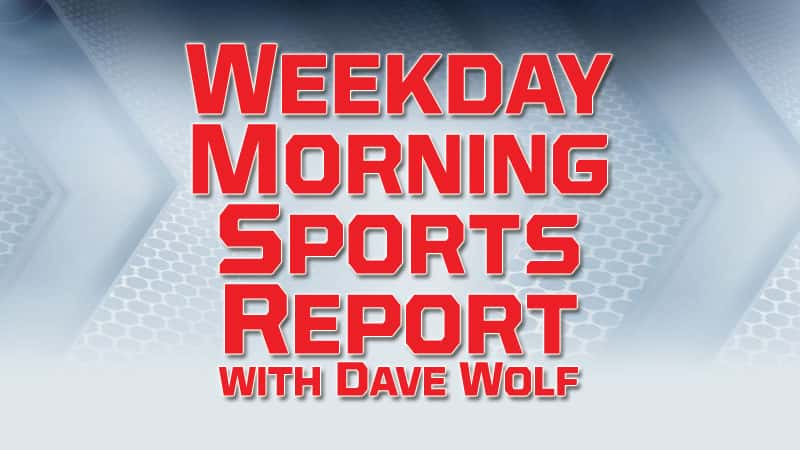 NFL – National Football League – Week 13
Last Night
Philadelphia Eagles 28, Washington Redskins 13
Eagles 28, Redskins 13 – Washington loses McCoy to injury
Quarterbacking for the Washington Redskins is proving very risky.  Coach Jay Gruden says quarterback Colt McCoy suffered a fractured fibula in his right leg in the second quarter of a 28-13 loss to the Philadelphia Eagles on Monday night. Gruden says McCoy will miss the rest of the season. He had replaced Alex Smith, who suffered a broken right leg just weeks ago that has threatened his career. Veteran Mark Sanchez has taken over signal calling.
NCAAMBB – Men's College Basketball
Last Night
(10) Michigan State 90, (18) Iowa 68
#10 Michigan State 90, #18 Iowa 68 – Nick Ward scores 26, No. 10 Michigan State beats Iowa 90-68
Nick Ward made all 10 of his shots, scored a career-high 26 points and grabbed nine rebounds to lead No. 10 Michigan State to a 90-68 win over No. 18 Iowa on Monday night. The Spartans (7-2, 2-0 Big Ten) trailed for more than six minutes in the first half and were behind by as much as six points before a Ward-led surge gave them a 43-33 lead at halftime. The Hawkeyes (6-2, 0-2) had no hope for a comeback because they missed 18 of 19 shots to open the second half. Michigan State's Xavier Tillman scored a career-high 14 points and had eight rebounds off the bench. Nick Goins scored 19, surpassing his combined points from the previous five games, and Joshua Langford added 14 for MSU. Iowa's Tyler Cook scored 15 points and Isaiah Moss had 13 points.
Tonight
Oklahoma at Notre Dame, 7:00 p.m.
Central Michigan at Youngstown State, 7:00 p.m.
(5) Michigan at Northwestern, 9:00 p.m.                  95.7 & 1400 WSJM Sports (after HS basketball)
Men's AP Top 25

1

Gonzaga (43)

8-0

2

Kansas (19)

6-0

3

Duke (1)

7-1

4

Virginia (1)

7-0

5

Michigan

8-0

6

Nevada

8-0

7

Tennessee

6-1

8

Auburn

6-1

9

Kentucky

7-1

10

Michigan State

6-2

11

Florida State

6-1

12

Wisconsin

7-1

13

Texas Tech

7-0

14

North Carolina

6-2

15

Virginia Tech

6-1

16

Kansas State

6-1

17

Buffalo

7-0

18

Iowa

6-1

19

Ohio State

7-1

20

Arizona State

7-0

21

Villanova

6-2

22

Mississippi State

6-1

23

Maryland

7-1

24

Nebraska

7-1

25

Furman

8-0
NCAAMBB – Michigan moves up
Michigan has climbed to No. 5 in the latest AP Top 25 poll after impressive wins against ranked opponents. The top four remain unchanged in the poll released Monday with Gonzaga at the top, followed by Kansas, Duke and Virginia. But the Wolverines jumped Nevada and Tennessee after double-digit wins against North Carolina and Purdue last week.  It continues a rapid ascent for the Wolverines, which played in the national championship game last season. Michigan started at No. 19 before quickly leaping into the top 10 after a blowout win at reigning champ Villanova on Nov. 14. Nevada, Tennessee, Auburn, Kentucky and Michigan State rounded out the top 10.
NCAAWBB – Women's College Basketball
Last Night
Loyola-Chicago 64, Western Michigan 53
NCAAFB – Heisman 3: Tagovailoa, Murray, Haskins
Alabama's Tua Tagovailoa (tag-oh-vay-LOH'-ah), Oklahoma's Kyler Murray and Ohio State's Dwayne Haskins are the Heisman Trophy finalists, ensuring a quarterback will win the award for the 16th time in the last 19 years. Tagovailoa has been the favorite for most of the season, but Murray and Haskins both finished strong. Unlike most seasons, there should be some real drama Saturday night when the Heisman is awarded in New York City. Tagovailoa and Murray will also face off in the College Football Playoff. The finalists are determined by the margin of votes received, starting with the third- and fourth-place finishers. Ballots from 928 voters were due Monday.
NBA – National Basketball Association
Last Night
Oklahoma City Thunder 110, Detroit Pistons 83
Thunder 110, Pistons 83 – Adams, Westbrook lead Thunder to rout of Pistons
Steven Adams scored 21 points, Russell Westbrook added 18 and the Oklahoma City Thunder ended the Detroit Pistons' five-game winning streak with a 110-83 victory Monday night. Paul George added 17 points for the Thunder, who are 15-3 since losing their first four games. Adams made his first seven field-goal attempts, along with five free throws, and forced Drummond and Zaza Pachulia to the bench with four fouls each. The Pistons finished the third quarter with Griffin at center and 6-foot-7 Stanley Johnson at power forward. Blake Griffin led Detroit with 20 points, while Andre Drummond added 13.
Tonight
Chicago Bulls at Indiana Pacers, 7:00 p.m.
NBA – Chicago Bulls fire coach Fred Hoiberg; Boylen takes over
The Chicago Bulls have fired coach Fred Hoiberg with the team stuck near the bottom of the standings. The Bulls promoted associate head coach Jim Boylen to take over. Executive Vice President of Basketball Operations John Paxson said the move was difficult but was necessary with the Bulls mired at 5-19, with only two teams with worse records.
NHL – National Hockey League
Tonight
Tampa Bay Lightning at Detroit Red Wings, 7:30 p.m.
NHL – Red Wings' Bertuzzi suspended 2 games for hit on Calvert
Detroit forward Tyler Bertuzzi was suspended for two games without pay by the NHL on Monday for his hit on Colorado's Matt Calvert during the weekend. Bertuzzi was sanctioned for roughing and unsportsmanlike conduct for his hit with 7:15 left in the third period of the Avalanche's 2-0 win Sunday. No penalty was called on the play during the game.  He will miss the Red Wings' games against Tampa Bay on Tuesday and at Toronto on Thursday.
NHL – NHL set to vote on Seattle expansion for 2021-22 season
The NHL Board of Governors is expected to approve expansion to Seattle, with the league's 32nd team beginning play in the 2021-22 season. A three-quarters vote of the current 31 owners is needed to confirm Seattle as the league's newest franchise. The nine-member executive committee that heard Seattle's presentation in October voted unanimously to move the matter to the full board, which is meeting in Georgia. The vote is expected on Tuesday. Seattle Hockey Partners will pay NHL owners $650 million to join. The group led by majority owner David Bonderman, producer Jerry Bruckheimer and president and CEO Tod Leiweke had been hoping for play to begin in 2020, but uncertainty over completing arena renovations in time means Seattle will have to wait another year for the return of a major winter sports team. A team in Seattle balances the Eastern and Western Conferences at 16 teams apiece, but also requires realignment to even out the Central and Pacific Divisions. Many expect the Arizona Coyotes to be moved to the Central Division in 2021 when Seattle enters the league.
NBAGL – NBA "G" League
Yesterday
South Bay Lakers 107, Windy City Bulls 101
Tonight
Grand Rapids Drive at Memphis Hustle, 8:00 p.m.
MHSAA – High School Sports
Last Night
Boys Basketball
Holland Calvary 36, River Valley 34
Kalamazoo Loy Norrix 65, Parchment 31
Girls Basketball
Colon 25, Lake Michigan Catholic 24
Watervliet 38, Berrien Springs 36
Elaine Koshar had a game high 17 points for Watervliet as the Panthers opened the season with a 38-36 win over Berrien Springs,  Koshar added 13 rebounds.  Celina Klimkiewicz chipped in 11 points for the Panthers.   Zoe Dortch had 10 points to lead Berrien Springs.
Coloma 51, Buchanan 29
Coloma got 24 points from Hannah Mathis while Megan Neubecker had 11 points and 10 rebounds as the Comets beat Buchanan 51-29.
Delton-Kellogg 38, Bloomingdale 34
Lawton 35, Decatur 30
Tonight
Boys Basketball
Grandville at Benton Harbor, 7:00 p.m.                   95.7 & 1400 WSJM Sports
Lake Michigan Catholic at Berrien Springs, 7:00 p.m.
Howardsville Christian at Countryside, 7:30 p.m.
Coloma at Buchanan, 7:30 p.m.
Allegan at Parchment, 7:00 p.m.
Brandywine at Saugatuck, 7:00 p.m.
Three Rivers at Niles, 7:00 p.m.
Portage Northern at Plainwell, 7:15 p.m.
Edwardsburg at Portage Central, 7:00 p.m.
Otsego at Gull Lake, 7:15 p.m.
Lawton at Gobles, 7:00 p.m.
Battle Creek Harper Creek at Sturgis, 7:15 p.m.
Battle Creek Lakeview at Coldwater, 7:00 p.m.
Battle Creek Central at Jackson, 7:00 p.m.
Girls Basketball
Battle Creek Harper Creek at St. Joseph, 7:00 p.m.
Niles at Three Rivers, 7:00 p.m.
Parchment at Allegan, 7:15 p.m.
Brandywine at Saugatuck, 5:30 p.m.
Bridgman at South Haven, 6:30 p.m.
Lawrence at Martin, 7:00 p.m.
Comstock at Vicksburg, 6:15 p.m.
Cassopolis at Dowagiac, 6:30 p.m.
Mattawan at Paw Paw, 7:00 p.m.
Edwardsburg at Portage Central, 5:45 p.m.
Plainwell at Portage Northern, 7:15 p.m.
Comstock at Vicksburg, 6:15 p.m.
Schoolcraft at Constantine, 7:15 p.m.
Gobles at Lawton, 7:00 p.m.
Lawrence at Martin, 7:00 p.m.
Coldwater at Battle Creek Lakeview, 7:00 p.m.
Gull Lake at Caledonia, 7:00 p.m.