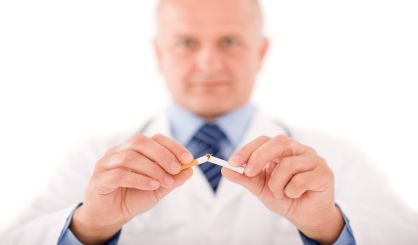 This past Thursday was the Great American Smokeout, when smokers were urged to give quitting a go. The Berrien County Health Department's Gillian Conrad tells WSJM News 17% of Berrien County residents are still smokers, which is a problem.
"We know that cigarette smoking is still one of the main causes of death in America," Conrad said. "It's estimated that about one in five deaths can be attributed to cigarette smoking."
The American Cancer Society started the Great American Smokeout in the 1970s to spread a message to those still using tobacco. Conrad says it was a way to get smokers thinking about how they could quit.
"You're not going to stop smoking in one day, but you've got to start with day one, and why not make the Great American Smokeout, November 15 this year, your day, the day one?"
Conrad says the best way to start quitting is to call the state quitline at 1-800-QUIT-NOW. You'll be connected with a live quitting coach. She also recommends nicotine gum and patches. The health department often holds quitting classes at the start of the year, and Conrad says Spectrum Health Lakeland has many programs. She says the new year is when most smokers try to go tobacco free.