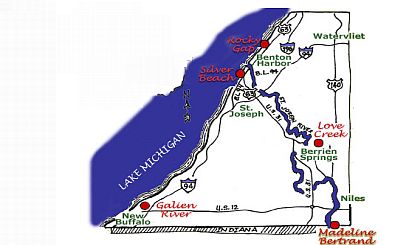 Berrien County Parks Director Brian Bailey this week laid out to some members of the Berrien County Board of Commissioners highlights this past year for the parks department. He tells WSJM News parks revenue was up this year by 6% to $821,000.
"At Love Creek this year, we brought in just over $65,000 in cross country skiing and bicycle rentals and field trips that happen out there," Bailey said. "Madeline Bertrand is just over $106,000, and Silver Beach is just over $640,000."
Bailey says a highlight of 2018 was the opening of the new Paw Paw River County Park in Watervliet. It's been well received.
"We've been there at various times, and we always see cars at the park, people have been utilizing the park, and through word of mouth we hear there has been good attendance at the park," Bailey said.
Paw Paw River County Park will close for the winter soon, as will Galien River County Park. Bailey says 201 saw a lot of work done at Galien River to spruce it up and pave the parking lot, thanks to funds from the Pokagon Fund and New Buffalo Township. Another success was a bicycling event at Love Creek in October that attracted more than 160 riders.