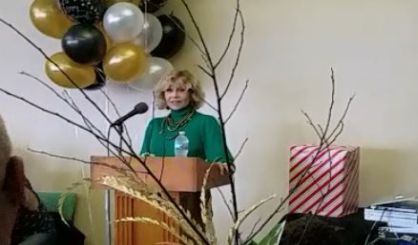 Actress and activist Jane Fonda has taken a get out the vote message to Benton Harbor. She spoke at the Benton Harbor Art and Cultural Center Saturday. Fonda urged everyone to head to the polls November 6 and to vote Democrat. She said that could help ensure state lawmakers don't change the One Fair Wage proposal, which she campaigned for this year. Fonda predicted a legal fight over the issue.
"It means we have to get some really good people on to the Supreme Court, and it means that we have to get some really good people elected to the state legislature, and we need a Democratic governor and lieutenant governor so that we can appeal to them to stop the state legislature from doing what they want to do, and make them pay if they do," Fonda said.
The One Fair Wage proposal would raise the minimum wage to $12 an hour by 2022 and raise tipped worker wages to $12 an hour by 2024. State lawmakers approved the proposal in order to prevent it from appearing on the ballot. They signaled plans to change the proposal in lame duck. Fonda said electing Democrats could make it possible to fight that. Fonda appeared in Benton Harbor with Black Lives Matter co-founder Patrisse Cullors, who also urged everyone to vote next month.