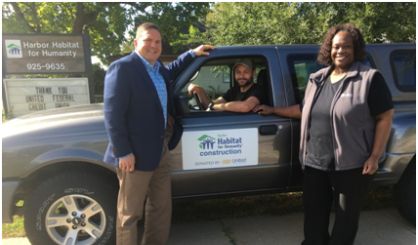 Harbor Habitat for Humanity has a replacement for their old construction truck that had been totalled in a crash. Executive director and CEO Erin Hudson says United Federal Credit Union has donated one of their old fleet vehicles to them, a 2004 Ford Ranger with a plow that had very low miles and is in excellent condition.
"It's a construction vehicle and will help us to transport build materials to and from each of our sites along with volunteer lunches and anything we need to build a house, basically," Hudson told WSJM News. "It's really huge for us."
Hudson adds that since Habitat completed its first two homes in the area in 1996, they've built 115 homes in Benton Harbor and Benton Township, and those homeowners have paid $1.6 million in property taxes over the past 22 years. She says having a construction truck again can really help them achieve their goal of helping families break the cycle of poverty and build long-term financial security by building a new home.