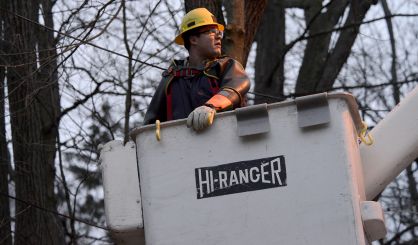 Indiana Michigan Power has issued this updated statement on service restoration efforts around southwest Michigan following Saturday's high winds.
October 21, 2018 4:00 p.m. Update

Crews have made great progress through the day and we have restored more than 6,000 customers since this morning's update. 12,100 customers remain out as of 4 p.m., down from a peak of 31,200 following yesterday's wind storm. Crews continue to work hard restoring the many widespread outages in the area, and we have additional assistance coming in from Wisconsin, Ohio and Kentucky heading to Michigan.

INDIANA: 2,400

Allen County: 100
Delaware County: 200
Elkhart County: 500
LaPorte County: 300
Randolph County: 100
St. Joseph County: 1,100

MICHIGAN: 9,700

Berrien County: 8,700
Cass County: 200
Van Buren County: 800

Estimated Restoration Times:

Michigan District

Benton Harbor area: 90% restored by 6:00 p.m. tomorrow
Buchanan area: 90% restored by 6:00 p.m. tomorrow
Three Rivers area: 100% by 10 p.m. tonight

This storm caused lots of downed trees/limbs and wires, and broke several poles and transformers. As crews work through the restoration process and restore the majority of customers, more specific estimates will be available for the outages affecting single customers. Please continue to be aware of the hazards of a wind storm of this type. Downed wires should always be considered energized and dangerous. Keep away from them and anything they could be touching. Watch for wires down that could be touching fences or hidden under tree limbs or debris. Stay away and call us at 800-311-4634 to report any downed wires. Also keep your eyes out for broken limbs and branches that may not have fallen yet. Look up and check your surroundings to make sure you stay safe. Customers are encouraged to report outages every 24 hours and can do so or check the latest restoration information for their account via our website ( IndianaMichiganPower.com/Outages ) or our new mobile app; search for Indiana Michigan Power in the App Store or Google Play to download it today.

You can also follow us on Facebook (Indiana Michigan Power) and Twitter (@IN_MI_Power) for the latest updates.
If you see a downed power line, stay away from it and report it to Indiana Michigan Power or 911.