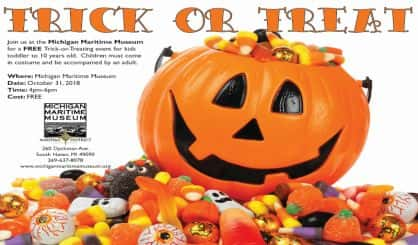 St. Joseph Today is reminding kids and parents of the downtown trick or treating planned for this Halloween. It tells us there will be treats to be sought in both downtown St. Joe and the Benton Harbor Arts District on Halloween from 4:30 to 6 p.m. Kids are encouraged to wear their costumes and visit the participating businesses. In St. Joseph, the first 700 youths to stop by the Welcome Center on State Street will receive a trick-or-treat bag from HoltBosse. We have the participating St. Joe and Benton Harbor businesses listed below.
Also happening on Halloween will be trick or treating at the Michigan Maritime Museum in South Haven. The museum tells us kids and parents can come down from 4 to 6 p.m. on Halloween to collect candy and non-food treats and play games.
Participating downtown St. Joseph businesses include: Bistro on the Boulevard, Candlestick Maker, Chocolate Café, DK Boutique, Edgewater Gifts, Freedom Boat Club, G&M Variety, Grins of St. Joseph, Kilwins, Lana's Boutique, Lazy Ballerina Winery, Lazy Daisy, Schu's, St. Joseph Today, State Street Stuff, The Toy Company, The Whitcomb, Tim's Too, Vivi's, White Pine Winery, Zion UCC.
Participating Benton Harbor Arts District businesses include: Benton Harbor Public Library, Citadel Dance Center, Citadel Music Center, Curious Kids' Museum, Mason Jar Café, MedExpress, Pier 1000, Road to Life Church, St. Joseph Today, The Livery, The OutCenter, Whirlpool, and Zion UCC.