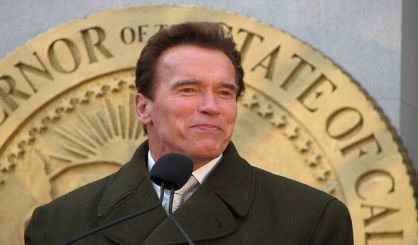 Arnold "The Terminator" Schwarzenegger will speak Saturday at a rally in East Lansing. It's in support of Proposal 2, an effort to eliminate gerrymandering in Michigan. Voters Not Politicians Director Katie Fahey tells us Michigan draws its legislative districts every ten years, and the process is directed by elected officials, meaning the ruling party, whoever it is at any given time, gets to set up the system for itself.
"That leads to a lot of Michigan voices not being heard. We have politicians who don't show up for public meetings or who are more accountable to special interests and lobbyists than the people of Michigan. And that's exactly why we really need to remove that conflict and give this power back to the voters instead of the politicians."
Proposal 2 would establish a redistricting commission made up of 13 citizens, including Democrats, Republicans, and independents who will be forced to hold public meetings and compromise when creating future voting districts. You can see Schwarzenegger speak on Saturday at the Ann Street Plaza at 9:30 a.m. in East Lansing. He'll speak before the MSU versus U of M game.