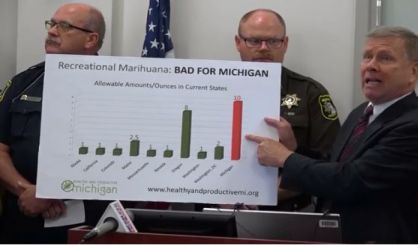 There is a coordinated effort by law enforcement statewide to get out the "no" vote regarding the ballot proposal to legalize recreational marijuana. Berrien County Prosecutor Mike Sepic says he's opposed to allowing "another mind-altering drug" to possibly get into the hands of children.
"Even though it would be illegal for minors, it would increase the prevalence of marijuana, and why would we want to expose that to young children? " Sepic said.
Cass County Prosecutor Victor Fitz says the strength of the drug has increased greatly in the last several decades.
"This is not the marijuana of the 70s where the potency was like 5 or 6%," Fitz said. "This is 20 times the amount of the marijuana from the 70s. A good example would be having mere beer versus 100 proof vodka."
The two were joined by police officials from throughout southwest Michigan Wednesday morning in Benton Harbor, while similar press conferences were held simultaneously around the state.