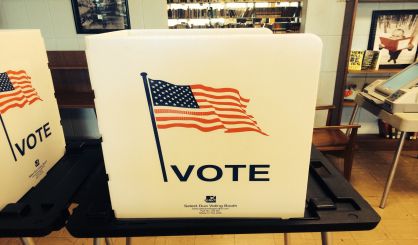 Are there any debates lined up between now and the November election in the 21st District Senate race or the two state House races in Berrien County? That depends on who you ask and your definition of a debate. Berrien County Democratic Party chairman Dr. Eric Lester says there are none, and noted Republican 79th District candidate Pauline Wendzel this week pulled out of a debate with Democrat Joey Andrews before the League of Women Voters of Berrien and Cass Counties.
"This is profoundly disappointing and contrary to the way a democracy ought to work," says Berrien County Democratic Party Chairman Dr. Eric Lester. Representative Kim LaSata, who is running for the 21st District Senate seat, explained why she won't take part in debates held by the League of Women Voters.
"Biggest reason for me is because the League of Women Voters is suing Republicans over the redistricting," says LaSata, adding Berrien County Clerk Sharon Tyler, state Senator John Proos, and former state Representative Al Pscholka are named in the lawsuit. "It's not a matter of being afraid. I'm going to chose the forums where I know it's going to be a fair forum," LaSata tells WSJM, adding the League of Women Voters is a Democratic-leaning organization that doesn't treat Republican candidates fairly. Lester disputes that contention.
LaSata says she had a forum before the primary with Representative Dave Pagel, whom she defeated in the primary, and Democrat Ian Haight. He tells WSJM News that was not a debate and adds he also took part in a forum with Pagel at Lake Michigan College. Haight and LaSata will be at an October 8 forum at Berrien RESA, but he again notes it's not a debate between just the two of them as several other elected officials and candidates will be on hand.