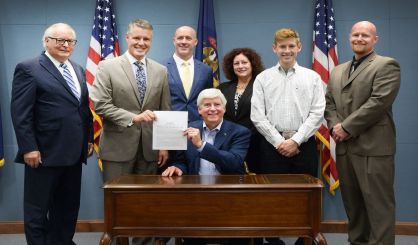 State Senator John Proos is pleased to see some STEM education legislation he sponsored received its final, ceremonial signing by the governor. Last Thursday, Proos tells WSJM News he invited local students and educators to Lansing for the signing of bills that would create a special STEM certification on the transcripts of high school students.
"We had a student from Niles New Tech, one of our learners from Niles New Tech down in Niles, and he's a student in CET, career and technical education," Proos said.
Proos says students who take extra credits in science, technology, engineering, and math would get that STEM certification. Companion legislation also requires schools to provide the latest regional economic outlook report to high school students. Proos has talked to many educators in favor.
"Almost all of them have indicated that the more information, the better," Proos said.
Proos tells us the STEM certification program would be adopted voluntarily by school districts. He says the new laws are part of Governor Rick Snyder's Marshall Plan for Talent.