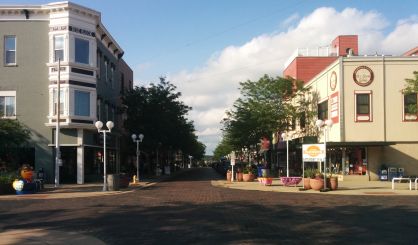 A Chicago-based consulting firm headed up by a St. Joseph native will tackle shaping the future of the city's downtown. Houseal Lavigne Associates was hired by the city commission Monday to begin the study. The firm is led by John Houseal, who says growing up here helps him fully understand the unique needs of the city when it comes to figuring out the best way to address the needs of the entire community.
"Like you, I love it, but I also see the potential of how it could be even better," Houseal told the city commission. "I can't wait to get started with my team working with the city, the downtown businesses, the year-round residents who live here along with the people who visit here."
The Downtown Plan Steering Committee went through 13 bids from various consulting firms in hiring Houseal's company. Committee chairwoman Megan Cuellar says a big issue came up early in their work.
"It was early on in the process that our committee had determined from community members' input that parking and traffic were big issues that needed to be addressed in these studies," she noted.
As for Houseal, he stressed he's not a typical Chicago resident, given his background here, having graduated from Lake Michigan Catholic and still having family in town.
"I was a lifeguard at Tiscornia Beach, I was a lifeguard at Silver Beach, I worked for the Public Works Department during the summer for four years," Houseal said, adding with a laugh "I used to babysit (Senator) John Proos when he was a kid. Don't tell him I told you guys that."
The goal is to have a report from Houseal Lavigne Associates by November 2019 to plot the future direction of downtown.