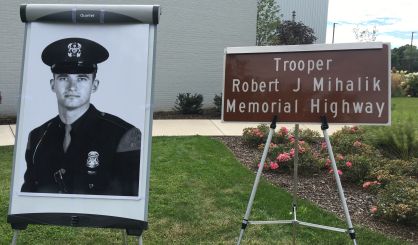 Red Arrow Highway between Glenlord and Hilltop roads is now known as the Trooper Robert J. Mihalik Memorial Highway. A dedication was held Sunday afternoon at Eagle Technologies to remember Mihalik on the 34-year anniversary of his death in the line of duty. His widow, Carol Mihalik, was among the family members who spoke, thanking state Representative Kim LaSata for getting the resolution passed and Assistant Niles MSP Post Commander Mindy Logan for her work to honor her husband.
"I'd like to give a very special appreciation to the Michigan State Police, who never forget one of their own," said Mihalik. She also thanked everyone who turned out Sunday.
"It's been 34 years," she said. "And it's evident this community has not forgotten Bob."
LaSata talked about getting the memorial resolution passed, noting such dedications are normally unanimous votes in Lansing.
"I'm very grateful that I got to know part of Trooper Mihalik's family and some of his friends, who are so caring and had pushed this forward."
Congressman Fred Upton also spoke, noting he grew up across the street from where Trooper Mihalik was killed. He called the dedication very personal, and said the new signs will always remind him of the sacrifice that was made. Upton also noted Red Arrow Highway is already a memorial, named for the soldiers killed in World War One.