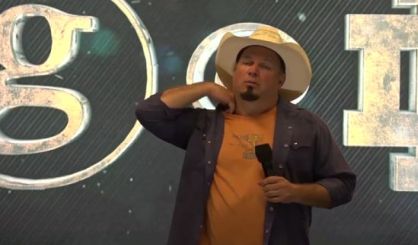 The date is set for the first concert in the history of Notre Dame Stadium. Country music icon Garth Brooks will perform on Saturday, October 20 in the round with the stage at the 50-yard-line.
"I don't want to give anything away, but you never play a concert to play a concert," he said, adding "you play a concert at some place for the next concert you get to play there. That's what you're always doing. So I would love to go away from here knowing we are welcome back to come play here again."
Brooks apologized for his appearance at the start of his press conference this week, clad in work boots and dirty blue jeans, noting he had just come from the Habitat for Humanity build with former President Jimmy Carter in South Bend, and was going back to the site once he was done talking about the show.
While his is the first concert at the stadium, Notre Dame officials say he will not be the last as they're looking for ways to utilize the stadium for more than just home football games. He promised some surprises, hinting that he will likely play tunes by George Strait and Bob Seger along with his own library of hits, but said it remains to be seen if wife Trisha Yearwood will join him for any songs. WSJM News asked Brooks how he keeps the music fresh after playing many of the same songs at thousands of shows. He says part of that is picking songs "that don't burn," but says the audience plays a huge role, too. That's especially true of his closing ballad, "The Dance," from his 1989 debut album.
"When 'The Dance' comes up, you'd think by now, (but) I find myself crying," Brooks told us. "It's good. Pick those songs that don't burn over time and time just kind of reinvents them." He added his 1992 hit "We Shall Be Free," inspired by the Los Angeles riots, has more meaning to him now than it did then.
Tickets for the show will go on sale September 14. Brooks says with the stage set up at the 50-yard line and performing in the round, he will have five front rows to give everyone a better seat than if he were to set up at one end of the stadium.