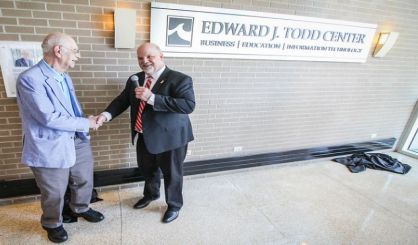 The former Western Michigan University building at the Benton Township campus of Lake Michigan College is now the Edward J. Todd Center at LMC. A dedication for the recently-acquired building was held this past Tuesday. LMC President Trevor Kubatzke told WSJM News the building will house several college programs.
"IT, business, and education," Kubatzke said. "Western Michigan had set up a classroom for education and so upstairs we have a classroom with an observation room, so it really fits our education department well to utilize that space as it's designed. Business and marketing and accounting will all be over here along with criminal justice and information technology."
Kubatzke tells us the Todd Center is now up and fully running. Students will begin classes there next week. Lake Michigan College moved to secure the lease for the WMU building from the state last year at a cost of $2.7 million. It's now named for Edward J. Todd, a longtime LMC supporter who donated for upgraded business classrooms at the college.