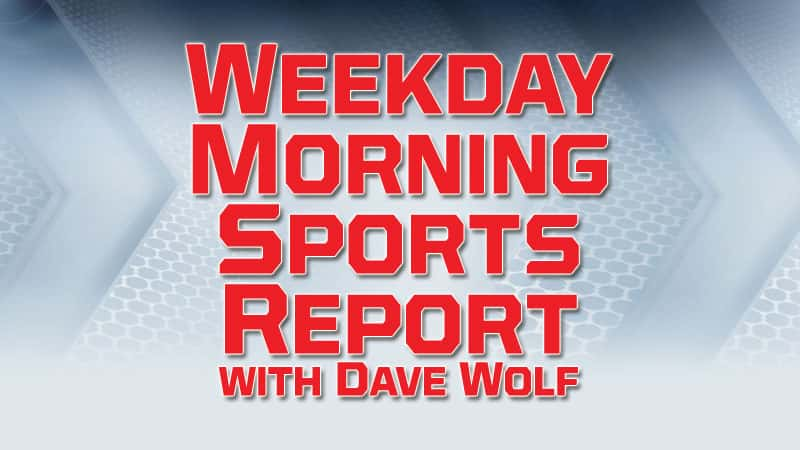 MLB – Major League Baseball
Yesterday
Texas Rangers 3, Detroit Tigers 0
Houston Astros 2, Chicago White Sox 1
Chicago Cubs 6, Cincinnati Reds 5 – 10 Innings
Rangers 3, Tigers 0 – Bibens-Dirkx sharp as Rangers blank Tigers 3-0
Austin Bibens-Dirkx pitched impressively into the sixth inning, and the Texas Rangers blanked the Detroit Tigers 3-0 on Sunday. Jurickson Profar homered in the first, and the Rangers salvaged a split of the four-game series. Bibens-Dirkx (2-2) allowed three hits and a walk in 5 1/3 innings. He struck out five. Shin-Soo Choo of the Rangers hit an infield single with two outs in the ninth, extending his on-base streak to 47 games. He surpassed the team record of 46, set by Julio Franco in 1993. Jose Leclerc struck out five in 1 2/3 hitless innings of relief for Texas. Jake Diekman pitched the eighth, and Keone Kela finished for his 22nd save in 22 chances. Michael Fulmer (3-8) allowed two earned runs and five hits in seven innings.
Astros 2, White Sox 1 – Keuchel, Altuve help Astros complete sweep of White Sox, 2-1
Houston's offense cooled off on Sunday after the Astros piled up 23 runs and 30 hits combined in their last two games. The Astros managed just three hits and two runs in the series finale against the White Sox, but it was just enough to get a 2-1 win to complete the four-game sweep.  Dallas Keuchel pitched seven strong innings, Jose Altuve hit a homer and the Astros manufactured the go-ahead run in the seventh to get the victory. Altuve's solo shot put Houston up 1-0 in the fourth to help the Astros to improve to a season-high 30 games above .500 (61-31).  Chicago starter Lucas Giolito (5-8) had retired nine straight after Altuve's home run when Yuli Gurriel got Houston's second hit of the game with a double with no outs in the seventh. He took third on a fly ball out by Josh Reddick and the Astros went up 2-1 on a sacrifice bunt by Marwin Gonzalez. Keuchel (6-8) yielded six hits and a run while walking three to win his third straight decision.
Cubs 6, Reds 5 – F/10 – Bases-loaded walk in 10th gives Cubs 6-5 victory over Reds
David Bote drove in the game-winning run with a bases-loaded walk in the 10th inning, lifting Chicago to a 6-5 victory over the Cincinnati Reds. Javier Baez had two hits and two RBIs for the Cubs, who have won their last nine games in comeback fashion. Albert Almora Jr. and Ian Happ also had two hits apiece, and Addison Russell drove in three runs. The Cubs trailed 4-3 in the seventh. They scored four times in the eighth inning on Saturday for an 8-7 win. Eugenio Suarez and Adam Duvall homered for the Reds, who had their five-series winning streak snapped. Luke Farrell (3-3) worked a clean 10th inning for the win.
Tonight
Detroit (Liriano 3-5) at Tampa Bay (Archer 3-4), 7:10 p.m.           WSJM Sports/Cosy-FM 6:45
Chicago Cubs (Hendricks 5-8) at San Francisco (Suarez 3-5), 10:15 p.m.
White Sox are off
MLB – NL All Stars – Harper to start All-Star Game at home park in Washington
Washington Nationals slugger Bryce Harper will be in his usual spot for the All-Star Game. Harper has been voted into the starting lineup for the July 17 game at his home park in Washington. Harper is batting just .218 this season, but he has 21 homers and 50 RBIs. Nick Markakis and Matt Kemp will join Harper in the NL outfield. Markakis has been a key performer for the surprising Atlanta Braves, and Kemp's return to the Los Angeles Dodgers has been a smashing success. The All-Star rosters were unveiled Sunday night. The Chicago Cubs will have two starters after catcher Willson Contreras and second baseman Javier Baez each won a close race at their position in fan balloting. Braves first baseman Freddie Freeman, Colorado Rockies third baseman Nolan Arenado and Giants shortstop Brandon Crawford round out the NL starting lineup.
MLB – AL All Stars – Trout leads stellar AL outfield for All-Star Game
Mike Trout, Aaron Judge and Mookie Betts have been voted into the starting lineup for the All-Star Game, creating a dream outfield for the American League. Trout is working on perhaps the best season of his stellar career with the Los Angeles Angels. Judge has 25 homers and 58 RBIs for the New York Yankees, and Betts is batting .342 with 22 homers for the major league-leading Boston Red Sox. The rosters for the July 17 game in Washington were unveiled Sunday night.  Houston Astros second baseman Jose Altuve led the fan balloting with 4.8 million votes. Baltimore Orioles shortstop Manny Machado, Chicago White Sox first baseman Jose Abreu, Cleveland Indians third baseman Jose Ramirez, Red Sox designated hitter J.D. Martinez and Tampa Bay Rays catcher Wilson Ramos also were voted into the AL lineup.  Tigers pitcher Joe Jimenez was also selected.o
NHL – Red Wings sign first round pick Zadina
Filip Zadina, the 6th overall pick in the 2018 draft has signed a three year entry level contract with the Detroit Red Wings.  The 18 year old native of the Czech Republic played for the Halifax Mooseheads of the Quebec Major Junior Hockey League, scored 44 goals and had 38 assists in 57 games last season.   He added 5 goals and 7 assists in 9 playoff games for Halifax.    There is some confusion of what Zadina will do if he does not make the Red Wings lineup on opening night.  Typically junior players who do not make NHL rosters are sent back down to their junior teams, which Halifax is requesting, but the Red Wings could send him to Grand Rapids because they believe Zadina played in Halifax on loan from a team in the Czech Republic, which means would not have to return to Halifax and be sent to Grand Rapids if he isn't on the Red Wings roster on opening night.   Zadina is the only one of Detroit's ten 2018 draft picks that's under contract. 
NBA – Pachulia signing 1-year deal with Pistons
Zaza Pachulia is signing a one-year, $2.4 million contract with the Detroit Pistons. A person familiar with the terms confirmed the deal to The Associated Press on Sunday. The person confirmed it on terms of anonymity because the Pistons had not announced the signing. Pachulia was with the Golden State Warriors in each of the last two seasons, winning championships both years and starting 127 of a possible 164 regular-season games. Detroit becomes the sixth team for the 34-year-old center, a career 6.9-point-per-game scorer. The Pistons waived center Eric Moreland earlier Sunday, presumably the precursor to the Pachulia signing.
NBA – Bulls match 4-year contract offer for Zach LaVine
Zach LaVine is staying with the Chicago Bulls, after the team matched a four-year, $80 million offer sheet that he got from the Sacramento Kings.  LaVine was a restricted free agent, which meant the Bulls had right of first refusal.  LaVine has missed 91 of a possible 162 games over the past two seasons because of injuries. He appeared in only 24 games for the Bulls last season, averaging 16.7 points on 38 percent shooting.
NBA – Mozgov, Biyombo swapped in Hornets-Magic-Bulls trade
Timofey Mozgov has been traded for the second time this summer, dealt from Charlotte to Orlando in a three-team deal that also included Chicago. The Magic sent Bismack Biyombo and two future second-round picks to Charlotte, which traded Mozgov to Orlando. The Magic also got guard Jerian Grant from the Bulls in the deal completed late Saturday night. Chicago acquired Julyan Stone from Charlotte in the trade that saves the Bulls about $2 million. The Hornets had just acquired Mozgov from Brooklyn in the deal that sent Dwight Howard to the Nets before he was bought out so he could sign with Washington. Neither Mozgov nor Biyombo ever came close to living up to the contracts they signed in July 2016, and both have two seasons and more than $32 million remaining.  Biyombo played for Charlotte from 2011-14. He is fifth in Hornets history in blocks and blocks per game (1.6).
Cycling – Tour de France – Sagan wins Stage 2 to take early lead
World champion Peter Sagan won a sprint finish to claim the second stage of the Tour de France and the race's overall lead on Sunday. The Slovakian rider for Bora-Hansgrohe edged Sonny Colbrelli at the finish line. Sagan won the flat 113.4-mile leg from Mouilleron-Saint-Germain to the department capital of La Roche-sur-Yon in just over four hours.
Golf – PGA – Kevin Na wins by 5 shots in West Virginia for 2nd tour win
Kevin Na has broken a nearly seven-year winless drought on the PGA Tour by shooting a 6-under 64 Sunday for a five-stroke victory at A Military Tribute at The Greenbrier. Na birdied six of his first 10 holes to open up a big lead over third-round co-leader Kelly Kraft. The 34-year-old Na cruised from there and finished at 19-under 261. Na's only previous tour win came in Las Vegas in 2011.
Golf – LPGA – Kim shatters LPGA scoring records, wins by 9 shots
Sei Young Kim became the first player in LPGA Tour history to go lower than 30 under in a performance so dominant in the Thornberry Creek LPGA Classic that she now has the tour scoring records all to herself. Kim closed with a 7-under 65 on Sunday for a nine shot victory, finishing at 31-under par. That broke by four shots to par the record Kim had shared with Annika Sorenstam.  She also set the 72-hole scoring record at 257, finishing with a par to break the mark by one shot.
IndyCar – Hinchcliffe wins at Iowa for 1st victory of `18
Canadian James Hinchcliffe passed Josef Newgarden with just over 40 laps left to win the IndyCar race at the Iowa Speedway, his first victory of the season. Hinchcliff picked up his first win since Long Beach in 2017 and his second win at Iowa, six weeks after failing to qualify for the Indianapolis 500. Spencer Pigot was a career-best second, followed by Takuma Sato. Newgarden dominated much of the race, leading 229 of the 300 laps before Hinchcliffe seized control.
Formula 1 – Vettel puts neck on the line to beat Hamilton in British GP
After laboring with neck pain on Saturday, Sebastian Vettel found the perfect tonic 24 hours later, matching Alain Prost's total of 51 Grand Prix victories and denying his main rival a record-setting win in his home race.  The German defeated second-placed Lewis Hamilton on Sunday to win the British GP in front of a partisan crowd and extended his lead in the Formula One championship standings to eight points after 10 of 21 races. Vettel had been hindered by neck pain in the last practice, and wasn't sure if he'd be able to compete in Saturday's qualifying session. He acknowledged he had been concerned ahead of the race itself.
FIFA – England fans celebrate World Cup win over Sweden at IKEA
England has to win two more games to bring the World Cup home, but the enthusiasm some soccer fans displayed after their team advanced to the semi-finals met international expectations.  Emergency services personnel complained Sunday about the "disgraceful" behavior of a small number of supporters who celebrated England's victory over Sweden by dancing on top of an ambulance and badly damaging it. Sergeant Wayne Baker of West Yorkshire police tweeted that the behavior made him "anything but proud to be British." The ambulance used as a dance floor on Saturday was out of service.  But retailer IKEA took in stride the England fans who bounced and rolled on furniture and kicked items at the Swedish-founded company's east London store. The company said it was "aware" of the incident and congratulated England on its win.
NFL – Two Big Ten referees make the jump to the NFL
The NFL roster of game officials for the upcoming season includes seven rookies among the 121 on the list. The newcomers are field judges Land Clark of the Pac-12, Matt Edwards and Don Willard of the Big Ten, and Anthony Jeffries of the SEC; side judge Chad Hill of the SEC; back judge Tony Josselyn of the SEC; and line judge Mark Stewart of the Big 12.
NCAAMBB – Maryland releases subpoenas for records in FBI hoops probe
Maryland has joined the list of schools to receive a grand jury subpoena seeking records in the federal corruption investigation into college basketball. The school released two subpoenas to The Associated Press and other media outlets in response to public records requests. Maryland says it has complied with the subpoenas by providing records.
MWL – Midwest League Baseball
Yesterday
South Bend 10, Lansing 0
Lake County 7, West Michigan 1
Great Lakes 7, Dayton 5
Tonight
West Michigan at Lake County, 7 p.m.
Dayton at Great Lakes, 7:05 p.m.
South Bend at Lansing, 7:05 p.m.