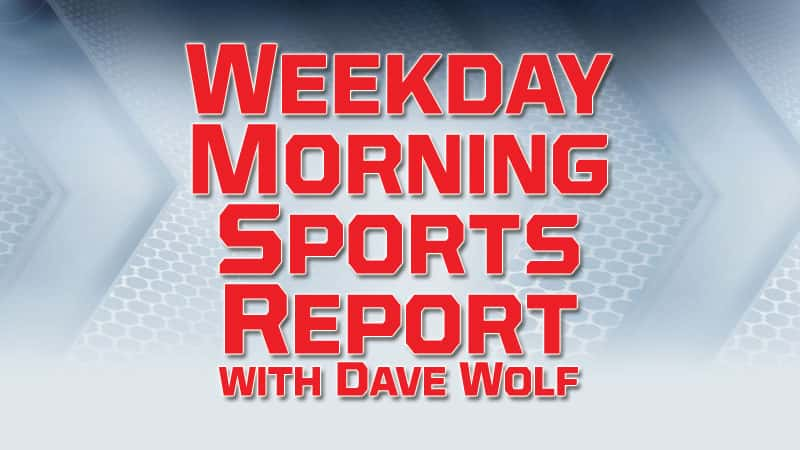 MLB – Major League Baseball
Yesterday
Chicago Cubs 5, Detroit Tigers 2
Cincinnati Reds 7, Chicago White Sox 4
Cubs 5, Tigers 2 – Contreras HR, 3 RBIs lead Cubs past Tigers for 6th straight
Javier Baez stole home and Willson Contreras hit a tie-breaking homer and to lead the Chicago Cubs past the Detroit Tigers 5-2 on Wednesday for their sixth straight victory. Conditions at Wrigley Field favored the longball, with a game-time temperature of 92 degrees, a heat index of 102 and the wind blowing out. David Bote hit his first homer while Detroit got solo shots from Nick Castellanos and John Hicks, but was swept by the Cubs in the two-game interleague set and has dropped 13 of 15. Bote, playing third in place of injured Kris Bryant, smacked his drive into the batter's eye shrubs in straight-away center on the first pitch he faced in the second to tie it.  Contreras homered in the sixth and then added a two-run double in the seventh.  Chicago starter Jose Quintana (7-6) allowed two runs on five hits through six innings to win for the first time since May 31.  Detroit's Francisco Liriano (3-5) permitted three runs on five hits and five walks in his third outing _and third loss _ since returning from the disabled list.  Castellanos hit his 14th homer, and third in five games, to left in the first to put Detroit ahead 1-0. Hicks' shot in the third landed halfway up the left-center bleachers and put the Tigers back in front, 2-1.
Reds 7, White Sox 4 – Winker, Peraza key Reds big fourth in 7-4 win over White Sox
Starting pitcher Sal Romano dropped down a suicide squeeze during a six-run fourth inning, and the Cincinnati Reds rallied to beat the Chicago White Sox 7-4 on Wednesday night. Jesse Winker and Jose Peraza each had a two-run single during the big inning, and Scooter Gennett also singled in a run. The Reds overcame Daniel Palka's third home run in two games to win the three-game series and complete a 4-3 homestand. The Reds have won 13 of 17 and have come from behind in eight of their last 11 wins. Yoan Moncada added a two-run homer for the White Sox, who have dropped five of seven and 14 of 20. Cincinnati improved to 8-2 in interleague play, the most wins since going 11-9 in 2013. The White Sox are 4-11 against NL teams.
Tonight
Texas (Gallardo 2-0) at Detroit (Boyd 4-6), 7:10 p.m.        WSJM Sports/Cosy-FM 6:45
Chicago White Sox (Rodon 1-3) at Houston (Verlander 9-4), 8:10 p.m.
Cubs are off
FIFA – World Cup 2018 – Round of 16
Yesterday
Off day
Today
Off day
FIFA – Costa Rica says coach out after disappointing World Cup
The Costa Rica soccer federation says national team coach Oscar Ramirez is out after the team's disappointing performance at the World Cup.  Costa Rica compiled a record of 9 wins, 6 ties and 4 defeats in 16 qualifying and three World Cup matches under Ramirez.
Competitive Eating – Judging errors cast confusion at hot dog contest
Judging errors cast widespread confusion over Joey "Jaws" Chestnut's record-setting 11th title at the annual Nathan's Famous July Fourth hot dog eating contest. Chestnut took home the Mustard Belt after downing 74 franks and buns in 10 minutes – two more than he did last year. Second-place finisher Carmen Cincotti ate 64. But longtime announcer George Shea tells The Associated Press he noticed in real time that jurists measuring Chestnut's and Cincotti's intake weren't counting from two plates stacked with franks that the eaters were drawing from. The under-counted tally was then displayed on live TV.  Shea says both Chestnut and Cincotti were adamant about their scores, which were certified by Brooklyn District Attorney Eric Gonzalez. He says new judges will be used next year.   Miki Sudo downed 37 franks to win her fifth straight title in the women's competition of the annual Nathan's Famous July Fourth hot dog eating contest. The Las Vegas competitor fell short of the 41 hot dogs she consumed last year but still beat out second-place finisher Michelle Lesco, of Tucson, Arizona. Lesco chowed down 28 wieners and buns.
NBA – Amir Johnson returning to Philadelphia next year
A person with knowledge of the negotiations tells The Associated Press that Amir Johnson has accepted a one-year deal with the 76ers. The 13-year NBA veteran was primarily a reserve for the 76ers last season, averaging 4.6 points and 4.5 rebounds per game. for the 31-year-old, who will be entering his 14th NBA season this fall.
Tennis – Wimbledon – Day 3 – Federer, Serena Williams advance, Wozniacki ousted
Men's top seed Roger Federer has advanced to the third round at Wimbledon, but women's No. 2 Caroline Wozniacki is done after two matches.  Federer breezed through a convincing 6-4, 6-4, 6-1 win over Slovakian Lukas Lacko. Federer didn't drop a single point on serve in the second set as he seeks his second straight Wimbledon crown and ninth overall.
Wozniacki is making another earlier departure from All England Club. The Australian Open champion went out before the third round for the fourth time in seven years, losing 6-4, 1-6, 7-5 to Ekaterina Makarova of Russia. Wozniacki also complained to the chair umpire about insects that invaded No. 1 court during the second set.
Serena Williams moved into the third round as she goes for her eighth Wimbledon singles title. The No. 24 seed just five of 32 points on her first serve in a 6-1, 6-4 win over Viktoriya Tomova. It was her 16th straight victory at Wimbledon, although she missed last year's tournament while pregnant.
Other second-round winners on the women's side include seventh seed Karolina Pliskova, ninth seed Venus Williams, No. 10 Madison Keys and No. 13 Julia Georges. Wozniacki was the only women's seed to fall.  Lucas Pouille was the lone men's seed to fall. Dennis Novak knocked out the 17th seed in five sets.  No. 13 Milos Raonic and No. 11 Sam Querrey earned straight-sets victories before the Day 3 schedule on the outdoor courts was halted by rain.
NCAA Wrestling – Jordan denies knowledge of alleged sexual abuse by OSU doctor
U.S. Rep. Jim Jordan says he never knew of sexual abuse by a now-dead doctor who examined wrestlers Jordan helped coach decades ago at Ohio State University.  Jordan repeatedly denied claims by ex-wrestlers Mike DiSabato and Dunyasha Yetts, who say the powerful Republican congressman from Ohio knew back then that Richard Strauss was groping male athletes.  Jordan acknowledged that Strauss was among faculty members and other employees who used the same open shower area as athletes in the building where they practiced, but he said he and other coaches with whom he has spoken weren't aware of any abuse by Strauss.  Male Ohio State athletes from 14 sports have alleged sexual misconduct by Strauss, whose death in 2005 was ruled a suicide.
Cycling – Froome calls on skeptical fans to let him ride Tour in peace
Chris Froome has asked Tour de France fans to let him race in peace, even if they doubt the recent ruling that cleared him of doping allegations. The British cyclist has been targeted by spectators in the past. During the 2015 Tour, he said a man threw a cup of urine at him while yelling "doper". With the latest edition beginning on Saturday, five days after the International Cycling Union finally ruled Froome had won last year's Spanish Vuelta cleanly.  A cloud hung over Froome after a urine sample taken during the Vuelta in September showed a concentration of the asthma drug salbutamol that was twice the permitted level. After months of silence, the UCI said Froome's result did not represent an adverse finding, which could have led him to be stripped of his Vuelta victory, and a suspension.  The UCI's ruling ensured he could compete at the Tour after race organizer ASO had informed Team Sky it would forbid Froome from entering until the doping case was decided. His use of asthma medication has been well documented and he often uses inhalers during races. World Anti-Doping Agency rules state an athlete can be cleared for excessive salbutamol use if he proves it was due to an appropriate therapeutic dosage. Froome said he understands it may take time for fans to believe he is not a cheat.
MWL – Midwest League Baseball
Yesterday
Fort Wayne 7, Great Lakes 0
West Michigan 7, Lansing 3
Bowling Green 5, South Bend 2
Tonight
Great Lakes at Fort Wayne, 7:05 p.m.
West Michigan at Lansing, 7:05 p.m.
South Bend at Bowling Green, 7:35 p.m.