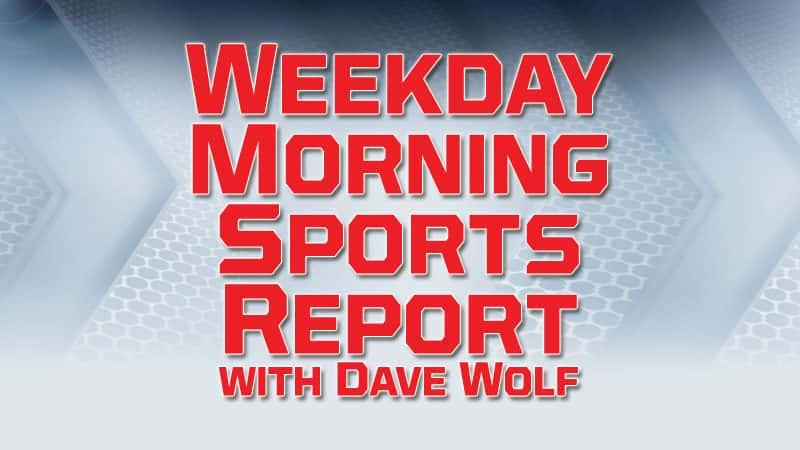 NBA Free Agency – Lakers get LeBron
The Cleveland Cavaliers are losing LeBron James once again. The 33-year-old forward has agreed to a four-year, $154 million contract with the Los Angeles Lakers. This is the third time in eight years James has changed teams. He returned to the Cavs in 2014 after four seasons in Miami.  The 14-time All-Star is ranked seventh on the NBA's all-time list with 31,038 points. James is also fourth in scoring average at 27.2 points. The game's best all-around player and biggest star will now lead a young Lakers team that has been overmatched in recent years while rebuilding but will
instantly rise with James. He joins a roster that included Brandon Ingram, Julius Randle, Kentavious Caldwell-Pope, Kyle Kuzma and Isaiah Thomas last season. The Lakers also include Lance Stephenson after he agreed to a deal with the team on Sunday. Stephenson averaged 9.2 points last season.
Glenn Robinson is coming back to Michigan after a person was knowledge of the agreement says the former Wolverine has taken a one-year contract with the Pistons.  Robinson was on the Michigan team that went to the Final Four in 2013.  Robinson averaged 4.1 points and 14.7 minutes a game last season for Indiana.
MLB – Major League Baseball
Yesterday
Detroit Tigers 9, Toronto Blue Jays 1
Chicago White Sox 10, Texas Rangers 5
Chicago Cubs 11, Minnesota Twins 10
Tigers 9, Blue Jays 1 – Castellanos grand slam help Tigers beat Jays 9-1, snap skid
Nick Castellanos hit his fourth career grand slam, Jordan Zimmermann pitched seven strong innings and the Tigers beat the Toronto Blue Jays 9-1 on Sunday, breaking Detroit's 11-game losing streak.  JaCoby Jones hit a two-run homer as the Tigers won for the first time since June 17, when they completed a three-game road sweep of the Chicago White Sox.  Niko Goodrum had a career-high four hits and Jose Iglesias had two hits and two RBIs for Detroit, which had lost 12 of 14 at Rogers Centre.  Zimmermann (3-0) allowed one run and five hits in his third start since returning from a shoulder injury that caused him to miss more than a month.
White Sox 10, Rangers 5 – White Sox top Rangers 10-5 as Choo streak reaches 42 games
Avisail Garcia had four hits and Matt Davidson and Jose Abreu drove in three runs apiece to help the White Sox avoid a sweep to start a 10-game road trip, their longest of the season. Davidson had his second straight three-hit game.  Reynaldo Lopez (4-5) made it through 6 1/3 innings in the boiling Texas heat — a first-pitch temperature of 97 degrees that climbed past 100 before the last of Lopez's career-high 114 pitches. The right-hander allowed seven hits and two runs with six strikeouts.  Five straight Chicago hitters reached with one out in the five-run fifth against Texas ace Cole Hamels, starting with ninth-hitting Adam Engel on a wild pitch after a strikeout. Tim Anderson doubled, Garcia hit a run-scoring single and Abreu had an infield single before Davidson's double off the bottom of the 14-foot wall in left field.
Cubs 11, Twins 10 – Lester homers, gets NL-high 11th win as Cubs top Twins 11-10
Jon Lester hit a three-run homer that highlighted an eight-run burst in the second inning and wound up with his NL-leading 11th win as the Chicago Cubs held off the Minnesota Twins 11-10 on Sunday.  Ian Happ also homered for the Cubs, who have scored at least 10 runs in four straight games for the first time since 1930. Chicago swept the three-game series and has won four in a row overall.  Brian Dozier hit a two-run homer and Jake Cave also homered for the Twins.  Lester (11-2) allowed four runs, two of them earned, and nine hits in five-plus innings.  Mitch Garver hit a two-run homer off Dillon Maples as the Twins scored five times in the eighth.  Javier Baez, who doubled twice, Happ and Willson Contreras each had three hits for the Cubs.
Tonight
Detroit (Fiers 5-5) at Toronto (Borucki 0-1), 1:07 p.m.     WSJM Sports/Cosy-FM 12:45
Chicago White Sox (Shields 3-9) at Cincinnati (Castillo 5-8), 7:10 p.m.
Cubs are off
FIFA – World Cup 2018 – Round of 16
Yesterday
Croatia 1, Denmark 1        Croatia wins 3-2 on penalty kicks
Russia 1, Spain 1              Russia wins 4-3 on penalty kicks
Sunday's World Cup Roundup
Russia has eliminated Spain from the World Cup. The Russians survived two hours of dominance from the 2010 champions in a 1-1 draw, and then won a penalty shootout 4-3. All four Russian shooters scored before thousands of screaming home fans, the team's greatest win in international soccer in 10 years.  The World Cup's lowest-ranked team now advances to a quarterfinal in Sochi on Saturday. Spain has now failed to win a knockout game at three major tournaments since it won the 2012 European championship. Also on Sunday,  Danijel Subasic made three saves in the shootout as Croatia beat Denmark 3-2 on penalties to advance to a quarterfinal against Russia.  Subasic joins former Portugal goalkeeper Ricardo as the only man to save three shots in a single Cup shootout. 
Today
Brazil vs. Mexico, 10:00 a.m.
Belgium vs. Japan, 2:00 p.m.
NHL Free Agency – Tavares goes home to Toronto
Five-time All-Star center John Tavares is going home, agreeing to terms on a seven-year, $77 million contract with his childhood team, the Toronto Maple Leafs.  Tavares had spent his entire NHL career with the Islanders after being taken first overall in the 2009 draft. He scored 37 goals and 84 points while playing all 82 games for New York last season. The 27-year-old Tavares has scored 272 goals and 621 points in 669 career games. He was a First Team All-Star in 2015. The Isles countered by working out a four-year, $12 million package with Leo Komarov, who provided seven goals and 19 points in 74 games for Toronto last season.
The Blackhawks have signed goaltender Cam Ward, winger Chris Kunitz and defenseman Brandon Manning. Ward and Kunitz each took one-year deals, while Manning received a two-year pact.  Ward is the all time wins leader for the Carolina Hurricanes.  Going 23-14-4 with a 2.73 goals against average and a .906 save percentage last season.   Kunitz is a four time Stanley Cup Champion, 1 with Anaheim and 3 with Pittsburgh.  Kunitz played his college hockey at Ferris State University played last year with Tampa Bay.  Manning was an undrafted free agent for the Philadelphia Flyers, and has played 207 games in the NHL. scoring 11 goals and 32 assists.
The Red Wings' rebuilding process has some age to it following the signings of 34-year-old winger Thomas Vanek and 29-year-old goaltender Jonathan Bernier, along with the re-signing of 32-year-old defenseman Mike Green. Vanek signed a $3 million, one-year deal, Bernier got $3 million per season on a three-year deal and Green will make $5.375 million annually over the next two years.   Later in the day, the Red Wings signed four players mostly likely destined for Grand Rapids.  Center Wade Megan, defenseman, Jake Chelios, goalie Harri Sateri, and left wing Chris Terry.  Megan was the AHL's leading goal scorer in 2016-17.  Terry was the AHL's leading scorer last season with Laval, Chelios is the son of NHL Hall of Famer Chris Chelios, who played for Montreal, Chicago and Detroit.
NASCAR – Kyle Busch gets fifth win of year.
Kyle Busch outdueled Kyle Larson on a wild final lap to win NASCAR's Cup race at Chicagoland Speedway. Busch moved into the lead on a restart with 58 laps to go, replacing Kevin Harvick at the front of the field. Busch, Harvick and Martin Truex Jr. were up front with about 40 laps left before a hard-charging Larson crashed the party. It was Busch's fifth victory overall this year and his second win at Chicagoland.  Harvick was third, followed by Truex and Clint Bowyer. Truex was trying for his third straight victory at Chicago.
Tennis – Murray pulls out of Wimbledon
Two-time champion Andy Murray has pulled out of Wimbledon because of a hip injury. Murray had surgery on his hip in January and returned to competition only two weeks ago. The tournament begins Monday.
Golf – PGA – Molinari shatters tour record to get first PGA win
Francesco Molinari picked up his first PGA victory by delivering a record performance to win the final edition of the Quicken Loans National. The Italian closed with an 8-under 62 for an eight-shot victory, matching the largest margin this year on the PGA Tour. Molinari holed a 50-foot eagle putt to start the back nine, and he never stopped until he turned the final round into a runaway and finished 21 under to break the tournament record by seven shots.  Tiger Woods closed with a 66 and tied for fourth, his best result since a runner-up finish at the Valspar Championship three months ago.
Golf – Champions – Toms wins U.S. Senior Open
David Toms made one long putt to take the lead, then another one to preserve it on his way to a one-shot victory at the U.S. Senior Open.  Toms sank a 15-foot birdie on the par-3 16th hole at the Broadmoor to take the lead, then held on with a 20-foot downhill make after laying up from a fairway bunker on the 17th hole.  Toms finished 3-under to edge third-round leaders Jerry Kelly, Miguel Angel Jimenez and Tim Petrovic.
Golf – LPGA – Park beats Ryu, Hataoka in playoff
Sung Hyun Park beat So Yeon Ryu on the second hole of a playoff Sunday in the KPMG Women's PGA Championship.  After a brief rain delay on the par-4 16th hole at Kemper Lakes, Ryu's birdie try rolled past, and Park finished off her South Korean compatriot with a 10-footer.  Japanese teen Nasa Hataoka, after shooting an 8-under 64 to post at 10 under, dropped out of the playoff with a par on the par-4 18th.  Ryu made a 20-footer for birdie from the fringe, and Park followed from 10 feet.Park closed with a 3-under 69.
MWL – Midwest League Baseball
Yesterday
Bowling Green 5, West Michigan 3
Dayton 5, South Bend 2
Lansing 8, Great Lakes 4
Tonight
Fort Wayne at Great Lakes, 7:05 p.m.
Lansing at West Michigan, 7:05 p.m.
Bowling Green at South Bend, 7:35 p.m.