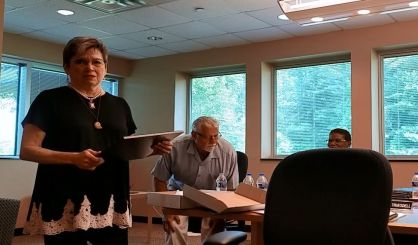 Retiring Lake Michigan College Trustee Judy Truesdell has been saluted for her years of service by the LMC Board of Trustees. At a meeting this week, the board sent Truesdell off with a resolution commending and thanking her for her work on behalf of the college. She's served since 1997, and told us LMC has grown quite a bit in that time.
"All of the construction, the buildings, and the addition of staff," Truesdell said. "The increased quality of the delivery of education, and so many awards we've received for the excellent work that we've done. We're a leader in the Michigan community college movement."
Truesdell noted her first function as a trustee was the groundbreaking for the Bertrand Crossing campus in Niles. She said she's glad to leave Lake Michigan College in the hands of a capable board and administration. She told us it has been an "unbelievable opportunity" to have served. The board will hold a meeting on July 12 to interview possible replacements.