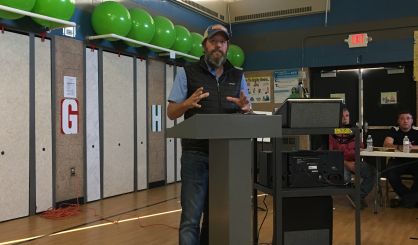 The village of Three Oaks has until mid-September to figure out how its sewer system can be improved to handle the wastewater discharge from Journeyman Distillery and future businesses in town. Journeyman co-founder Bill Welter reminded the crowd and the village council that he started the business during the Great Recession, and the village knew about the potential issues with the wastewater treatment when he opened.
"What we have is a great problem," said Welter. "The business is successful, people are investing in the community behind our investment. What we have here is a situation where the village needs to catch up with the investment," he said to loud applause from the more than 100 people packed into the gym at Three Oaks Elementary. Wednesday's village council meeting was moved to the school to accommodate the large crowd, and it was still standing room only.
Village President David Grosse announced the compromise early on in the meeting, which went for about three hours. "Journeyman is willing to haul away the distillery waste, meaning it will not be entering our system, and that's a very good thing. That gives us a chance to clean up the ponds and get them restored. We committed to expediting our search for a long-term solution."
Journeyman will haul its waste to another treatment facility for 90 days starting June 27. The cease and desist order that had been issued last week never took effect, as it was lifted to allow Grosse, Welter, and Village Manager Mike Greene time to work out a solution and to have the issue before the village council this week.
Photo: Journeyman Distillery owner Bill Welter addresses the public at Wednesday's Three Oaks Village Council meeting.