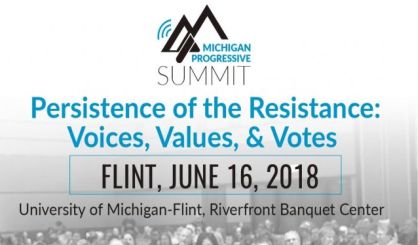 This Saturday, about 700 people are expected to gather at the University of Michigan in Flint for the annual Michigan Progressive Summit. The theme this year is "The Persistence of the Resistance: Voices, Values and Votes." Organizer Denzel McCampbell with Engage Michigan says with attacks coming almost daily on health care, labor and consumer rights, the left is fired up to make some changes.
"Folks who may be upset about what's going on on a state level and a national level can come together and say, 'OK, where do we actually need to go with this state?' They're also taking that back to their community where they can take action."
The main speakers will address the Flint water crisis and the restoration of civil rights after incarceration. A Parkland survivor also will address gun violence. You can learn more at TheMichiganSummit.org.