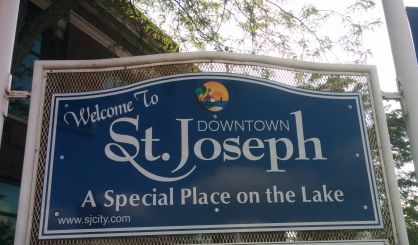 Residents who live below the bluff in St. Joseph aren't happy with how the summer has started out with tourists and events. Jack Sanderson of the Below-the-Bluff Neighborhood Association spoke to city commissioners Monday night about traffic and parking issues among other things.
"Memorial Day weekend was just absolutely a disaster down there," Sanderson said. "I don't think I've ever seen as many cars circling, looking for a parking place." He says many people made their own parking spots, sometimes in someone's driveway, other times in front of fire hydrants. Parking and traffic issues have been problems for years near Silver Beach County Park, and the city has been trying to find ways to alleviate it.
Sanderson and several others who live below the bluff also complained about the noise from the annual BBQ, Blues & Bluegrass concert this year along with the decision to put the port-a-potties along the fence of one home. Photos were shared of the view from the front of that house of the stage obscured by the portable toilets.
"It's a nice event, except that it's not a very nice place to have it," said Sanderson, asking the commission if they would consider moving some events elsewhere. But he didn't hold it to just the concert or the Mini Makers Faire. "There are events at the Carousel, there are events at Silver Beach, and all those things bring people into our neighborhood, and lots of those things don't need to be in our neighborhood."
The city commission fielded over a half-hour of complaints last night, with another resident saying the summertime movies in Whirlpool Centennial Park are too loud. City spokeswoman Susan Solon responded, saying it was the first time anyone had complained about that and reminding people the movies can't begin until after the sun goes down. She did say they would look into the volume issue. The summer movies start on July 1 this year with a screening of "The Secret Life of Pets." St. Joseph Today Director Amy Zapal thanked the Below-the-Bluff Neighborhood Association residents for speaking out, and said they will look into their concerns.