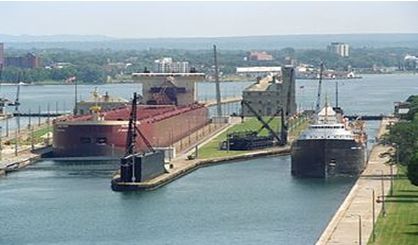 The Michigan Manufacturers Association is expressing support for Governor Rick Snyder's commitment this week of $50 million of state revenue toward the national effort to rebuild the Soo Locks. The association's Mike Johnston tells WSJM News the manufacturing industry depends on the locks.
"The Soo Locks are vital to the manufacturing economy of Michigan and the Midwest because much of the flow of products, particular iron ore for the manufacturing of steel, comes through the Soo Locks," Johnston said.
Johnston says only one of the Soo Locks is big enough to meet those needs, and if it goes down, 11 million jobs tied to production could be lost within weeks. That one lock, the Poe Lock, was completed in 1896. Governor Snyder is calling on other states to chip in, and even President Trump called for Soo Lock renovations when he visited Michigan this year. Johnston says the president's words were encouraging.