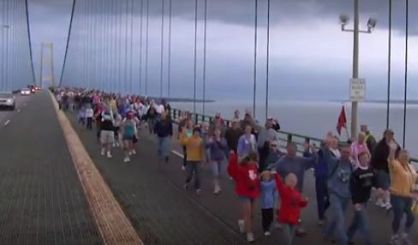 This year's Mackinac Bridge Walk will have some new rules. The Mackinac Bridge Authority has releases a video outlining to potential walkers security protocols that will affect the walk experience.
"This year, the annual Mackinac Bridge Walk will start from St. Ignace and Mackinaw City, eliminating the need for busing during the event and ensuring everyone who wishes to will have the chance to walk the bridge," the video tells us.
Traffic across the bridge will be closed for the duration of the walk, with only emergency vehicles allowed on. Most walked will also just walk half of the 5-mile bridge, and then turn around. The bridge authority says the changes for security reasons were made due to Michigan State Police and Homeland Security recommendations. You can find out more right here.