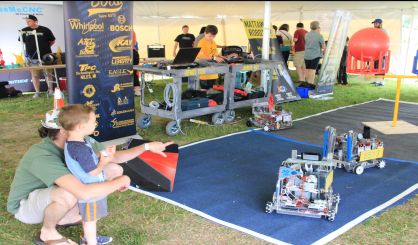 Coming up this Saturday is the fourth annual Southwest Michigan Mini Maker's Faire at Whirlpool Centennial Park in St. Joseph. The fair is organized by Berrien RESA to celebrate that maker spirit that's been growing in southwest Michigan. RESA Technology Consultant Joe Rommel tells WSJM News there will be all kinds of makers showing off the things they've produced. There will also be interactive displays.
"There's going to be a wand making station where we're going to be taking chop sticks and turning them into wands, there's a learn to solder station where people can leave with their own creation, they can make their own Nerdy Derby cars," Rommel said.
Rommel says there will be displays from designers, artists, crafters, engineers, scientists, and others from across southwest Michigan. Attendance at the Southwest Michigan Mini Maker's Faire is free. It will run from 10 a.m. to 4 p.m. Saturday. You can find out more right here.
The group of makers participating in the Southwest Michigan Mini Maker Faire and the activities being offered include:
· Blossomland Amateur Radio Association
· Cycle-Re-Cycle
· Fab Lab at Lake Michigan College
· Fresh Coast Candles
· Hacking Ride On Cars for Kids to Create Explorers! with GoBabyGo Seattle
· Kids can code with Dash Robots!
· Kona Ice
· Learn to Solder Station
· Lego Club on the Road
· Make & Launch Air Rockets, Comstock STEM Academy
· Make & Take 3D Printing, Comstock STEM Academy
· Mr. Nick Davio with special guest Miss Angie
· MSU Extension – Berrien County 4-H
· Nerdy Derby Track
· PhycoTech Edible Aquifers
· Rope Maker with Joe Simon
· Steamroller Print Making
· Take-Apart-Station
· The Village Blacksmith, Ted Guimond
· Wand Making with Grace Rommel