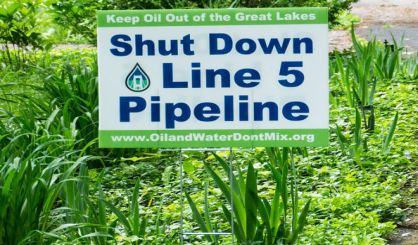 Some of the people getting off the ferry to attend the Mackinac Policy Conference on Tuesday were be handed lollipops by protesters. The lollies came with a plea "not to be a sucker" for Enbridge, the company behind the Enbridge Line Five oil pipeline in the Straits of Mackinac. The conference draws the state's biggest names in policy and business. David Holtz, with the "Oil and Water Don't Mix Coalition," says the 65-year-old pipeline is dangerous and should be decommissioned.
  "It's had 29 different leaks and, about four or five years ago, we discovered through video that the National Wildlife Federation took in the Straits of Mackinac, that the condition of the pipeline there was something of concern."
Governor Rick Snyder, who leaves office in January, has asked Enbridge to come up with a plan to replace the pipeline, but not get rid of it. The protesters are also calling for questions about Enbridge Line Five to be included in the gubernatorial debate at the conference, scheduled for Thursday.