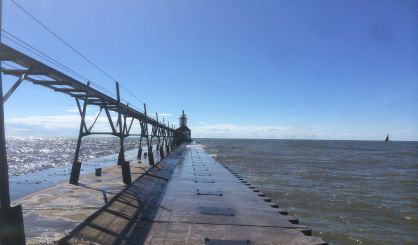 The north pier in St. Joseph will have life rings installed by Memorial Day weekend. So says St. Joe City Manager John Hodgson, who told city commissioners Monday night the U.S. Army Corps of Engineers is on board, and the Berrien County Sheriff's Department will help with maintenance. Hodgson told WSJM News the north pier model will follow the county's example with life rings at the south pier.
"They'll be much like the county mounts that exist now with 20 inch life rings and a 90 foot rope and throw bags to go with them as well as similar signage to what we have in the county," Hodgson said.
There will be 12 rings, spaced about 150 feet apart. Hodgson told us an anonymous donor is helping to bring the city's cost down to about $5,000 from more than $6,000. He told commissioners it will be important for the city to consistently follow policy with the rings once they're installed. There had been a slight concern about liability, but Mayor Mike Garey told us saving lives has to be the top priority. The city commission gave the plan its final approval Monday.