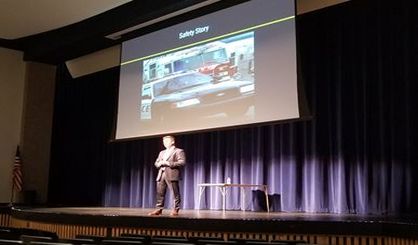 Parents from St. Joseph Public Schools have had a chance to hear from police about what is being done to prevent and be prepared for a violent incident at local schools. At a forum at St. Joseph High School Thursday, St. Joe Public Safety Director Brian Uridge said prevention and intervention are much more important than response. Noting that most incidents are over within five minutes, Uridge said it's important for parents, teachers, and the students to know what to look out for. He spoke with WSJM News after the presentation.
"Law enforcement has to make sure that we're making non-traditional contracts, that we're building relationships, that we're working with family members to help identify issues," Uridge said. "Together with the school, hopefully we can improve our environments physically, improvement those relationships, do additional training, and hopefully reduce the chances that we have an issue."
Uridge said 81% of shooters told at least one person something about their plans ahead of time. While police train extensively to respond to school incidents, Uridge told us it is critically important for the entire community to be engaged.