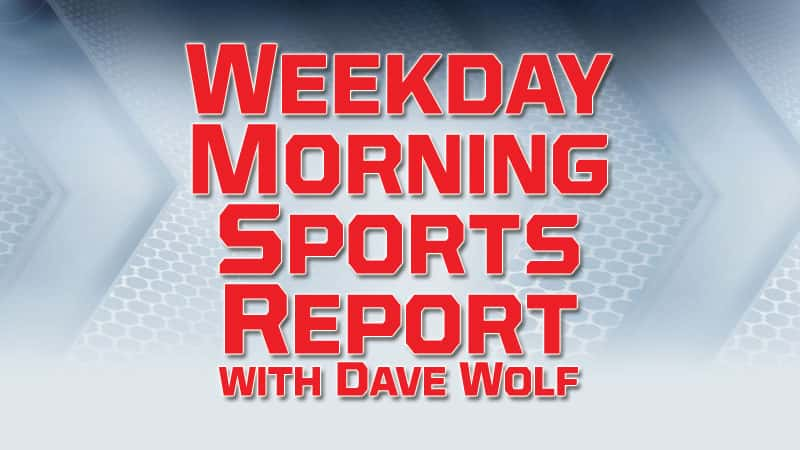 MLB – Major League Baseball
Yesterday
New York Yankees at Detroit Tigers, PPD
Chicago White Sox at Minnesota Twins, PPD
Atlanta Braves at Chicago Cubs, PPD
Yankees at Tigers – Yankees-Tigers doubleheader postponed; now set for June 4
Both games of Sunday's doubleheader between the New York Yankees and Detroit Tigers have been postponed because of rain. The games will be made up in a split doubleheader on June 4. The Tigers were scheduled to be off, while the Yankees would have been traveling between games in Baltimore and Toronto. Game 1 was scratched about three hours before the scheduled first pitch, with Game 2 called in the early afternoon. Rain was forecast to keep falling until Monday morning. The Yankees and Tigers were rained out Saturday in what had been New York's only scheduled visit to Detroit this year. The Yankees won 8-6 behind two Aaron Hicks homers in Friday's game.
White Sox at Twins – Twins ready for Puerto Rico, Chisox to Oakland after snowout
Rows of blue suitcases lined the hallway leading into the Minnesota Twins' clubhouse on Sunday, signs of a trip the frigid players can't wait to take. Three straight postponements because of snow only heightened the anticipation for this week's series in Puerto Rico. Instead of preparing to face the Chicago White Sox on Sunday, Minnesota took batting practice and threw bullpen sessions indoors. Players were coming and going, their thoughts turning from snow and freezing to the warmth of Puerto Rico. The Twins and Cleveland play Tuesday and Wednesday in San Juan.
Braves at Cubs – Braves-Cubs series finale postponed by rain
The series finale between the Atlanta Braves and Chicago Cubs has been postponed by rain. There was a steady rain Sunday morning in the Chicago area, and the flags at Wrigley Field rippled in a strong wind. It also was wet, cold and windy on Saturday, but the teams played through the conditions and the Cubs rallied for a wild 14-10 victory over the Braves. When it was over, both sides were critical of the decision to play.  Sunday's game was rescheduled for 1:20 p.m. on May 14.
Today
Chicago White Sox (Lopez 0-1) at Oakland (Mengden 1-2), 10:05 p.m.
St. Louis (Wainwright 0-2) at Chicago Cubs (Chatwood 0-2), 7:05 p.m.
Tigers are off
NBA – 2018 NBA Playoffs – Round 1 – (Best of 7)
Yesterday
Boston Celtics 113, Milwaukee Bucks 107 – OT                            (BOS leads 1-0)
Indiana Pacers 98, Cleveland Cavaliers 80                                   (IND leads 1-0)
Oklahoma City Thunder 116, Utah Jazz 108                                   (OKC leads 1-0)
Houston Rockets 104, Minnesota Timberwolves 101                     (HOU leads 1-0)
Pacers 98, Cavaliers 80 – Victor-y: Oladipo scores 32 as Pacers stun LeBron, Cavs
Victor Oladipo scored 32 points and the Indiana Pacers held off Cleveland's second-half rally for a stunning 98-80 victory Sunday in Game 1 of the Eastern Conference series, handing LeBron James and the Cavaliers' their first loss in the opening round in eight years. Indiana was in control from the outset, opening a 21-point lead in the first quarter and leading by 23 in the third. The Cavs stormed back and got within seven, but Oladipo hit a big 3-pointer and Bojan Bogdanovic helped put Cleveland away with a 3 to make it 88-71. The Pacers completely outplayed the three-time defending conference champions, whose turbulent regular season has carried over into the playoffs.  James scored 24 with 12 assists and 10 rebounds for his 20th career triple-double. But James got little help as Cleveland's four other starters _ Kevin Love, Jeff Green, Rodney Hood and George Hill _ combined for 25 points.  Game 2 is Wednesday night.
Today
Miami Heat at Philadelphia 76ers, 8:00 p.m.                                  (PHI leads 1-0)
San Antonio Spurs at Golden State Warriors, 10:30 p.m.            (GSW leads 1-0)
NHL – 2018 Stanley Cup Playoffs – Round 1 – (Best of 7)
Last Night
Pittsburgh Penguins 5, Philadelphia Flyers 1                                (PIT leads 2-1)
Minnesota Wild 6, Winnipeg Jets 2                                               (WPG leads 2-1)
Columbus Blue Jackets 5, Washington Capitals 4 – OT                  (CBJ leads 2-0)
Vegas Golden Knights 3, Los Angeles Kings 2                               (VGK leads 3-0)
Tonight
Boston Bruins at Toronto Maple Leafs, 7:00 p.m.                         (BOS leads 2-0)
Tampa Bay Lightning at New Jersey Devils, 7:30 p.m.                     (TBL leads 2-0)
Nashville Predators at Colorado Avalanche, 10:00 p.m.              (NAS leads 2-0)
Anaheim Ducks at San Jose Sharks, 10:30 p.m.                              (SJS leads 2-0)
Golf – PGA – Kodaira rallies to win 3-hole playoff at RBC Heritage
Kodaira picked up his first PGA victory by storming back from a six-shot deficit in the final round of the RBC Heritage at Harbour Town Golf Links. Kodaira shot a 5-under 66 for a 12-under total before sinking a 25-foot birdie putt on the third playoff hole to beat Si Woo Kim.  Bryson DeChambeau and Luke List finished one shot back and one ahead of Billy Horschel and Webb Simpson. Ian Poulter was in line for his second Tour victory in three starts before closing with a 75 that left him three shots off the pace.
NASCAR – Completion of Bristol race postponed to Monday
NASCAR says the completion of the Cup Series race at Bristol Motor Speedway has been postponed until Monday. The postponement comes just 46 laps shy of the race becoming official. NASCAR hopes to complete the final 296 laps of the 500-lap race on Monday, but there is also a chance for more rain with a possibility of some snow. Otherwise, the race will resume at 1 p.m. Kyle Larson is the leader.
NFL – Eagles release cornerback Daryl Worley after his arrest
The Philadelphia Eagles have released cornerback Daryl Worley, hours after he was arrested. NFL Network reported that Worley was arrested Sunday morning near the team's practice facility and that police used a Taser on him after he became combative. The report also said a gun was found in Worley's vehicle. The team first issued a statement that it was investigating Worley's arrest and
later announced he was cut.
AHL – American Hockey League – 2018 Calder Cup Playoffs – Round 1 – (best of 5)
2 Grand Rapids Griffins vs. 3 Manitoba Moose

1 Chicago Wolves vs. 4 Rockford Ice Hogs

1 – Sat., Apr. 21 – Grand Rapids at Manitoba, 3:00 p.m.
2 – Sun., Apr. 22 – Grand Rapids at Manitoba, 3:00 p.m.
3 – Wed., Apr. 25 – Manitoba at Grand Rapids, 7:00 p.m.
*4 – Thu., Apr. 26 – Manitoba at Grand Rapids, 7:00 p.m.
*5 – Mon., Apr. 30 – Manitoba at Grand Rapids, 7:00 p.m.
*if necessary

1 – Sat., Apr. 21 – Rockford at Chicago, 8:00 p.m.
2 – Sun., Apr. 22 – Chicago at Rockford, 5:00 p.m.
3 – Thu., Apr. 26 – Rockford at Chicago, 8:00 p.m.
*4 – Sun., Apr. 29 – Chicago at Rockford, 5:00 p.m.
*5 – Mon., Apr. 30 – Rockford at Chicago, 8:00 p.m.
*if necessary
ECHL – East Coast Hockey League – Kelly Cup Playoffs – Round 1 – (best of 7)
Last Night
Toledo Walleye 4, Indy Fuel 3                                                       (TOL leads 2-0)
Fort Wayne Komets 3, Cincinnati Cyclones 1                                (FTW leads 2-0)
MWL – Midwest League Baseball
Last Night
West Michigan at Lansing, ppd.
South Bend at Lake County, ppd.
Dayton at Great Lakes, ppd.
Tonight
No games today
MHSAA – High School Sports
Today
Girls Soccer
Battle Creek Lakeview at St. Joseph, 6:30 p.m.
Lakeshore at Kalamazoo Central, 6:30 p.m.
Kalamazoo Loy Norrix at Niles, 5:30 p.m.
Portage Central at Mattawan, 6:30 p.m.
Hastings at Plainwell, 6:30 p.m.
Battle Creek Harper Creek at Three Rivers, 6:30 p.m.
Brandywine at Michigan Lutheran, 5:00 p.m.
New Buffalo at Covert, 5:00 p.m.
Parchment at Lake Michigan Catholic, 5:00 p.m.
Bangor at Cassopolis, 5:00 p.m.
Lawton at Kalamazoo Hackett, 6:00 p.m.
Baseball
Paw Paw at Kalamazoo Loy Norrix, 4:30 p.m. (DH)
Vicksburg at Niles, 5:00 p.m. (DH)
Edwardsburg at St. Joseph, 4:00 p.m. (DH)
Watervliet at Kalamazoo Hackett, 4:30 p.m. (DH)
Coloma at Lawton, 4:30 p.m. (DH)
Lawrence at Galesburg-Augusta, 4:30 p.m. (DH)
Saugatuck at Schoolcraft, 4:30 p.m. (DH)
Softball
Edwardsburg at St. Joseph, 4:00 p.m. (DH)
Cassopolis at Bangor, 4:30 p.m.
Mendon at Bloomingdale, 4:30 p.m.
Watervliet at Kalamazoo Hackett, 4:30 p.m. (DH)
Coloma at Lawton, 4:30 p.m. (DH)
Lawrence at Galesburg-Augusta, 4:30 p.m. (DH)
Saugatuck at Schoolcraft, 4:30 p.m. (DH)
Boys Golf
SMAC West at Niles, PPD
Track and Field
Portage Northern at St. Joseph, PPD to Wednesday 4/18
Portage Central at Lakeshore, PPD
Niles, Kalamazoo Loy Norrix at Kalamazoo Central, PPD