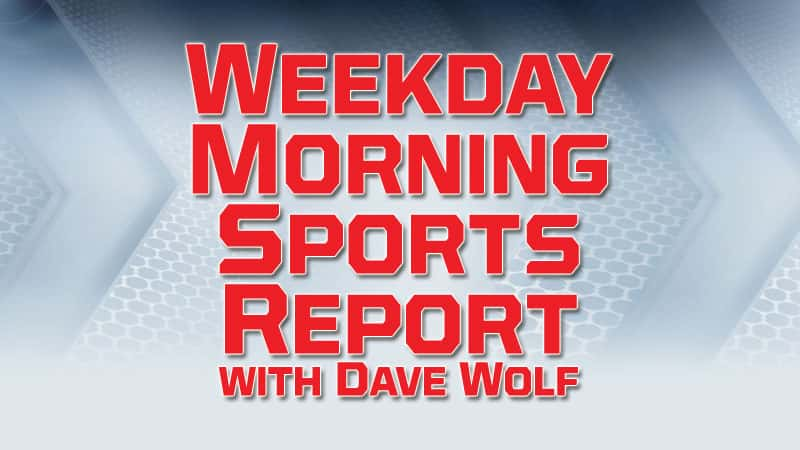 MLB – Major League Baseball
Yesterday
Cleveland Indians 5, Detroit Tigers 1
Chicago White Sox 2, Tampa Bay Rays 1
Chicago Cubs 13, Pittsburgh Pirates 5
Indiana 5, Tigers 1 – Tigers' Zimmermann bruises jaw when hit by Kipnis' liner
Detroit Tigers pitcher Jordan Zimmermann bruised the right side of his jaw when hit in the face by a line drive off the bat of Cleveland's Jason Kipnis on Wednesday night and left after two batters in the Indians' 5-1 win. Making his third start of the season, Zimmermann retired Francisco Lindor on a fly ball starting the game. The 31-year-old right-hander had little time to react to Kipnis' line on a 2-2 pitch. Zimmermann was face down on the pitcher's mound for several moments after being struck and was attended to by head athletic trainer Doug Teter. Zimmermann sat up and spoke to Tigers manager Ron Gardenhire, then walked off the field while holding a towel to his face. The Tigers said Zimmermann passed concussion protocol tests and was taken for X-rays. Carlos Carrasco (3-0) pitched a three-hitter, struck out six and walked one in his first complete game this season. He allowed Leonyis Martin's home run in the sixth.
White Sox 2, Rays 1 – Davidson late HR, White Sox top Rays 2-1 for 1st home win
Matt Davidson hit a two-run homer off Austin Pruitt in the eighth inning and the Chicago White Sox rallied for their first home win, beating the Tampa Bay Rays 2-1 on Wednesday.  Davidson gave the White Sox the shot they needed after dropping their first five games at Guaranteed Rate Field. That matched Chicago's worst home start since 1975 at Comiskey Park. Davidson, who hit three home runs on opening day, struck out with the bases loaded to end the third. But he made up for it with a drive that just cleared the center field wall for his fifth homer, after Jose Abreu singled. James Shields settled down after a shaky start and exited to cheers with one out in the seventh. He held his former team to one run and four hits while striking out six and walking five _ all in the first two innings. Bruce Rondon (1-0) retired the side in the eighth. And Nate Jones converted his first save opportunity with a scoreless ninth.
Cubs 13, Pirates 5 – Baez homers twice as Cubs pound Pirates 13-5
Javier Baez homered twice for the second straight day and scored the go-ahead run on a daring dash around the bases, helping the Chicago Cubs pound the Pittsburgh Pirates 13-5 on Wednesday. Kris Bryant added three hits and two RBIs as Chicago got its first home win in the first night game at Wrigley Field this season. Albert Almora Jr. also had three hits and Ben Zobrist drove in two runs in the Cubs' highest scoring performance in their first 11 games. Baez belted a three-run shot to right-center against Steven Brault in the second and connected against Dovydas Neverauskas in the eighth, sending a solo drive to back of the bleachers in left. The crowd of 35,596 chanted "Ja-vy! Ja-vy!" after he rounded the bases, and he obliged the cheers with a curtain call. Baez also hit two solo homers in Tuesday's 8-5 loss in the series opener. The dynamic infielder became the first player with consecutive multihomer games for the Cubs since Alfonso Soriano from May 16-17, 2008.
Today
Pittsburgh (Williams 2-0) at Chicago Cubs (Hendricks 0-0), 2:20 p.m.
Detroit (Fulmer 1-1) at Cleveland (Bauer 0-1), 6:10 p.m. WSJM Sports/Cosy-FM 5:45
Chicago White Sox (Giolito 0-1) at Minnesota (Berrios 1-1), 8:10 p.m.  
NHL – 2018 Stanley Cup Playoffs – Round 1 – (Best of 7)
Last Night
Pittsburgh 7, Philadelphia 0 (PIT leads 1-0)
Winnipeg 3, Minnesota 2   (WPG leads 1-0)
Vegas 1, Los Angeles 0     (VGK leads 1-0)
Tonight (All Game 1's)
New Jersey at Tampa Bay, 7 p.m.
Toronto at Boston, 7 p.m.
Columbus at Washington, 7:30 p.m.
Colorado at Nashville, 9:30 p.m.
San Jose at Anaheim, 10:30 p.m.
NBA – National Basketball Association
Last Night
Detroit Pistons 119, Chicago Bulls 87
Pistons 119, Bulls 87 –  Kennard, Moreland have career nights as Pistons rout Bulls
Rookie Luke Kennard scored a career-high 23 points and Eric Moreland set career bests with 16 points and 17 rebounds as the Detroit Pistons closed the season with a 119-87 rout of the Chicago Bulls on Wednesday night. Anthony Tolliver had 18 points and Henry Ellenson added 14 points and 10 rebounds as the Pistons snapped a two-game losing streak and won for the ninth time in their last 13 games. Rookie Lauri Markkanen had 20 points, and Sean Kilpatrick added 14 in his only
start of the season for Chicago.
NBA – 2018 NBA Playoff Matchups
Eastern Conference

Western Conference

1 Toronto vs. 8 Washington
2 Boston vs. 7 Milwaukee
3 Philadelphia vs 6 Miami
4 Cleveland vs. 5 Indiana

1 Houston vs. 8 Minnesota
2 Golden State vs. 7 San Antonio
3 Portland vs. 6 New Orleans
4 Oklahoma City vs. 5 Utah
NBA – Knicks fire coach Jeff Hornacek after 2 seasons
A person with knowledge of the decision says the New York Knicks have fired coach Jeff Hornacek.  The Knicks made the decision after beating Cleveland on Wednesday night to finish a 29-53 season. They missed the playoffs both seasons under Hornacek. The person spoke to The Associated Press on condition of anonymity early Thursday morning because an official announcement isn't planned until later in the day.  The firing was first reported by ESPN.
NCAAFB – Michigan cancels spring game over weather concerns
Michigan has canceled its spring football game Saturday because of concerns about the weather.  The school says there's a good chance of rain and thunderstorms Saturday, and the game will not be rescheduled.  Coach Jim Harbaugh says the decision is in the best interest of fans, athletes and the staff needed for the event. Athletic director Warde Manuel says the school wanted to provide advance notice for fans who were considering attending. Wisconsin also canceled its spring football game Friday night because of a forecast calling for heavy rain and thunderstorms.
NCAAMBB – Michigan State says Counseling Center acted appropriately
Michigan State University says the woman accusing three former basketball players of a 2015 sexual assault was treated appropriately by the school's Counseling Center, and the school says it has found no evidence that she was discouraged from making a Title IX complaint or a complaint to police. The woman, who is a student at Michigan State, has filed a federal lawsuit accusing the school of failing to comply with Title IX.
AHL – American Hockey League
Last Night
Texas Stars 3, Grand Rapids Griffins 2 – OT
Tonight
Grand Rapids Griffins at Texas Stars, 8:00 p.m.
MWL – Midwest League Baseball
Last Night
West Michigan Whitecaps 4, Great Lakes Loons 1
South Bend Cubs 6, Bowling Green Hot Rods 5
Fort Wayne Tin Caps 9, Lansing Lugnuts 4
Tonight
Great Lakes Loons at West Michigan, 12 p.m.
Bowling Green Hot Rods at South Bend Cubs, 7:05 p.m.
Lansing Lugnuts at Fort Wayne Tin Caps, 7:05 p.m.
MHSAA – High School Sports
Yesterday
Girls Soccer
Lake Michigan Catholic 1, Buchanan 0
Michigan Lutheran 2, Parchment 0
Three Rivers 8, Niles 1
Allegan 3, Battle Creek Lakeview 0
Bridgman 8, Covert 0
Coloma 3, Bangor 2
Edwardsburg 3, Lawton 0
Portage Central 4, Plainwell 0
Comstock 3, Berrien Springs 2
Battle Creek Harper Creek 2, Paw Paw 0
Softball
Niles 9, Buchanan 4 – Game 1
Niles 10, Buchanan 0 – Game 2
Baseball
Lawton 10, Benton Harbor 3 – Game 1
Benton Harbor 8, Lawton 4 – Game 2
Dowagiac 6, Marcellus 0
Gull Lake 11, Coloma 1 – Game 1
Gull Lake 11, Coloma 1 – Game 2
Boys Golf
SMAC West at Portage Northern
1. Portage Central
2. St. Joseph
3. Portage Northern
4. Lakeshore
5. Niles
Track and Field
Boys
Portage Central 86, Niles 77
Girls
Portage Central 125, Niles 32
Today
Girls Soccer
Gull Lake at St. Joseph, 6:45 p.m.
South Haven at Hartford, 5:00 p.m.
Baseball
Battle Creek Central at Lakeshore, 4:00 p.m. (DH)
St. Joseph at Kalamazoo Central, 4:00 p.m. (DH)
Niles at Kalamazoo Loy Norrix, 4:00 p.m. (DH)
Mattawan at Portage Central, 4:00 p.m. (DH)
Bridgman at Lake Michigan Catholic, 4:15 p.m. (DH)
Benton Harbor at Eau Claire, 4:00 p.m. (DH)
Gull Lake at Otsego, 4:00 p.m.
Brandywine at Bangor, 4:30 p.m.
Coloma at Gobles, 4;30 p.m. (DH)
Fennville at Lawrence, 4:30 p.m. (DH)
Martin at Watervliet, 4:30 p.m. (DH)
Lawton at Saugatuck, 4:30 p.m. (DH)
Softball
Battle Creek Central at Lakeshore, 4:00 p.m. (DH)
St. Joseph at Kalamazoo Central, 4:00 p.m. (DH)
Niles at Kalamazoo Loy Norrix, 4:00 p.m. (DH)
Mattawan at Portage Central, 4:00 p.m. (DH)
Bridgman at Lake Michigan Catholic, 4:15 p.m. (DH)
Benton Harbor at Eau Claire, 4:00 p.m. (DH)
Coloma at Gobles, 4;30 p.m. (DH)
Fennville at Lawrence, 4:30 p.m. (DH)
Martin at Watervliet, 4:30 p.m. (DH)
Lawton at Saugatuck, 4:30 p.m. (DH)
Plainwell at South Haven, 4:00 p.m.
Girls Tennis
St. Joseph at Sturgis, 4:00 p.m.
Track and Field
Benton Harbor at Wyoming Godwin Heights, 4:30 p.m.