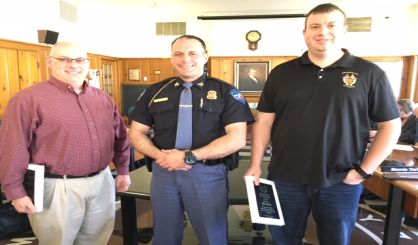 Two people have been picked as Berrien County's Dispatchers of the year. At Thursday's Berrien County Commission meeting, the honor was given to Eric Ruth and Lanny Duffel. Ruth, who works for Niles Dispatch, handled a call last February about a Michigan State Police trooper who was attacked by a couple of brothers, one of whom was on a stolen motorcycle. Chikaming Township Police Chief Todd Taylor spoke about the incident.
"The trooper was able to gain control off the suspect and he was taken into custody," Taylor said. "Let me tell you something. Eric did a great job of handling that call."
The other dispatcher of the year, Lanny Duffel, was credited for his constant professionalism and skills as a team player. The Berrien County Board of Commissioners congratulated the two dispatchers.