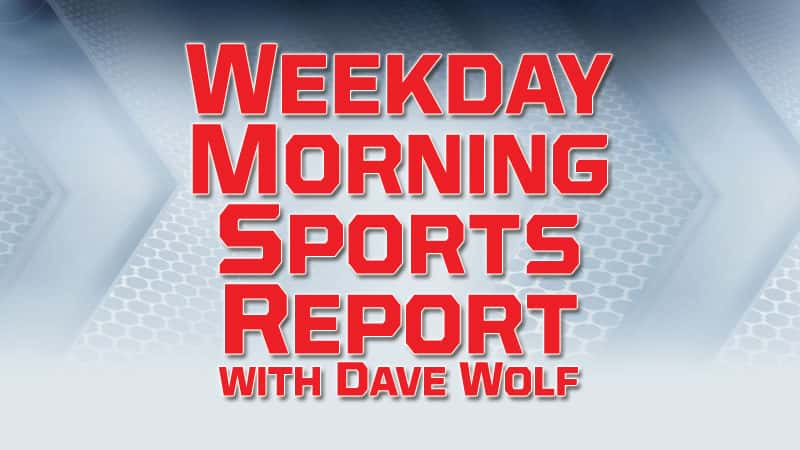 MLB – Major League Baseball
Yesterday
Cleveland Indians 2, Detroit Tigers 1
Tampa Bay Rays 6, Chicago White Sox 5
Pittsburgh Pirates 8, Chicago Cubs 5
Indians 2, Tigers 1 – Perez's homer in 8th leads Indians past Tigers 2-1
Roberto Perez hit a leadoff home run in the eighth inning against reliever Alex Wilson (0-2), lifting the Cleveland Indians over the Detroit Tigers 2-1 on Tuesday night.  Perez belted a 2-0 pitch to center field that landed in the seats in front of the bullpen to give Cleveland its ninth straight win over Detroit. The Indians are 29-10 against the Tigers since the start of the 2016 season. Jose Ramirez's two-out homer in the first put Cleveland ahead, a lead that lasted until Jeimer Candelario's seventh-inning double. It was Detroit's first run in 23 innings.  Andrew Miller (1-0) pitched a scoreless eighth. Cody Allen worked the ninth for his third save.  Candelario had three doubles and was hit by a pitch. The Tigers hadn't scored since the first inning Sunday against the Chicago White Sox.
Rays 6, White Sox 5 – Snell, Rays top White Sox 6-5; Chicago drops to 0-5 at home
Blake Snell pitched one-hit ball and struck out 10 through six innings and the Tampa Bay Rays kept the White Sox winless at home this season, beating Chicago 6-5 on Tuesday.  The White Sox dropped to 0-5 at Guaranteed Rate Field. That matched Chicago's five-game home skid to start 1975 at Comiskey Park. Carlos Gomez hit a solo homer and Joey Wendle, Wilson Ramos, Adeiny Hechavarria and Daniel Robertson each drove in a run as Tampa Bay won its second straight following an eight-game slide. Jose Abreu hit a three-run homer off Rays closer Alex Colome, capping a four-run rally in the ninth. After a two-out walk, Colome held on for his third save in five chances.
Pirates 8, Cubs 5 – Nova pitches hot Pirates past Cubs 8-5 in Wrigley opener
Ivan Nova pitched seven solid innings, Francisco Cervelli hit a three-run homer and the Pittsburgh Pirates ruined the Chicago Cubs' home opener with an 8-5 victory on Tuesday. Corey Dickerson had three hits and two RBIs and Starling Marte also connected as Pittsburgh won for the fourth time in five games. The Pirates' 8-2 record is their best 10-game start since 1992, and they are a perfect 4-0 on the road for the first time in 15 years.  The Cubs became the last major league team to play at home a day after the series opener was postponed by snow. A crowd of 40,144 packed Wrigley on another chilly day _ the gametime temperature was 43 degrees _ but the fans had very little to cheer about after the first couple innings.
Today
Tampa Bay (Chirinos 0-0) at Chicago White Sox (Shields 1-0), 2:10 p.m.
Detroit (Zimmermann 0-0) at Cleveland (Carrasco 2-0), 6:10 p.m.            WSJM Sports/Cosy-FM 5:45
Pittsburgh (Brault 2-0) at Chicago Cubs (Lester 1-0), 8:05 p.m.
MLB – Tigers pitching coach Chris Bosio misses game with illness
Detroit Tigers pitching coach Chris Bosio missed Tuesday's game in Cleveland because of a health issue. Tigers manager Ron Gardenhire said Bosio was undergoing tests Tuesday, a day after he didn't feel well. Gardenhire said he didn't know details of the matter, but added Bosio could return to the team Wednesday, pending the outcome of the tests. The 55-year-old is in his first season as Detroit's pitching coach after serving in the same role for six years with the Chicago Cubs. Bullpen coach Rick Anderson filled for Bosio while minor league pitching coordinator A.J. Sager took over in the bullpen Tuesday. Bosio pitched for Milwaukee and Seattle over 11 seasons in the majors from 1986-97.
NCAAMBB – Brey, Notre Dame agree to extension through 2024-25
Mike Brey, the winningest coach in Notre Dame men's basketball history, has signed a contract extension through the 2024-25 season. The new deal begins July 1. The 59-year-old Brey has guided the Fighting Irish to 12 NCAA Tournament berths in 18 seasons. This year's team ended up in the NIT after injuries contributed to a 21-15 season. Brey is 403-201 at Notre Dame and 502-252 in 23 seasons as a head coach.

NHL – 2018 Stanley Cup Playoffs – Round 1 – (Best of 7)
Tonight
Philadelphia Flyers at Pittsburgh Penguins, 7:00 p.m.
Minnesota Wild at Winnipeg Jets, 7:00 p.m.
Los Angeles Kings at Vegas Golden Knights, 10:00 p.m.
NHL – Red Wings bringing back coach Jeff Blashill for 4th season
The Detroit Red Wings are bringing coach Jeff Blashill for a fourth season. Red Wings general manager Ken Holland announced the decision on Tuesday, saying the team played hard for Blashill until the end of the season. Detroit didn't make the playoffs this year or last year after extending their postseason streak to 25 in 2016 during Blashill's debut season as an NHL coach. The Red Wings are 104-105-37 in three seasons under Blashill, who won one playoff game two years ago.  He will coach the U.S. team at the IIHF World Hockey Championship next month in Denmark.
NBA – National Basketball Association
Last Night
Charlotte Hornets 119, Indiana Pacers 93
Hornets 119, Pacers 93 – Hornets take advantage of resting Pacers for 119-93 win
Dwight Howard finished with 14 points and 17 rebounds and Frank Kaminsky tied his career high with 24 points to lead the Charlotte Hornets past Indiana 119-93. Charlotte ended the season with two wins in its last seven games. The Pacers lost for the second time in three games but rested three starters. Indiana is locked into the No. 5 seed in the Eastern Conference playoffs.
Tonight
Detroit Pistons at Chicago Bulls, 8:00 p.m.
NCAAFB – Ohio court to decide if ex-player can sue over concussions
The Ohio Supreme Court will decide whether the widow of a former University of Notre Dame football player can sue the school and the NCAA over allegations her husband was disabled by concussions from his college career in the 1970s. Steve and Yvette Schmitz filed a lawsuit in Cuyahoga County in October 2014 alleging the institutions showed "reckless disregard" for player safety and failed to protect them from concussions. Steve Schmitz died in February 2015. The lawsuit says the Cleveland Clinic diagnosed him with a brain disease related to numerous concussions. The state's high court planned to hear arguments from both sides on Wednesday. The NCAA and Notre Dame say too much time has passed to allow the lawsuit to proceed.
AHL – American Hockey League
Last Night
Chicago Wolves 4, Milwaukee Admirals 3 – Shootout
Tonight
Grand Rapids Griffins at Texas Stars, 8:30 p.m.
MWL – Midwest League Baseball
Last Night
West Michigan Whitecaps 10, Great Lakes Loons 4
South Bend Cubs 13, Bowling Green Hot Rods 11
Lansing Lugnuts 6, Fort Wayne Tin Caps 5
Tonight
Lansing Lugnuts at Fort Wayne Tin Caps, 11:05 a.m.
Great Lakes Loons at West Michigan Whitecaps, 6:35 p.m.
Bowling Green Hot Rods at South Bend Cubs, 7:05 p.m.
MCCAA – Junior College Sports
Yesterday
Baseball
Kellogg Community College 9, Lake Michigan College 0 – Game 1
Kellogg Community College 15, Lake Michigan College 0 – Game 1
Softball
Lake Michigan College 1, Lansing Community College 0 – Game 1
Lansing Community College 8, Lake Michigan College 0 – Game 2
MHSAA – High School Sports
Yesterday
Baseball
Mishawaka-Penn 5, Lakeshore 1
Lake Michigan Catholic 18, Eau Claire 3 – Game 1
Lake Michigan Catholic 10, Eau Claire 0 – Game 2
Niles 3, Mishawaka-Marian 2
Edwardsburg 14, Berrien Springs 4
Otsego 10, Fennville 0 – Game 1
Otsego 16, Fennville 1 – Game 2
Softball
Lakeshore 11, Edwardsburg 3
Lake Michigan Catholic 18, Eau Claire 3 – Game 1
Lake Michigan Catholic 21, Eau Claire 6 – Game 2
Coloma 10, Buchanan 4 – Game 1
Coloma 8, Buchanan 7 – Game 2
Saugatuck 17, Bangor 2 – Game 1
Saugatuck 20, Bangor 9 – Game 2
Berrien Springs 16, Dowagiac 6 – Game 1
Berrien Springs 7, Dowagiac 5 – Game 2
River Valley 8, Bridgman 7 – Game 1
River Valley 7, Bridgman 5 – Game 2
Girls Soccer
Vicksburg 1, Lakeshore 0
Edwardsburg 4, Niles 1
Three Rivers 8, Kalamazoo Central 1
Hartford 2, Saugatuck 2 – TIE
Cassopolis 4, Watervliet 1
Track and Field
St. Joseph, Gull Lake at Mattawan
Boys
St. Joseph 83, Mattawan 76
Gull Lake 109, St. Joseph 54
Gull Lake 108, Mattawan 54
Girls
St. Joseph 108, Mattawan 50
Gull Lake 95, St. Joseph 68
Gull Lake 123, Mattawan 39
Lakeshore at Portage Northern
Boys
Portage Northern 92, Lakeshore 71
Girls
Portage Northern 91, Lakeshore 72
Girls Tennis
St. Joseph 4, Mattawan 4 – TIE
Today
Girls Soccer
Lake Michigan Catholic at Buchanan, 5:00 p.m.
Three Rivers at Niles, 5:30 p.m.
Battle Creek Lakeview at Allegan, 6:45 p.m.
Paw Paw at Battle Creek Harper Creek, 6:45 p.m.
New Buffalo at Brandywine, 5:00 p.m.
Covert at Bridgman, 5:00 p.m.
Bangor at Coloma, 6:00 p.m.
Lawton at Edwardsburg, 5:00 p.m.
Baseball
Lawton at Benton Harbor, 4:00 p.m. (DH)
Softball
Lawton at Benton Harbor, 4:00 p.m. (DH)
Brandywine at Niles, 4:15 p.m.
Boys Golf
SMAC West at Portage Northern, 3:30 p.m.
Track and Field
Buchanan, Bridgman, and Berrien Springs at Brandywine, 4:15 p.m.