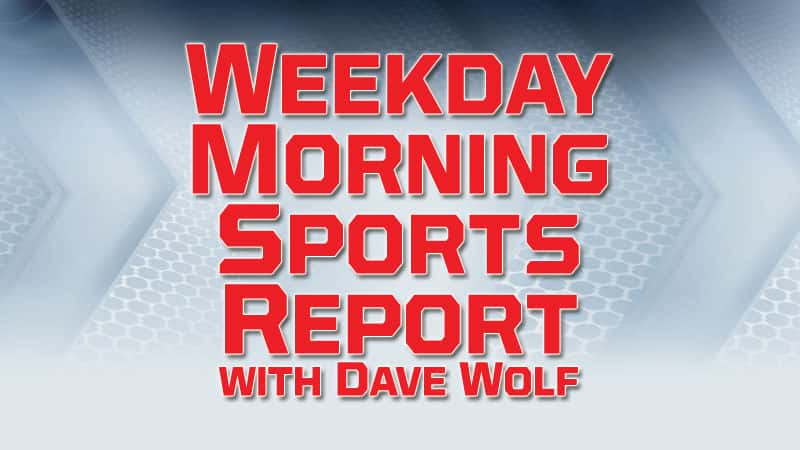 MLB – Major League Baseball
Yesterday
Cleveland Indians 2, Detroit Tigers 0
Tampa Bay Rays 5, Chicago White Sox 4
Pittsburgh Pirates at Chicago Cubs, PPD Snow
Indians 2, Tigers 0 – Kluber strikes out 13, pitches Indians over Tigers 2-0
Corey Kluber struck out 13, pitching two-hit ball for eight innings and leading the Cleveland Indians past the Detroit Tigers 2-0 in snow flurries Monday night. The temperature at first pitch was 33 degrees, one above Progressive Field's record low set Sunday. There were flurries before the game and again in the seventh inning, resulted in a crowd of 9,843. Kluber (1-1) gave up singles to Victor Martinez in the second and Nicholas Castellanos in the fourth. The reigning AL Cy Young winner walked one and threw 103 pitches in recording the 40th double-figure strikeout game of his career.  Andrew Miller worked the ninth for his first save of the season, getting Miguel Cabrera on a game-ending double play.
Rays 5, White Sox 4 – Smith ties career high with 4 hits, Rays beat White Sox 5-4
Mallex Smith matched a career-high with four hits, Joey Wendle hit his first homer and the Tampa Bay Rays stopped an eight-game losing streak by hanging on to beat the Chicago White Sox 5-4 on a snowy and soggy Monday. A bullpen that blew late leads in two of the three games at Boston last weekend got the job done after a shaky start by Chris Archer (1-0). Alex Colome escaped a second-and-third jam in the ninth by getting three straight groundouts, retiring Leury Garcia on a game-ending bouncer to first.  Tampa Bay had not won since beating the Red Sox on opening day. Chicago lost for the sixth time in seven games and fell to 0-4 at Guaranteed Rate Field, matching their worst home start since 1987.
Pirates at Cubs – PPD – Cubs postpone home opener a day because of snow
The Chicago Cubs tried to play their home opener Monday. It was just a snow-go. The Cubs' game against the Pittsburgh Pirates was postponed a day because of snow that covered much of Wrigley Field, creating a scene more reminiscent of January than April. The winter wonderland at Wrigley caused the majors' 11th postponement so far this season. Chicago is the last major league team to hold its home opener. It began the season with a 5-4 road trip to Miami, Cincinnati and Milwaukee.
Today
Tampa Bay (Snell 0-1) at Chicago White Sox (Fulmer 0-0), 2:10 p.m.
Pittsburgh (Nova 0-1) at Chicago Cubs (Chatwood 0-1), 2:20 p.m.
Detroit (Boyd 0-1) at Cleveland (Tomlin 0-1), 6:10 p.m.      WSJM Sports/Cosy-FM 5:45
NBA – National Basketball Association
Last Night
Toronto Raptors 108, Detroit Pistons 98
Brooklyn Nets 114, Chicago Bulls 105
Raptors 108, Pistons 98 – Raptors hold off Pistons 108-98
Jonas Valanciunas scored 25 points, and the Toronto Raptors scored the first 13 points of the fourth quarter before holding on for a 108-98 victory over the Detroit Pistons. Detroit was without injured stars Andre Drummond and Blake Griffin for its home finale, and the Raptors played without Fred VanVleet and Serge Ibaka.
Nets 114, Bulls 105 – Crabbe's career-high 41 lifts Nets to 3rd straight win
The Nets knocked off the Bulls, 114-105 behind Allen Crabbe's 41 points. D'Angelo Russell had 21 points and 11 assists, and Spencer Dinwiddie scored 20 points to help Brooklyn earn its season-high third straight win.  Former Net Sean Kilpatrick was one of seven players for the Bulls to score in double figures, tallying 16 points
Tonight
Charlotte Hornets at Indiana Pacers, 7:00 p.m.
NHL – Kane to be US captain, Blashill coach at world championships
Chicago Blackhawks star Patrick Kane will be the United States captain at the upcoming IIHF World Hockey Championship in Denmark. USA Hockey announced Kane as its first player for the tournament after naming Jeff Blashill as head coach on Monday. General manager Bill Zito praised Kane's enthusiasm and eagerness to play for the U.S. at the world championships after the Blackhawks missed the playoffs for the first time since 2008, when he also participated. Kane played for the U.S. at the 2010 and 2014 Olympics and next month will lead a strong team that includes Buffalo Sabres rookie and world junior MVP Casey Mittelstadt and possibly Detroit Red Wings forward Dylan Larkin. Blashill, who coaches Larkin in Detroit, is back after making his international coaching debut at worlds a year ago. Dan Bylsma, Don Granato and Seth Appert were named as Blashill's assistants.
NHL – Wings fall short in debut season at LCA
The Detroit Red Wings' debut season at Little Caesars Arena fell short of expectations. Detroit was not projected by many to make the playoffs, but the Red Wings didn't come close. Detroit won just 30 games and finished 24 points behind the wild-card teams in the Eastern Conference, faring even worse than last year's farewell season at Joe Louis Arena. The Red Wings do have some young players who showed promise as the offseason begins.
NCAAFB – MSU's running game still uncertain
LJ Scott is back, but beyond that, Michigan State's running game has plenty of questions. Scott's return for his senior season gave the Spartans some good news after they finished 2017 with a victory in the Holiday Bowl, but now he stands out even more in a backfield with little proven depth. Scott's workload has been manageable through three years at Michigan State, but it remains to be seen if the Spartans will have anyone who can effectively spell him during the rigors of the Big Ten season.
NFL – Lions sign QB Matt Cassel and re-sign WR TJ Jones
The Detroit Lions bolstered their backup options at quarterback and wide receiver. Detroit signed Matt Cassel on Monday, adding depth behind Matthew Stafford. The Lions also re-signed restricted free agent TJ Jones, giving Stafford another target in the passing game. Cassel played sparingly the past two seasons in Tennessee and the Titans released him earlier this year, making him an unrestricted free agent. The 13-year veteran also has played for Dallas, Buffalo, Minnesota, Kansas City and New England. He started 15 games with the Patriots in 2008 when Lions general manager Bob Quinn and coach Matt Patricia worked for the franchise. Cassel has started 81 games in his career, completing 59 percent of his passes for 17,449 yards with 104 touchdowns and 81 interceptions. Jake Rudock, drafted by Detroit in the sixth round two years ago, and Cassel are expecting to compete to be Stafford's backup. Jones had career highs with 30 receptions and 399 yards receiving last season and caught a touchdown pass. Detroit drafted him in the sixth round in 2014. He has 45 career receptions for 624 yards and two TDs.
NCAAMBB – Lawsuit accuses 3 Michigan St. basketball players of rape
A federal lawsuit has been filed against Michigan State University and three former men's basketball players by a female student who accuses them of sexually assaulting her at an off-campus apartment. The suit was filed Monday in U.S. District in Grand Rapids and does not list the woman's name or the names of the players. It says the assault occurred April 12, 2015 after the 18-year-old woman met the players at a local bar. The woman says in the suit that she was taken to an apartment where the players took turns raping her in a bedroom. The woman also says university Counseling Center staff made it clear to her that if she reported it to police "she faced an uphill battle that would create anxiety and unwanted media attention."  The Associated Press left messages Monday seeking comment from the school.  The woman's attorney, Karen Truszkowski, says Michigan State officials have the lawsuit and "they have reviewed it."
MWL – Midwest League Baseball
Last Night
West Michigan Whitecaps 7, Great Lakes Loons 3
South Bend Cubs 9, Bowling Green Hot Rods 4
Lansing Lugnuts 10, Fort Wayne Tin Caps 1
Tonight
Great Lakes Loons at West Michigan Whitecaps, 12:00 p.m.
Bowling Green Hot Rods at South Bend Cubs, 7:05 p.m.
Lansing Lugnuts at Fort Wayne Tin Caps, 7:05 p.m.
MHSAA – High School Sports
Yesterday
Girls Soccer
Lake Michigan Catholic 2, Michigan Lutheran 1
Maggie Tilley and Katie Sullivan scored early in the first half and Lake Michigan Catholic held on to beat Michigan Lutheran 2-1.   Mackenzie Zabal cut the Lakers lead to 2-1 with 3 minutes left in the contest but could not come up with the equalizer.  LMC goalkeeper Sarah Milanowski made 16 saves in the win.  Sarah Jackemeyer stopped 7 shots for the Titans.
Today
Baseball
Mishawaka-Penn at Lakeshore, 5:00 p.m.
Eau Claire at Lake Michigan Catholic, 4:15 p.m.
Three Rivers at Niles, 4:30 p.m. (doubleheader)
Coloma at Buchanan, 4:00 p.m. (doubleheader)
Constantine at Brandywine, 4:15 p.m.
Cassopolis at New Buffalo, 4:30 p.m.
Bridgman at River Valley, 4:15 p.m.
Fennville at Otsego, 4:00 p.m.
Bangor at Saugatuck, 4:30 p.m.
Softball
Edwardsburg at Lakeshore, 4:00 p.m. (doubleheader
Eau Claire at Lake Michigan Catholic, 4:15 p.m.
Watervliet at South Haven, 4;00 p.m.
Coloma at Buchanan, 4:00 p.m.
Constantine at Brandywine, 4:15 p.m.
Cassopolis at New Buffalo, 4:30 p.m.
Bridgman at River Valley, 4:15 p.m.
Bloomingdale at Kalamazoo Loy Norrix, 4:00 p.m.
Bangor at Saugatuck, 4:30 p.m.
Martin at Allegan, 4:00 p.m.
Fennville at Otsego, 4:00 p.m.
Soccer
Vicksburg at Lakeshore, 6:45 p.m.
Niles at Edwardsburg, 5:00 p.m.
Three Rivers at Kalamazoo Central, 6:45 p.m.
Bridgman at Kalamazoo Hackett, 6:00 p.m.
Track and Field
St. Joseph, Gull Lake at Mattawan, 4:00 p.m.
Lakeshore at Portage Northern, 4:00 p.m.
Girls Tennis
Mattawan at St. Joseph, 4:00 p.m.
Kalamazoo Central at Lakeshore, 4:00 p.m.