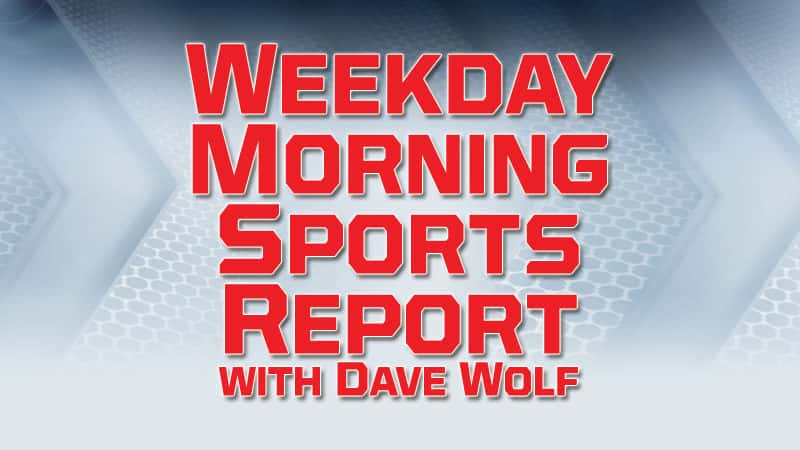 MLB – Major League Baseball
Yesterday
Detroit Tigers 1, Chicago White Sox 0
Chicago Cubs 3, Milwaukee Brewers 0
Tigers 1, White Sox 0 – Fiers, passed ball help White Sox top Tigers 1-0 for sweep
Mike Fiers combined with four relievers on a three-hitter, and the Detroit Tigers took advantage of a passed ball to score an unearned run in the first inning in a 1-0 win over the Chicago White Sox on Sunday that completed a three-game sweep.  On an afternoon with a first-pitch temperature of 36 degrees and a 10 mph wind blowing straight in, the teams combined for just five hits _ all singles _ and none after the third inning. Fiers (1-0) made his season debut after recovering from a lumbar strain and allowed three hits in six innings with six strikeouts and one walk. Leonys Martin blooped a single to left in front of Delmonico starting the game, stole second, advanced on Wellington Castillo's passed ball and came home on Miguel Cabrera's sacrifice fly.
Cubs 3, Brewers 0 – Quintana shuts down Brewers, Cubs head home after 3-0 win
Jose Quintana tossed three-hit ball over six innings, Ben Zobrist homered and the Chicago Cubs finished their longest season-opening road trip in more than a century by beating the Milwaukee Brewers 3-0 on Sunday. Albert Almora Jr. added an RBI double in the fifth for the Cubs, who took three of four games from their NL Central rivals.  Chicago finally heads home on Monday after playing its first nine games away from Wrigley Field. It was the franchise's longest road trip to open the season since a 12-game jaunt in 1899. Quintana (1-1) struck out six and walked two while lowering his ERA in five starts against Milwaukee from 0.90 to 0.77.
Today
Tampa Bay (Archer 0-0) at Chicago White Sox (Gonzalez 0-1), 2:10 p.m.
Pittsburgh (Nova 0-1) at Chicago Cubs (Chatwood 0-1), 2:20 p.m.
Detroit (Liriano 1-0) at Cleveland (Kluber 0-1), 6:10 p.m.   WSJM Sports/Cosy-FM 5:45
NHL – National Hockey League – Stanley Cup Playoff Matchups
Western Conference

Eastern Conference

Central Division
1 Nashville vs. WC2 Colorado
2 Winnipeg vs. 3 Minnesota

Metropolitan Division
1 Washington vs. WC1 Columbus
2 Pittsburgh vs. 3 Philadelphia

Pacific Division
1 Vegas vs. WC1 Los Angeles
2 Anaheim vs. 3 San Jose

Atlantic Division
1 Tampa Bay vs. WC2 New Jersey
2 Boston vs. 3 Toronto
For the first time in NHL history, the Red Wings, Blackhawks, and Montreal have missed the playoffs in the same year
NHL – Holland staying put
The Red Wings have given general manager Ken Holland a new two-year contract despite missing the playoffs for the second straight season. Detroit has won four Stanley Cups since Holland joined the front office, the last three as the team's GM. The Wings finished first overall during the regular season four times before their string of 26 straight playoff appearances ended last year. Team governor Chris Ilitch says Holland is the right guy to lead the rebuilding effort. Holland already has accumulated 11 picks in the upcoming NHL draft.
Hockey – Canada reels: 15 die when truck, hockey team bus collide
Canadians have been moved to tears as they learn the identities of 15 people killed when a semi-trailer slammed into a bus carrying a youth hockey team in the country's west.  The crash sent shockwaves through the team's small hometown. The bus was driving the Humboldt Broncos hockey team to a crucial playoff game Friday against the Nipawin Hawks.  The league's president, Bill Chow, says "the worst nightmare has happened," as his eyes welled up with tears. The Broncos are a close-knit team from the small city of Humboldt, Saskatchewan, which has a population of about 6,000. Since the horrific accident many have gathered at the community center at the hockey arena. A vigil is was held Sunday night.
Golf – Masters – Reed takes the Masters
Patrick Reed was able to conquer a pair of outstanding competitors before donning a green jacket early Sunday evening. The 27-year-old Texan and Augusta University product closed with a 1-under 71 to win his first Major championship, holding off Rickie Fowler by one stroke at the Masters. Reed pulled ahead of Jordan Spieth with an 8-foot birdie on the 14th hole. He stayed in front with a par-saving putt on 17 and closed out the tournament with a two-putt for par for a 15-under total. Reed entered the final round with a three-shot lead before losing it while Spieth and Fowler made charges.  Spieth began the day nine shots behind before turning in an 8-under 64 in one of the greatest final rounds in Masters history. But a disappointing bogey at the last hole gave Reed just enough of a cushion. Fowler made quite a run at his first major title, making six birdies over the final 11 holes for a closing 67.
NBA – National Basketball Association
Last Night
Memphis Grizzlies 130, Detroit Pistons 117
Indiana Pacers 123, Charlotte Hornets 117
Grizzlies 130, Pistons 117 – MarShon Brooks scores 25 points, Grizzlies beat Pistons
In the home finale, the Memphis Grizzlies sent their fans home happy with a rare victory in a disappointing season. MarShon Brooks scored 25 points, Dillon Brooks added 22 and the Grizzlies snapped a four-game losing streak with a 130-117 victory over the Detroit Pistons on Sunday. Kobi Simmons matched Marc Gasol with a career-high 20 points, converting 7 of 10 shots. Anthony Tolliver led the Pistons with 19 points, and Luke Kennard added 18, including making all four of his shots from outside the arc. Henry Ellenson had a career-high 17 points.
Pacers 123, Hornets 117 – Sabonis scores career-high 30, Pacers beat Hornets 123-117
Domantas Sabonis scored a career-high 30 points, Victor Oladipo had 27 points on 12-of-15 shooting and the Indiana Pacers beat the Charlotte Hornets 123-117 on Sunday to keep alive their slim hopes of winning the Central Division title. Lance Stephenson, a former Hornet, had 10 rebounds, 10 assists and eight points for the Pacers, who have won seven of their last nine games.  Rookie Malik Monk, coming off a career-high 26-point effort, led the Hornets with 22 points in their final home game of the season.
Tonight
Toronto Raptors at Detroit Pistons, 7:00 p.m.
Chicago Bulls at Brooklyn Nets, 7:30 p.m.
NASCAR – Kyle Busch wins at TMS
Kyle Busch picked up his third career NASCAR Cup win at Texas Motor Speedway and gave Joe Gibbs Racing its first victory of the season by holding off Kevin Harvick at the O'Reilly Auto Parts 500.  Busch stayed ahead of Harvick the final 24 laps following the final restart. Busch led 116 of 334 laps in earning his 44th career victory. Busch continues a strong start to a season in which he had finished second three times and third once in the first six races before taking the checkered flag at Fort Worth.  Jamie McMurray was third, followed by Erik Jones and Ryan Blaney.
NCAAFB – MSU's running game still uncertain
LJ Scott is back, but beyond that, Michigan State's running game has plenty of questions. Scott's return for his senior season gave the Spartans some good news after they finished 2017 with a victory in the Holiday Bowl, but now he stands out even more in a backfield with little proven depth. Scott's workload has been manageable through three years at Michigan State, but it remains to be seen if the Spartans will have anyone who can effectively spell him during the rigors of the Big Ten season.
NCAAHKY – Notre Dame falls 2-1 in Saturday's NCAA Hockey Champitonship
Karson Kuhlman had a goal and an assist, and Minnesota Duluth beat Notre Dame 2-1 to win the school's second NCAA hockey championship. Jared Thomas also scored and Hunter Shepard stopped 19 shots for the Bulldogs (25-16-3). UMD also won the 2011 title at the Xcel Energy Center.
MWL – Midwest League Baseball
Last Night
West Michigan Whitecaps 8, South Bend Cubs 7
Great Lakes Loons 5, Lansing Lugnuts 2
Tonight
Great Lakes Loons at West Michigan Whitecaps, 6:35 p.m.
Bowling Green Hot Rods at South Bend Cubs, 7:05 p.m.
Lansing Lugnuts at Fort Wayne Tin Caps, 7:05 p.m.
ECHL – East Coast Hockey League
Last Night
Indy Fuel 2, Kalamazoo Wings 1  (Kalamazoo eliminated from playoff contention)
Fuel 2, K-Wings 1 – Indy claims final playoff spot with win over Kalamazoo
Indy got a pair of first period goals from Alex Wideman and Logan Nelson.  Etienne Marcoux stopped 31 of 32 shots he faced to give Indy a 2-1 win over Kalamazoo in a battle to determine the final Central Division playoff spot.   Justin Taylor scored his 35th goal of the season for Kalamazoo 1:11 into the final period but the K-Wings could not come up with the equalizer.  Joel Martin stopped 32 of 34 shots in the season ending loss for Kalamazoo, who will miss the ECHL playoffs for the first time since the 2012-13 season.  Indy will be the 4th seed in the Central Division playoffs and will face top seed Toledo in round 1 on Friday in Toledo.   The matchup is a meeting of two teams whose NHL parent clubs will miss the playoffs.  Toledo's parent club Detroit and Indy's parent club Chicago will both miss the Stanley Cup playoffs for the first time since the 1968-69 season. 
#1 Toledo Walleye (50-17-5) vs. #4 Indy Fuel (36-30-6)
Game 1 – Friday, April 13 at 7:35 p.m. ET at Toledo
Game 2 – Sunday, April 15 at 5:15 p.m. ET at Toledo
Game 3 – Wednesday, April 18 at 7:05 p.m. ET at Indy
Game 4 – Thursday, April 19 at 7:05 p.m. ET at Indy
Game 5 – Saturday, April 21 at 7:35 p.m. ET at Indy (If Necessary)
Game 6 – Tuesday, April 24 at 7:35 p.m. ET at Toledo (If Necessary)
Game 7 – Wednesday, April 25 at 7:35 p.m. ET at Toledo (If Necessary)
MHSAA – High School Sports
Today
Girls Soccer
Lake Michigan Catholic at Michigan Lutheran, 5:00 p.m.
New Prairie (IN) at Buchanan, 5:00 p.m.
Saugatuck at Bangor, 6:00 p.m.
Baseball
Martin at Colon, 4:30 p.m. (doubleheader)
Lawrence at Decatur, 4:30 p.m.
Gobles at Hartford, 4:30 p.m.
Softball
Lawrence at Decatur, 4:30 p.m.
Gobles at Hartford, 4:30 p.m.