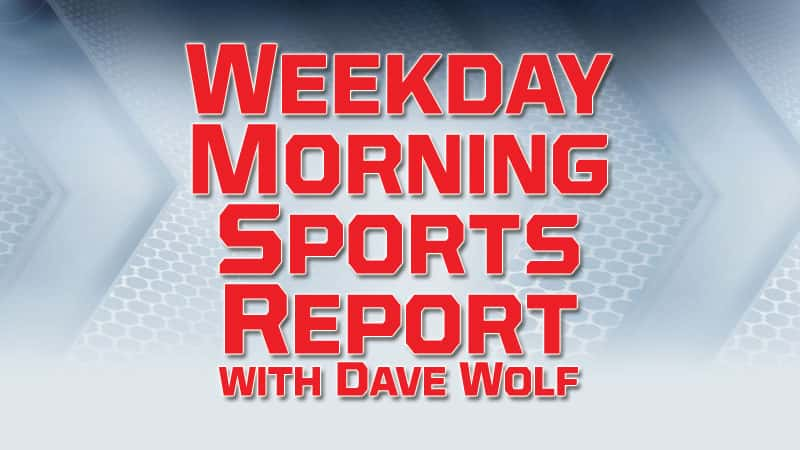 MLB – Major League Baseball
Yesterday
Kansas City Royals at Detroit Tigers, PPD
Chicago White Sox 4, Toronto Blue Jays 3
Cubs were off
Royals at Tigers, PPD – Royals rejoice as game against Tigers postponed due to cold
They didn't win, but the Kansas City Royals have still been celebrating. They cheered the news that their scheduled game against the Detroit Tigers was postponed due to inclement weather. The game will be made in a day-night doubleheader on April 20. This morning, it was barely above freezing in Detroit. Royals shortstop Alcides Escobar says, "It's not easy to play in this weather."
White Sox 4, Blue Jays 3 – White Sox cool off Blue Jays with 4-3 win
Matt Davidson hit his fourth home run of the season and Jose Abreu added a tiebreaking solo shot in the eighth inning and the Chicago White Sox snapped the Toronto Blue Jays' four-game win streak with a 4-3 victory Wednesday night. With the win, the White Sox return to Chicago for Thursday's home opener against the Detroit Tigers, having avoided their first three-game sweep in Toronto since 2004. Having been held hitless throughout the series, Davidson connected on his fourth home run of the season to lead off the second inning, driving a 3-1 pitch from Aaron Sanchez over the left-field fence. In his first start of the season, right-hander Carson Fulmer held Toronto to five hits over five innings, surrendering all three runs.  Right-hander Nate Jones (1-0) picked up the win with 1 1/3 innings of scoreless relief. Closer Joakim Soria earned his second save of the season with a flawless ninth inning. Blue Jays right-hander Aaron Sanchez went six innings, allowing five hits and three earned runs, while striking out seven.
Today
Detroit (Zimmermann 0-0) at Chicago White Sox (Shields 1-0), 4:10 p.m. WSJM Sports/Cosy-FM 3:45
Chicago Cubs (Lester 0-0) at Milwaukee (Suter 1-0), 8:10 p.m.
NBA – National Basketball Association
Last Night
Philadelphia 76ers 115, Detroit Pistons 108
Sixers 115, Pistons 108 – 76ers win 12th straight, eliminate Pistons 115-108
JJ Redick scored 25 points, and the Philadelphia 76ers won their 12th straight game, eliminating Detroit from playoff contention with a 115-108 victory over the Pistons. The Pistons had their five-game winning streak snapped, and their defeat clinched a postseason spot for the Milwaukee Bucks. The Eastern Conference playoff field is now set, although there's still plenty of uncertainty over the actual matchups. Philadelphia pulled even with Cleveland for third place in the East.
Tonight
Golden State Warriors at Indiana Pacers, 7:00 p.m.
NHL – National Hockey League
Last Night
Chicago Blackhawks 4, St. Louis Blues 3
Blackhawks 4, Blues 3 – Duncan Keith lifts Blackhawks past Blues, 4-3
Duncan Keith scored a power-play goal with 8.5 seconds left and the Chicago Blackhawks beat St. Louis 4-3 on Wednesday night to hurt the Blues' playoff hopes. Andreas Martinsen, Blake Hillman and Alex DeBrincat also scored, and Jean-Francois Berube made 30 saves. The Blackhawks beat the Blues for the first time in three meetings this season. Vladimir Tarasenko and Brayden Schenn each had a goal and an assist for the Blues. They have lost four straight to fall a point behind idle Colorado for the second wild-card spot in the Western Conference. Robert Bortuzzo also scored for the Blues, and Jake Allen made 22 saves in his 14th straight loss.
Tonight
Montreal Canadiens at Detroit Red Wings, 7:30 p.m.
NHL – Some big names being trimmed from Stanley Cup
The names of Hockey Hall of Famers like Gordie Howe, Bobby Hull and Maurice "Rocket" Richard will be soon removed from the Stanley Cup to make room for the next generation of champions.  When a new layer is added to the 126-year-old trophy, the championship teams from 1954-65 will need to be removed to keep the trophy from becoming too big to be skated around the ice or checked on an airplane for its next journey. The Stanley Cup is unique among major prizes because the NHL passes it from team to team instead of producing a new one for every champion.  It's also the only one that includes the name of every player to win it in each season _ though the names come and go. The process needs to be repeated every 13 years, meaning a player's name lasts on the Cup a maximum of 65 years. Since it was first donated in 1892 by Lord Stanley, the governor general of Canada, the Cup has grown from a 7-inch-high bowl to a 3-foot trophy more the size of a large wedding cake, with three small layers under the original bowl and five more bands under that that fit about 13 years of champions apiece. The top one of those bands will be removed in a matter of weeks.
NCAAHKY – NCAA Men's Hockey – Frozen Four
Tonight
2018 NCAA Frozen Four – Xcel Energy Center, St. Paul, MN
3 Minnesota-Duluth vs. 1 Ohio State, 6:00 p.m.  95.7 & 1400 WSJM Sports (joined after Tigers/White Sox)
2 Michigan vs. 1 Notre Dame, 9:30 p.m.               95.7 & 1400 WSJM Sports
NFL – Colts add depth at linebacker by signing Najee Goode
The Indianapolis Colts found depth at linebacker by singing free agent Najee Goode. Goode spent the last five seasons in Philadelphia and earned a Super Bowl ring on the Eagles' championship team. The former West Virginia star was a fifth-round pick of Tampa Bay in 2012 and played his rookie season with the Buccaneers. In 2017, Goode made three of his four career starts and had 19 tackles, three for loss and 10 tackles on special teams. He has scored two career touchdowns _ returning a blocked punt for one. He also scored on a fumble recovery. At 6-foot, 244 pounds, Goode brings another body to a position where the Colts were thin after losing Barkevious Mingo and Jon Bostic in free agency.
NFL – Josh Bellamy signs restricted free agent tender with Bears
Chicago Bears receiver Josh Bellamy has signed his restricted free agent tender. Bellamy will return for a fifth season in Chicago after catching 24 passes for 376 yards and a touchdown last season. He has 62 receptions for 882 yards and four TDs over six seasons with Kansas City, Washington and Chicago. The Bears announced the move on Wednesday. Chicago went 5-11 and finished last in the NFC North for the fourth straight year. The Bears hired coach Matt Nagy in January to replace the fired John Fox.
NFL – USC quarterback Darnold visiting Browns, who have No. 1 pick
The Cleveland Browns have spent the most of the past two decades searching for a franchise quarterback. Southern Cal's Sam Darnold is the latest player to visit with the Browns, who are coming off a 0-16 season.  Team officials are in the midst of meeting with several quarterbacks to potentially draft No. 1 overall and Darnold is believed to be the favorite.
NFL – Robert Griffin III, Ravens, reach agreement on 1-year deal
The Baltimore Ravens have reached agreement on a 1-year deal with quarterback Robert Griffin III, whose once-promising NFL career grinded to a halt two years ago. Griffin is expected to be a backup to Joe Flacco, Baltimore's starter for 10 straight seasons. Ravens general manager Ozzie Newsome says Griffin will sign the contract next week after reaching an agreement late Tuesday.  Griffin last played in 2016 with the Cleveland Browns. He started five games, winning only one of them. Griffin won the Heisman Trophy with Baylor in 2011 before being selected second overall in the 2012 draft by the Washington Redskins. He enjoyed a sensational rookie season, throwing 20 touchdown passes and only five interceptions. As the injuries mounted, RG3's effectiveness waned. He missed the 2015 season after sustaining a concussion and was signed by the Browns in 2016.  Griffin was the starting quarterback the last time the Browns won a game.
NCAAFB – Ex-Spartan football players enter pleas in sex assault case
Three former Michigan State University football players accused in the 2017 sexual assault of a woman in an apartment bathroom have pleaded guilty to reduced charges. Josh King, Donnie Corley Jr. and Demetric Vance pleaded guilty Wednesday to seducing an unmarried woman.  Act 328 of 1931 in the Michigan Penal Code says "any man who shall seduce and debauch any unmarried woman shall be guilty of a felony." The charge is punishable by up to five years in prison. Longer sentences could have been imposed under the original criminal sexual conduct charges the men had faced. Ingham County Prosecutor Carol Siemon says in a statement that the "plea to seduction … allows the criminal justice system to acknowledge the victim" and "provides an incentive for that offender to plea, in particular because it's not an offense that requires that they register as a sex offender." Sentencing is scheduled for June 6. King, Corley and Vance were kicked off the team when charges were filed last year.
Golf – The Masters – Finau injures ankle celebrating ace, pops it back into place
Tony Finau injured his left ankle celebrating a hole-in-one during the Par-3 Tournament at the Masters and then seemingly popped it back into place. Finau flew his ball to the back of the seventh green Wednesday on the Par-3 course at Augusta National and spun it back into the hole for an ace. He started running toward the hole to celebrate, then turned and backpedaled before landing awkwardly on his left ankle. He dropped to one knee and ended up pushing the joint back into place. Finau, ranked No. 34 in the world, ended up withdrawing from the event but stuck around for the final two holes. He gingerly walked to a golf cart and was driven off the course. Tom Watson won the exhibition at 6-under, one shot better than Tommy Fleetwood and Thomas Pieters. Jack Nicklaus' grandson, who was caddying for the six-time Masters winner, made an aces at No. 9.
Golf – Augusta National to host women's amateur tournament
A new women's amateur tournament will be played partially at Augusta National the week before the Masters. Masters chairman Fred Ridley announced the tournament Wednesday, calling it a move to help grow the game of golf. It will be called the Augusta National Women's Amateur. The tournament will be played over three rounds, with the first two at the Champions Retreat outside Augusta and the final round played on the Saturday before the Masters at the famed Augusta National course. Ridley said Masters officials believe it will be the most widely attended amateur tournament in the world, and by a large margin. The field will consist of 72 women invited by the Masters. The Masters also hosts a youth putt, chip and drive contest on the Sunday before the Masters.  
Olympics – New York budget includes money for '80 Winter Olympic sites
Aging Winter Olympic facilities in the Lake Placid area could soon be modernized. The state budget just approved by Gov. Andrew Cuomo and New York lawmakers includes $62.5 million for Lake Placid's winter sports venues. The Adirondack Daily Enterprise reports that Cuomo's initial proposal called for $50 million of that money to go toward improvements to the region's Olympic facilities and ski resorts. The paper says that could include improvements to the Olympic Center ice rinks, the ski jumping complex or the Mount Van Hoevenberg complex for biathlon, Nordic skiing and sliding sports. Lake Placid hosted the 1980 Winter Olympics and many sports facilities date to that era.
AHL – Griffins Hronek named to AHL's all-rookie team
Detroit Red Wings prospect Filip Hronek on Wednesday was named to the American Hockey League's All-Rookie Team.  So far in 62 games played this season, the defenseman has 9 goals and 24 assists, including 4 game winning goals.  Three current Red Wings players have previously been named to the AHL's All Rookie team,  Goalie Jimmy Howard and defenseman Mike Green were selected in 2006.  Forward Gustav Nyquist was selected in 2012.    Hronek was a second round draft pick by the Red Wings in the 2016 draft. 
MWL – Midwest League Baseball – Opening Day
Tonight
Lansing Lugnuts at Great Lakes Loons, 6:05 p.m.
South Bend Cubs at West Michigan Whitecaps, 6:35 p.m.