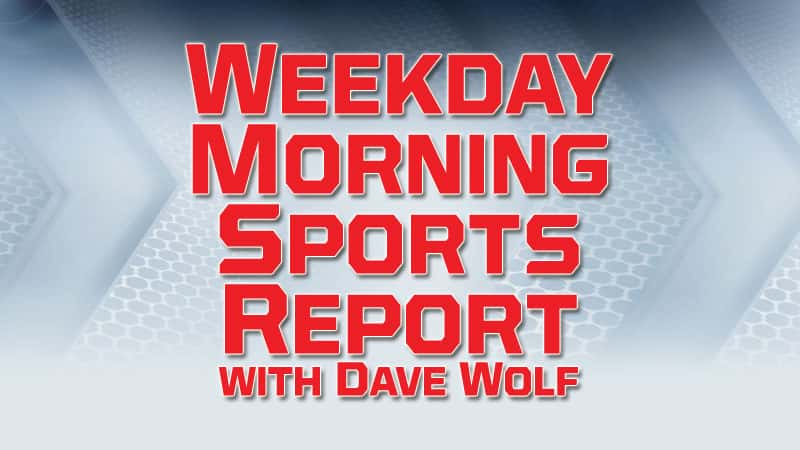 MLB – Major League Baseball
Yesterday
Kansas City Royals 1, Detroit Tigers 0
Toronto Blue Jays 14, Chicago White Sox 5
Chicago Cubs at Cincinnati Reds, PPD, Rain
Royals 1, Tigers 0 – Junis impressive as Royals beat Tigers 1-0 for 1st win
Jake Junis took a shutout into the eighth inning, and the Kansas City Royals beat the Detroit Tigers 1-0 on Tuesday for their first victory of the season. On a chilly, rainy day _ with snow a possibility on Wednesday _ the Tigers and Royals breezed through nine innings in 2 hours, 17 minutes. Jorge Soler, who still doesn't have a major league hit since July 2, drove in the game's only run with a sacrifice fly in the second. Junis (1-0) allowed three hits in seven-plus innings. The 25-year-old right-hander walked one and struck out six before being lifted following Mikie Mahtook's leadoff single in the eighth. Justin Grimm finished that inning, and Kelvin Herrera struck out two in a
perfect ninth for his first save. Matthew Boyd (0-1) was sharp for the Tigers, allowing a run and four hits in six innings.
Blue Jays 14, White Sox 5 – Donaldson homers again as Blue Jays rout White Sox 14-5
The Toronto Blue Jays have slugged their way to early win streak.  Josh Donaldson and Aledmys Diaz each hit a two-run homer, and the Blue Jays routed the Chicago White Sox 14-5 on Tuesday night for their fourth consecutive victory.  Donaldson went 2 for 4 with three RBIs. Diaz had three hits before leaving after six innings because of back spasms. He is day to day. Donaldson and Diaz also went deep in Monday's night's 4-2 victory over Chicago. The Blue Jays have hit at least one home run in each of their first six games for the first time since 2000.  Ten of Toronto's 14 hits were for extra bases, including seven doubles. Avisail Garcia, Tim Anderson and Yolmer Sanchez hit solo home runs for the White Sox. Chicago has 12 home runs over its first four games.
Cubs at Reds, PPD – Storms prompt cancellation of Cubs-Reds game
The Reds and Cubs were postponed in Cincinnati due to stormy weather. The game will be made up as part of a May 19 doubleheader.
Today
Kansas City (Duffy 0-1) at Detroit (Norris 0-0), 1:10 p.m.           WSJM Sports/Cosy-FM 12:45
Chicago White Sox (Fulmer 0-0) at Toronto (Sanchez 0-1), 7:07 p.m.
Cubs are off
NHL – National Hockey League
Last Night
Columbus Blue Jackets 5, Detroit Red Wings 4 – OT
Blue Jackets 5, Red Wings 4 – OT – Blue Jackets beat Red Wings 5-4 to bolster playoff hunt
The Columbus Blue Jackets rallied from a three-goal deficit to beat Detroit in overtime and move within a point of clinching a playoff spot with two games left.  Artemi Panarin put back his own rebound late in the game to tie it, setting up Pierre-Luc Dubois' shot from the slot 2:55 into the extra period for a 5-4 win over the Red Wings before a raucous sellout crowd Tuesday night. Columbus is one point or a loss by Florida shy of clinching at least a wild-card spot. The Panthers beat Nashville 2-1 on Tuesday night.  Sonny Milano also had a goal for the Blue Jackets, who have won 13 of 15. Sergei Bobrovsky had 23 saves. Seth Jones had three assists, and Panarin added two, claiming the Columbus franchise single-season points record with 80. Rick Nash had 79 in 2008-09.  Jimmy Howard had 36 saves and Tyler Bertuzzi had two goals for the Red Wings, who ended a three-game winning streak. Gustav Nyquist had a goal and an assist, Darren Helm also scored and Henrik Zetterberg had three assists for Detroit.
Tonight
Chicago Blackhawks at St. Louis Blues, 8:00 p.m.
NBA – National Basketball Association
Last Night
Chicago Bulls 120, Charlotte Hornets 114
Denver Nuggets 107, Indiana Pacers 104
Bulls 120, Hornets 114 – Markkanen, Kilpatrick lead Bulls over Hornets, 120-114
Lauri Markkanen scored 24 points and Sean Kilpatrick added 21 off the bench to lead Chicago to a 120-114 victory over the Charlotte Hornets on Tuesday night.  Markkanen didn't play in the fourth quarter and totaled just 24 minutes for the game. The 7-foot rookie was 8 of 14 from the field, including 5 of 6 on 3-pointers.  Justin Holiday had 19 points and Bobby Portis added 16 for Chicago, which has won three straight.  The winning streak could drop the Bulls a few spots in the June draft, but that's of no concern inside the locker room.  "We're going out there and try to win every game," Markkanen said. "I hope we can keep this thing going."  Dwight Howard had 23 points and 12 rebounds, and Malik Monk scored 21 points for Charlotte, which has dropped four straight.
Nuggets 107, Pacers 104 – Jokic scores 30, Nuggets hold off Pacers 107-104
Nikola Jokic scored 30 points, Jamal Murray hit a clutch 3-pointer late, his only one of the game, and the Denver Nuggets held off the Indiana Pacers 107-104 on Tuesday night.  The victory pulled Denver within a half-game of New Orleans for the eighth and final playoff spot in the Western Conference. Benton Harbor's Wilson Chandler donned a mask to protect the nose he broke last week against Oklahoma City. He struggled early with his shot, going 0 for 5 in the first half  Chandler finally found his touch in the third scoring 10 points, including  three 3-pointers to spark a run to open some breathing room. Victor Oladipo had 25 points for the Pacers, who had their five-game winning streak snapped, but remain fifth in the Eastern Conference.
Tonight
Philadelphia 76ers at Detroit Pistons, 7:00 p.m.
NFL – Raiders stadium clears another hurdle
Clark County, Nevada, officials have voted 6-1 to approve the sale of $750 million in bonds for the construction of the Raiders' stadium in Las Vegas. The Raiders want to start the 2020 season at the $1.8 billion, 65,000-seat stadium being built across the freeway from the Las Vegas Strip. Guests of hotels and other lodging in the Las Vegas area are paying a room tax that over time will contribute $750 million for the project.
Golf – The Masters – Tiger back at Augusta
Tiger Wood calls his comeback "a miracle." Woods is playing the Masters for the first time since 2015, after going through spinal fusion surgery to relieve chronic back pain. The four-time Augusta champion says he doesn't "know anybody who had lower back fusion and can swing the club as fast as I can swing it." After myriad health problems, Woods seems to have his game in order heading into the first major of the year.
Olympics – Seven countries interested in hosting 2026 Winter Olympics
Seven countries are interested in hosting the 2026 Winter Olympics.Cities in Austria, Canada, Italy, Japan, Sweden, Switzerland and Turkey have submitted formal expressions of interest to the International Olympic Committee. The vote is scheduled for September 2019.  The IOC has tried to attract more bidders after only two candidates reached the vote for the 2022 Games.  Voters in and around Sion, Switzerland, will vote in June whether to continue with their bid, while Erzurum in eastern Turkey faces questions over security.  Four former host cities are also bidding, including 1972 host Sapporo, 1988 host Calgary and 1956 host Cortina d'Ampezzo. Turin, which hosted the 2006 Games, is part of a joint bid with Milan.
AHL – American Hockey League
Last Night
Milwaukee Admirals 4, Chicago Wolves 3 – Shootout