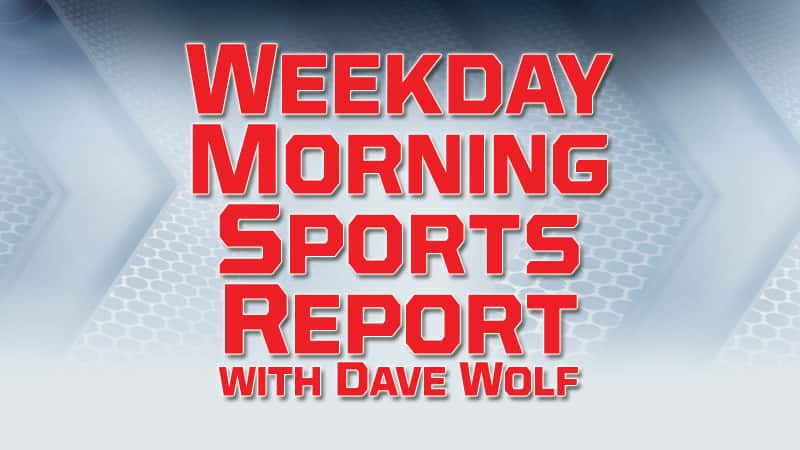 NCAAMBB – Men's College Basketball – 2018 NCAA Championship Game
Last Night
2018 NCAA Championship – Alamodome, San Antonio, TX
1 Villanova 79, 3 Michigan 62
Villanova 79, Michigan 62 – Villanova takes title, 79-62 over Michigan behind DiVincenzo
They chanted his name from the cheap seats: "DiVincenzo, DiVincenzo." By the time Donte DiVincenzo was done doing his damage, Villanova had another title and college basketball had its newest star. The redhead kid with the nickname Big Ragu scored 31 points Monday to lift `Nova to another blowout tournament victory _ this time 79-62 over Michigan for its second title in three seasons.  The sophomore guard had 12 points and an assist to help the Wildcats (36-4) pull ahead in the first half, then scored nine straight for Villanova midway through the second to put the game away _ capped by a 3-pointer he punctuated with a wink over to TV announcers Jim Nantz and Bill Raftery.  Villanova won all six games by double digits over this tournament run, joining Michigan State (2000), Duke (2001) and North Carolina (2009) in that rare air.
NCAAMBB – Michigan State freshman Jaren Jackson jumps to NBA draft
Michigan State freshman Jaren Jackson is entering the NBA draft.  Jackson announced his decision on Twitter on Monday. He was the Big Ten Defensive Player of the Year and Freshman of the Year, joining former Ohio State star Greg Oden as the only players in conference history to pull off the feat. The 6-foot-11, 242-pound Jackson blocked 106 shots, a single-season record for a Spartan, and swatted a Big Ten-best 3.03 shots per game. The forward averaged 10.9 points, 5.8 rebounds and made nearly 40 percent of the 96 3-pointers he attempted. Michigan State's Miles Bridges entered the draft and hired an agent and Nick Ward is submitting his name for consideration.
MLB – Major League Baseball
Yesterday
Detroit Tigers 6, Kansas City Royals 1
Toronto Blue Jays 4, Chicago White Sox 2
Cincinnati Reds 1, Chicago Cubs 0
Tigers 6, Royals 1 – Liriano pitches Tigers to 1st win of season, 6-1 over Royals
Francisco Liriano pitched into the seventh inning in his Detroit debut and Victor Martinez drove in three runs to give the Tigers a 6-1 victory over the Kansas City Royals on a chilly Monday.  Ron Gardenhire won his first game at the helm in Detroit.  Liriano (1-0) allowed a run and four hits in 6 2/3 innings. The 34-year-old lefty, signed as a free agent in February, struck out three and walked two while throwing 94 pitches. The Tigers scored four runs in the fifth, with Martinez delivering a two-run single off Jason Hammel (0-1). Martinez added a sacrifice fly in the seventh.
Blue Jays 4, White Sox 2 – Martin hits go-ahead homer, Blue Jays beat White Sox 4-2
Russell Martin hit a go-ahead, two-run homer in the seventh inning, Josh Donaldson and Aledmys Diaz each had a solo shot and the Toronto Blue Jays beat the Chicago White Sox 4-2 on Monday night for their third straight win. All six runs in the game came on homers.  Welington Castillo went deep twice for the White Sox, his sixth career multihomer game and third straight against Toronto.  Seung Hwan Oh (1-0) got the win despite allowing Castillo's second homer, a tiebreaking shot in the top of the seventh, during his only inning of work.
Reds 1, Cubs 0 – Reds get parade, edge Cubs 1-0 on 2-hitter for their 1st win
Four days into the season, the Reds finally got their opening-day parade — and a win, too. Rookie Tyler Mahle pitched one-hit ball for six innings, Raisel Iglesias fanned Anthony Rizzo with the bases loaded to end the eighth, and the Reds edged Chicago 1-0 Monday for their first win of the season. Eugenio Suarez tripled in the fourth and scored on Adam Duvall's groundout. Mahle (1-0) earned the win in only his fifth carreer start, outpitching Tyler Chatwood (0-1) in his Cubs debut.
Today
Kansas City (Junis 0-0) at Detroit (Boyd 0-0), 1:10 p.m.    WSJM Sports/Cosy-FM 12:45
Chicago Cubs (Lester 0-0) at Cincinnati (Reed 0-0), 6:40 p.m.
Chicago White Sox (Gonzalez 0-0) at Toronto (Happ 0-1), 7:07 p.m.
MLB – MLB stands behind replay reversal from Tigers-Pirates game
Major League Baseball is standing behind the replay reversal that took the winning run away from the Detroit Tigers in a game last week against the Pittsburgh Pirates.  Detroit's Nicholas Castellanos was initially called safe in the bottom of the 10th inning Friday, and the Tigers spilled onto the field to celebrate what they thought was a win on opening day. After a review, Castellanos was ruled out, and the game continued. Pittsburgh ended up winning 13-10 in 13 innings, Before Monday's game against Kansas City, Tigers manager Ron Gardenhire indicated that general manager Al Avila had spoken with MLB. "We had our conversation with them, yes. There was definitely mistakes made," Gardenhire said. "The time of it was definitely wrong. I mean, it's supposed to be a two-minute ordeal, or we move on, right? And they ended up going almost four. We heard what we wanted to hear, I would tell you that. I'm not going to say anything else other than that. They told us what we knew was right." Major League Baseball, however, is standing behind the decision.
NBA – National Basketball Association
Tonight
Charlotte Hornets at Chicago Bulls, 8:00 p.m.
Indiana Pacers at Denver Nuggets, 9:00 p.m.
NHL – National Hockey League
Tonight
Detroit Red Wings at Columbus Blue Jackets, 7:00 p.m.
NHL – Canucks' Sedin twins to retire after this season
Vancouver Canucks forwards Henrik and Daniel Sedin say they will retire at the end of the season. The Sedins have spent their entire 17 years in the NHL with Vancouver since being selected with the second- and third-overall picks in the 1999 draft. Each Sedin has scored over 1,000 points, combining for 631 goals and 1,475 assists. Only Mats Sundin, Daniel Alfredsson and Nicklas Lidstrom have scored more NHL points among Swedish-born players.  Both Sedins won the Art Ross Trophy as the NHL's top scorer, doing it one year apart. Henrik Sedin was given the Hart Trophy as the league's top player in 2009-10, one season before Daniel received the Ted Lindsay Award as the NHL MVP as voted by the players.
Running – Authorities to discuss security for the Boston Marathon
Authorities are briefing the public on measures being taken to secure the Boston Marathon. Public safety officials and representatives from the Boston Athletic Association, which organizes the race, are scheduled Tuesday morning to discuss safety measures being put in place for the 122nd running of the marathon on April 16.  The route takes runners through eight cities and towns, complicating efforts to police the course. Agencies involved in securing the race include the FBI, Boston police, state police and others. Security has been tightened along the 26.2-mile (42.2-kilometer) course since 2013, when bombs planted near the finish line killed three spectators and wounded more than 260 others. In recent years, authorities have used surveillance drones, bomb-sniffing dogs and aircraft equipped with technology to detect a radiological "dirty" bomb.
Golf – LPGA – Pernilla Lindberg wins ANA Inspiration on 8th extra hole
Pernilla Lindberg plunged into Poppie's Pond with her parents and fiance-caddie Daniel Taylor, celebrating her first professional victory in about the biggest way possible in women's golf.
The 31-year-old Swede needed a major-record eight sudden-death holes over two days to finish off Inbee Park in the ANA Inspiration, ending it Monday morning with a 30-foot birdie putt on the par-4 10th.  They played four holes Monday after going until it was too dark to see — and then played some more — Sunday night. Lindberg won in her 250th start on the LPGA, Ladies European and Symetra tours, sharing the moment with father Jan and mother Gunilla. They introduced her to golf at Bollnas Golf Club about 150 miles north of Stockholm.
AHL – American Hockey League
Tonight
Milwaukee Admirals at Chicago Wolves, 8:00 p.m.