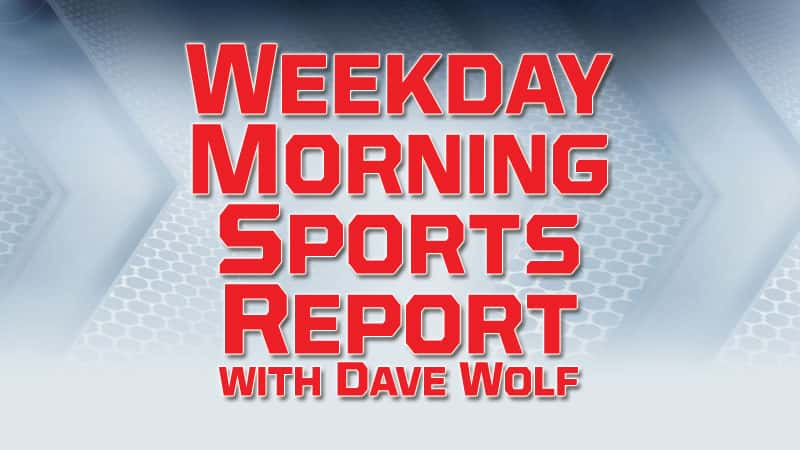 MLB – Major League Baseball
Yesterday
Pittsburgh Pirates 1, Detroit Tigers 0 – Game 1
Pittsburgh Pirates 8, Detroit Tigers 6 – Game 2
Miami Marlins 6, Chicago Cubs 0
Chicago White Sox at Kansas City Royals, PPD, Snow
Pirates 1, Tigers 0 – Game 1 – Williams pitches 6 no-hit innings, Pirates edge Tigers 1-0
Trevor Williams was pulled with a no-hitter in progress after six innings, and the Pittsburgh Pirates hung on to beat the Detroit Tigers 1-0 on a chilly Sunday in the opener of a day-night doubleheader. Williams (1-0) threw 84 pitches, his count boosted by five walks, and was replaced by Michael Feliz to start the seventh. Nicholas Castellanos quickly ended the team no-hit bid with a one-out double down the left-field line. Michael Fulmer (0-1) gave up one run on four hits and two walks in eight innings, striking out three.
Pirates 8, Tigers 6 – Game 2 – Pirates beat Tigers 8-6 to sweep doubleheader, series
Josh Harrison, Starling Marte and David Freese homered for Pittsburgh, and the Pirates completed a doubleheader sweep of the Detroit Tigers with an 8-6 victory Sunday night. Pittsburgh swept the three-game, season-opening series against the rebuilding Tigers. The highlight for Detroit was Miguel Cabrera's first home run of the season, a solo shot in the sixth inning.  Chad Kuhl (1-0) allowed four runs and eight hits in 5 2/3 innings in the nightcap. Detroit starter Ryan Carpenter lasted three innings in his major league debut, yielding three runs and five hits.
Marlins 6, Cubs 0 – Peters throws 6 sharp innings, Marlins top Cubs 6-0
Dillon Peters threw six scoreless innings, Brian Anderson hit a three-run double to highlight a five-run fifth and the Miami Marlins beat the Chicago Cubs 6-0 on Sunday to split their opening four-game series. Chad Wallach had two hits for the Marlins, who were hitless in their first four innings before getting the offense going. Jose Quintana gave up six hits and six runs in six innings. The last of the runs charged to him scored when he uncorked a wild pitch in the sixth. Kyle Schwarber had a pair of hits for the Cubs, who stranded 10 runners on Sunday and 42 in the series.
White Sox at Royals – White Sox-Royals game postponed by cold, snow in forecast
The season-opening series finale between the Kansas City Royals and Chicago White Sox was postponed Sunday with snow in the afternoon forecast and temperatures struggling to reach the freezing mark. The game will be made up as part of a day-night doubleheader on April 28.  The White Sox won the opener Thursday with a six-homer barrage in a 14-7 rout, then rallied in the eighth inning for a 4-3 victory over their AL Central rivals on Saturday night.
Today
Kansas City (Hammel 0-0) at Detroit (Liriano 0-0), 1:10 p.m.       WSJM Sports/Cosy-FM 12:45
Chicago Cubs (Chatwood 0-0) at Cincinnati (Mahle 0-0), 4:10 p.m.
Chicago White Sox (Lopez 0-0) at Toronto (Garcia 0-0), 7:07 p.m.
NCAAMBB – Men's College Basketball – 2018 NCAA Championship Game
Tonight
2018 NCAA Championship – Alamodome, San Antonio, TX
3 Michigan vs. 1 Villanova, 9:20 p.m.               95.7 & 1400 WSJM Sports 6:30, Michigan feed at 8:45
NCAAMBB – Michigan faces tall order against `Nova in NCAA title game
Michigan has made a shift in recent years to transform into one of the country's best defensive teams. Villanova is dropping 3-pointers like pop-a-shot and making teams look far less skilled.   Both teams are preparing for the final game of the NCAA Tournament, as March Madness bleeds into April for the championship game tonight.  Michigan got here by ousting Loyola-Chicago in the Final Four on Saturday night, sending home Sister Jean and her Ramblers, the fan-favorite underdogs.  Villanova turned a highly-anticipated matchup against fellow No. 1 seed Kansas into a rout, making a Final Four record 18 3-pointers and also becoming the most prolific long-range shooting team in NCAA history with 442 makes.

NCAAWBB – Women's College Basketball – 2018 Final Four
Last Night
2018 NCAA Final Four – Nationwide Arena, Columbus, OH
1 Notre Dame 61, 1 Mississippi State 58
Notre Dame 61, Mississippi State 58 – Irish beat Miss. St. on last-second shot
Notre Dame has provided a thrilling end to a wild NCAA women's basketball tournament. Arike Ogunbowale nailed a 3-pointer from the corner with one-tenth of a second remaining to give the Irish a 61-58 triumph over Mississippi State in the title game at Columbus.  It was the second straight game that the junior guard hit a shot in the final second to carry the Irish, two days after she ended UConn's bid for an unbeaten season. The Irish pulled off the biggest comeback in title game history, rallying from a 15-point deficit in the third quarter and a five-point deficit in the final 1:58. Marina Mabrey hit a 3-pointer from the wing and then Jackie Young had a shot in the lane to tie it.  Ogunbowale scored 14 of her 18 points in the second half and earned most outstanding player honors for the tournament. Notre Dame's only other NCAA national championship in women's basketball came in 2001.
NBA – National Basketball Association
Last Night
Chicago Bulls 113, Washington Wizards 94
Indiana Pacers 111, Los Angeles Clippers 104
Detroit Pistons 108, Brooklyn Nets 96
Bulls 113, Wizards 94 – Markkanen, hot-shooting Bulls top playoff-bound Wizards
Rookie Lauri Markkanen scored 23 points and connected on 5 of 8 3-pointers to lead the Chicago Bulls to a 113-94 win over the Washington Wizards on Sunday. Bobby Portis had 18 points and hit 4 of 5 from long range, and Sean Kilpatrick added 14 points. Chicago shot 52.4 percent overall from the floor and was 18-for-34 on 3s _ matching its season high _ as Bulls head coach Fred Hoiberg missed the game with an upper-respiratory infection. Hoiberg returned home before tipoff, leaving associate head coach Jim Boylen to direct Chicago to its second straight win following a seven-game skid. Otto Porter Jr. led the Wizards with 17 points as five-time All-Star John Wall rested. Bradley Beal scored 15 points and reserve Mike Scott added 14.
Pacers 111, Clippers 104 – Pacers beat Clippers 111-104 for 5th straight win
Victor Oladipo scored 30 points, Myles Turner added 24 and the Indiana Pacers rallied to beat the Los Angeles Clippers 111-104 on Sunday for their fifth straight victory. Oladipo shot 11 of 17 from the field and had 12 assists for the playoff-bound Pacers, who have won four in a row over the Clippers. Neither team led by more than seven points in the fourth quarter, when the Pacers scored on nearly every possession over the last five minutes. They've won 12 of their last 16. Tobias Harris led the Clippers with 21 points. Lou Williams added 20 and Montrezl Harrell had 19 off the bench. Austin Rivers scored 18 and DeAndre Jordan grabbed 12 rebounds.
Pistons 108, Nets 94 – Jackson, Johnson lead Pistons to 108-96 win over Nets
Reggie Jackson scored 29 points, Stanley Johnson had 17, and the Detroit Pistons preserved their slim playoff hopes with a 108-96 victory over the Brooklyn Nets on Sunday night. Detroit, playing its third straight game without injured All-Star forward Blake Griffin, avoided elimination from postseason contention for at least one game. Griffin, acquired Jan. 30 from the Los Angeles Clippers, suffered a bone bruise in his right ankle during last Monday's win over the Lakers. Ish Smith had 17 points and Andre Drummond added 13 points and 14 rebounds for the Pistons, who have now won five straight for the third time this season. The Pistons are four games behind Miami, which holds the eighth and last playoff spot in the Eastern Conference _ with five games remaining for each team. The Pistons have not made the postseason since the 2016, when they got swept by the Cleveland Cavaliers in the first round.
Golf – PGA – Poulter delivers to win Houston Open and get in Masters<
Ian Poulter made a 20-foot birdie putt on the final hole to force a playoff and won the Houston Open on the first extra hole with a par to earn the last spot in the Masters. One week after Poulter was mistakenly told he had locked up a spot at Augusta National through the world ranking, he left no doubt by winning in clutch fashion over PGA Tour rookie Beau Hossler. The 42-year-old Poulter closed with a 5-under 67 for his third PGA Tour win and second in the United States.  Hossler, who also shot 67, ran off four straight birdies on the back nine to take a one-shot lead going to the final hole. In the playoff, his shot from a greenside bunker flew over the green and into the water, and he made triple bogey.
Golf – LPGA – Park, Lindberg to finish ANA playoff Monday
Inbee Park and Pernilla Lindberg will return to Mission Hills on Monday morning to decide the ANA Inspiration. They played the par-5 18th four extra times before it was too dark to continue. Jennifer Song dropped out with a par on the third extra hole, and Park and Lindberg decided to play one more hole in fading light. Twenty minutes after sunset with portable lights and the scoreboard helping illuminate the green, Park made a 6-foot par putt and Lindberg knocked in a 2-footer to match.  They will resume play Monday at 8 a.m. on the par-4 10th.
NFL – Geno Smith agrees to 1-year deal with Chargers
Geno Smith has agreed to terms on a one-year deal with the Los Angeles Chargers.  The team announced the agreement with the quarterback Sunday night. Terms of the deal were not disclosed. Smith will likely join former Ohio State quarterback Cardale Jones in backing up Phillip Rivers. Smith played four seasons with the New York Jets after going 39th overall in the 2013 draft, then spent last season with the New York Giants. Smith started one game for the Giants, throwing for 212 yards and a TD in a 24-17 loss against Oakland.  Smith has appeared in 35 games, including 31 starts, and thrown for 6,174 yards with 29 touchdowns. He's also rushed for 659 yards and seven TDs.
NFL – Vikings sign Kendall Wright, who led Bears in receiving
The Minnesota Vikings have signed wide receiver Kendall Wright, who led the Chicago Bears in receptions and yards last season.  The Vikings announced the addition Friday, putting Wright in the mix behind standouts Adam Thielen and Stefon Diggs. Laquon Treadwell, the team's first-round draft pick in 2016, is the only other wide receiver on the roster with significant NFL playing time on his resume. Treadwell had 20 catches for 200 yards in 2017.  Wright was a first-round draft pick by Tennessee in 2012 and produced a career-best 94 catches for 1,079 yards in 2013. He spent five years with the Titans. In his lone season with the Bears, he finished with 59 receptions for 614 yards. Wright has 19 career touchdowns.
FIFA – Exploited Qatar World Cup workers to receive compensation
Qatar World Cup organizers say migrant workers building stadiums will receive more than $5 million in compensation after recruitment fees were demanded to secure employment in the Gulf nation. The announcement highlights ongoing concerns about the exploitation of workers, many of them drawn from South Asian nations including India and Nepal, who are relied on to prepare Qatar for the FIFA tournament in 2022. World Cup organizing committee secretary general Hassan Al Thawadi acknowledged Sunday that "all too often, the very people who have left their homes to provide for their families are the ones exploited."  Al Thawadi says his organizing committee and contractors "have agreed on a mechanism to ensure that our workers are reimbursed for the hardships they may have endured when coming to Qatar to work."  Organizers say 12 million Qatari riyals ($5.2 million) in compensation will be paid to workers from companies over the next two years.
MHSAA – High School Sports
Today
Baseball
Benton Harbor at Westland John Glenn, 2:00 p.m.   (doubleheader)