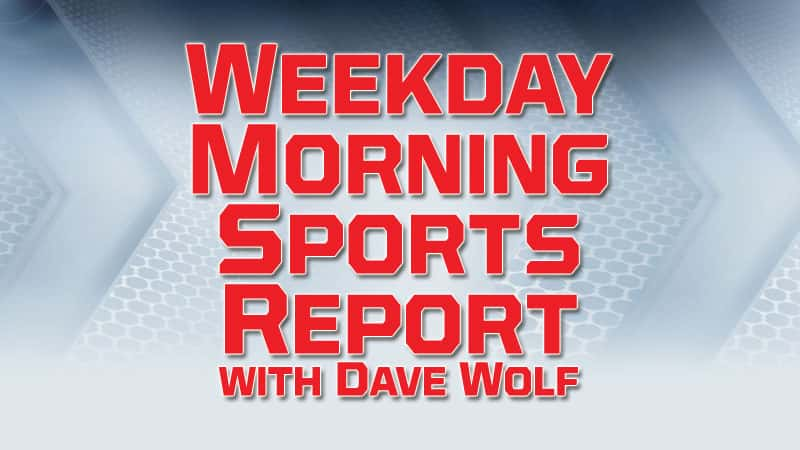 MLB – Major League Baseball – Opening Day
Yesterday
Chicago Cubs 8, Miami Marlins 4
Chicago White Sox 14, Kansas City Royals 7
Pittsburgh Pirates at Detroit Tigers, PPD, Rain
Cubs 8, Marlins 4 – Happ HR on 1st pitch of season; Rizzo, Cubs beat Marlins 8-4
Miami Marlins ace Jose Urena threw the first pitch of the 2018 major league season. Ian Happ promptly crushed it over the fence before the Chicago Cubs hit two more homers in an 8-4 win over the Marlins.  Happ became the first person to homer on the first pitch of the season since Boston's Dwight Evans against Jack Morris in Detroit 32 years ago.  Anthony Rizzo belted an emotional home run into the upper deck in an unscripted tribute to the victims of last month's shooting at his former high school in Parkland, Florida.  Kyle Schwarber also homered for the Cubs, who overcame two errors and a rough outing by Jon Lester.
White Sox 14, Royals 7 – Davidson hits 3 of White Sox's 6 homers in 14-7 rout of KC
White Sox designated hitter Matt Davidson became the fourth player in major league history to homer three times on opening day, while Tim Anderson had to settle for just two of Chicago's six home runs, and the White Sox pounded the Kansas City Royals 14-7 on Thursday to spoil their 50th anniversary celebration.  Of the four players with three-homer opening days, three have done it against the Royals, while the six homers by Chicago on opening day matched the big league record set by the Mets in 1988.  Jose Abreu also went deep for the White Sox, who picked up James Shields (1-0) in a big way after the former Royals ace surrendered four runs in the first inning. Shields wound up lasting six innings, holding Kansas City without a hit after that shaky first. 
Pittsburgh at Tigers – PPD – Tigers-Pirates opener postponed because of weather
The season opener between the Detroit Tigers and Pittsburgh Pirates has been postponed because of bad weather.  The game has been pushed back to Friday.  The Tigers announced the postponement about four hours before the scheduled first pitch on a dreary, rainy day in the Detroit area. Last season's opener for the Tigers, against the White Sox in Chicago, was also postponed because of rain.
Today
Pittsburgh (Nova 0-0) at Detroit (Zimmermann 0-0), 1:10 p.m.     WSJM Sports/Cosy-FM 12:45
NCAAMBB – Men's College Basketball – National Invitation Tournament
Last Night
2018 NIT Championship – Madison Square Garden, New York, NY
Penn State 82, Utah 66
Penn State 82, Utah 66 – Nittany Lions take NIT crown
Penn State has earned its second NIT championship since 2009.  Lamar Stevens scored 28 points and Josh Reaves had 18 in leading the Nittany Lions to an 82-66 win over Utah at Madison Square Garden. Tony Carr had 15 points and 14 assists to help Penn State finish 28-13. Sedrick Barefield hit six 3s and scored 22 points for the Utes, who end up 23-12.
NCAAMBB – Men's College Basketball – 2018 Final Four
Saturday
2018 NCAA Final Four – Alamodome, San Antonio, TX
3 Michigan vs. 11 Loyola-Chicago, 6:09 p.m.    95.7 & 1400 WSJM Sports 5:30 (Michigan feed)
1 Kansas vs. 1 Villanova, 8:49 p.m.                  95.7 & 1400 WSJM Sports
NCAAWBB – Women's College Basketball – 2018 Final Four
Tonight
2018 NCAA Final Four – Madison Square Garden, New York, NY
1 Louisville vs. 1 Mississippi State, 7:00 p.m.  95.7 & 1400 WSJM Sports
1 Notre Dame vs. 1 UConn, 9:00 p.m.                95.7 & 1400 WSJM Sports
NBA – National Basketball Association
Last Night
Detroit Pistons 103, Washington Wizards 92
Miami Heat 103, Chicago Bulls 92
Indiana Pacers 106, Sacramento Kings 103
Pistons 103, Wizards 92 – Drummond's 20-20 game leads Pistons past Wizards
Andre Drummond scored 24 points and pulled down 23 rebounds, and the Pistons beat the Washington Wizards 103-92 on Thursday night for their fifth win in six games. The Pistons remained five games behind the Bucks for the last Eastern Conference playoff spot. Anthony Tolliver, starting for Griffin, scored 14 points, while reserve post players Henry Ellenson and Eric Moreland combined for 11 points and seven rebounds in 26 minutes. Bradley Beal had 15 points for Washington and Kelly Oubre added 14. Before the game, Detroit announced an honorary call-up of G League forward Zeke Upshaw, who died Monday of heart problems after collapsing during a game on Saturday. Upshaw, 26, was in his second season with the Grand Rapids Drive.
Heat 103, Bulls 92 – Heat close in on clinching, top Bulls 103-92
Miami held Chicago to 37 percent shooting on the way to beating the Bulls 103-92 on Thursday night, pushing its home winning streak to a season-best eight games, and cutting the magic number for clinching a playoff spot to one.  Goran Dragic added 17 points for Miami, which got 13 from Justise Winslow and 11 from Kelly Olynyk. Bobby Portis ended up with 13 points and 16 rebounds for Chicago.
Pacers 106, Kings 103 – Oladipo comes through late to lift Pacers past Kings 106-103
Victor Oladipo got the Pacers off to a quick start, then picked up the pace again in the fourth quarter after Indiana's offense went into a brief funk. With that, Nate McMillan's team picked up another win on the road and stayed in the hunt for home-court advantage in the first round of the playoffs. Oladipo made his first five shots before scoring 13 of his 24 points in the fourth quarter, including a pair of free throws with 2.5 seconds remaining, and the Pacers held on to beat the Sacramento Kings 106-103 on Thursday night.
NHL – National Hockey League
Last Night
Detroit Red Wings 6, Buffalo Sabres 3
Chicago Blackhawks 6, Winnipeg Jets 2
Red Wings 6, Sabres 3 – Red Wings snap 11-game road skid with 6-3 win over Sabres
Dylan Larkin and rookie first-round pick Evgeny Svechnikov had a goal and assist each. Darren Helm had a short-handed goal, and Andreas Athanasiou also scored for Detroit as the Red Wings won on the road for the first time in more than a month by snapping an 0-10-1 skid, with a 6-3 win at Buffalo.  Red Wings captain Henrik Zetterberg picked up his 954th career point to match Sergei Fedorov for fifth on the franchise list.  Next on the list: Nicklas Lidstrom at 1,142.  Zetterberg earned the secondary assist on Danny DeKeyser's goal that put Detroit up 5-3 with 9:50 remaining.  Jimmy Howard made 29 stops in the win.
Blackhawks 6, Jets 2 – Emergency G pressed into action in Blackhawks win
Scott Foster thought it was going to be just another night. Then the 36-year-old accountant put on his goaltender gear and waited in Chicago's locker room. Then Foster was pressed into action when Chicago lost Anton Forsberg and Collin Delia to injuries, and the former Western Michigan University goalie stopped all seven shots he faced over the final 14 minutes of the Blackhawks' 6-2 victory over the playoff-bound Winnipeg Jets on Thursday. Foster is part of a crew of recreational goaltenders who staff Chicago's home games in case of emergencies for either team. Forsberg was expected to start, but he got hurt during a "pregame ritual," according to Quenneville. Delia, who was just recalled from the minors Wednesday, then stopped 25 of 27 shots in his NHL debut before he was helped off the ice with 14:01 left after he cramped up.  Foster got a big cheer from the crowd of 21,839 when he denied Tyler Myers for his first save about a minute after he came in. Backed by chants of "Foster! Foster!".  When it was over, the Blackhawks poured onto the ice and mobbed Foster in the net.  Tomas Jurco scored two goals.  Patrick Kane, Alex DeBrincat and defenseman Erik Gustafsson each had a goal and an assist, and Brandon Saad also scored.
NCAAFB – Michigan cancels home-and-home with Virginia Tech in 2020-21
Michigan has cancelled a home-and-home football series with Virginia Tech in 2020 and 2021.  Michigan announced Thursday it will pay a $375,000 cancellation fee to Virginia Tech. The Wolverines were supposed to host the Hokies on Sept. 19, 2020, and play at Virginia Tech on Sept. 11, 2021. Michigan says those games have been terminated, "with potential future dates to be discussed at a later date."  The Wolverines will now host Arkansas State on Sept. 19, 2020. The Sept. 11, 2021, date will be a home game against Washington that was previously supposed to be a week later.
Olympics – No Lillehammer return in 2026; bid seems more like for 2030
The man who organized the most popular Winter Olympics 24 years ago in the Norwegian ski resort of Lillehammer says it's too soon to return in 2026.  But watch for Lillehammer in 2030. Gerhard Heiberg tells The Associated Press he's "a little sad" that Norway can't join the chase for 2026.  He adds "I think 2026 would have been best for us" but acknowledges organizers and politicians had too little time to work out details.  Bidders have until Saturday to let the International Olympic Committee know of their interest. In October, the IOC will trim the field to serious contenders and pick the host next year.  At least four serious bids are likely to be on the table: Calgary, Canada; Stockholm, Sweden; Sapporo, Japan; Sion, Switzerland. Interest might also come for Austria, Italy and Turkey.
Golf – PGA – Glover, Tway share clubhouse lead, but PGA rookie tops them all
Lucas Glover and Kevin Tway are the clubhouse co-leaders in first-round action at the PGA's Houston Open. Glover and Tway each fired 7-under 65s in the morning following a two-hour delay to the start of the tournament because of overnight rain.  PGA Tour rookie Sam Ryder was the overall leader when the round was halted by darkness, playing his first 15 holes at minus-8. Ryder holed an 8-foot birdie putt on 15.
AHL – American Hockey League
Tonight
San Jose Barracuda at Grand Rapids Griffins, 7:05 p.m.
ECHL – East Coast Hockey League
Tonight
Kalamazoo Wings at Norfolk Admirals, 7:00 p.m.
Wheeling Nailers at Toledo Walleye, 7:15 p.m.
NBAGL – NBA G-League – Playoffs – Round 1 – Single Elimination
Tonight
Grand Rapids Drive at Raptors 905 (Mississauga, ON), 7:00 p.m.
MHSAA – High School Sports
Last Night
Baseball
Lake Michigan Catholic 10, Comstock 0 – Game 1
Lake Michigan Catholic 7, Comstock 5 – Game 2
Girls Soccer
Niles 1, Bridgman 1 – TIE
Brandywine 6, Hartford 0