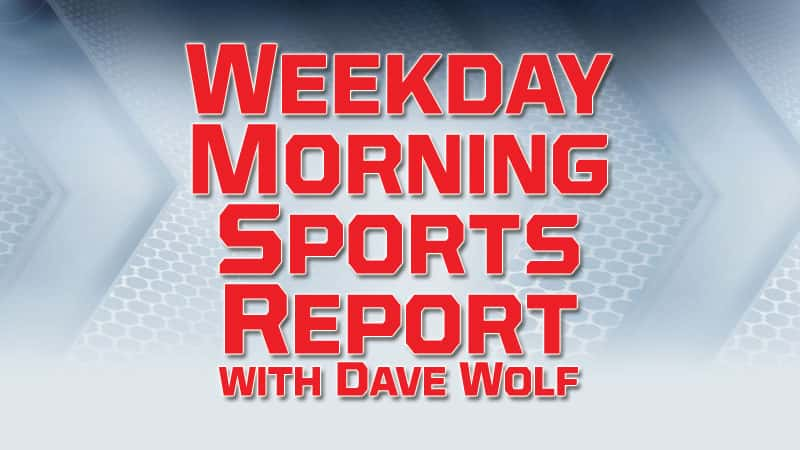 MLB – Major League Baseball – Opening Day
Today
Chicago Cubs (Lester 0-0) at Miami (Urena 0-0), 12:40 p.m.
Pittsburgh (Nova 0-0) at Detroit (Zimmermann 0-0), 1:10 p.m.     WSJM Sports/Cosy-FM 12:45
Chicago White Sox (Shields 0-0) at Kansas City (Duffy 0-0), 4:15 p.m.
MLB – Zimmermann takes the mound in Tigers opener
Detroit's Jordan Zimmermann takes the mound against Pittsburgh's Ivan Nova in an opening day matchup of teams that traded their 2017 aces. The Tigers dealt Justin Verlander late last season, and the Pirates traded Gerrit Cole during the offseason. Both stars were dealt to Houston.
NCAAMBB – Michigan State's Bridges headed to NBA draft
Michigan State star Miles Bridges is skipping his final two seasons of eligibility and entering the NBA draft. The school announced Bridges' departure Wednesday. It came as no surprise after a fine season in which he was named a second-team All-American by The Associated Press. Bridges weighed the idea of going pro last year as well, but he decided to stay in school, turning this season's team into a national title contender. Michigan State won the Big Ten but lost in the second round of the NCAA Tournament to Syracuse. There's been no announcement yet on the future of Spartans freshman Jaren Jackson, who could go even higher than Bridges in the draft if he decides to enter.
NCAAMBB – Brunson, Graham, among 5 players vying for Wooden Award
Jalen Brunson of Villanova and Devonte Graham of Kansas are among five players vying for the John R. Wooden Award as college basketball's player of the year. Brunson and Graham will square off at the Final Four when their teams meet in the national semifinals on Saturday. They, along with Deandre Ayton of Arizona, Marvin Bagley III of Duke and Trae Young of Oklahoma, have been invited to Los Angeles for the 42nd annual presentation of the award on April 6 during the College Basketball Awards. In addition to those five, Keita Bates-Diop of Ohio State, Trevon Bluiett of Xavier, Mikal Bridges of Villanova, Miles Bridges of Michigan State and Jevon Carter of West Virginia were named to the Wooden Award All-American team announced Wednesday. Voting took place from March 12-19 during the opening rounds of the NCAA Tournament.
NCAAMBB – Men's College Basketball – National Invitation Tournament
Tonight
2018 NIT Championship – Madison Square Garden, New York, NY
Penn State vs. Utah, 7:00 p.m.              95.7 & 1400 WSJM Sports
NBA – National Basketball Association
Last Night
Washington Wizards at Detroit Pistons, 7:00 p.m.
Chicago Bulls at Miami Heat, 7:30 p.m.
Indiana Pacers at Sacramento Kings, 10:00 p.m.
NBA – Autopsy: NBA G League player had 'sudden cardiac death'
A medical examiner has determined Zeke Upshaw, a swingman for the Detroit Pistons' G League affiliate, suffered a "sudden cardiac death" after collapsing on the court. WOOD-TV reports Kent County medical examiner Dr. Stephen Cohle conducted an autopsy Tuesday, though the investigation will continue for a few weeks. The 26-year-old Grand Rapids Drive guard collapsed Saturday during a game against the Long Island Nets, and died Monday. Cohle says he observed some "cardiac abnormalities," and he's working to determine the exact type of heart disease. Upshaw, a Chicago native who played for Illinois State and Hofstra, was undrafted and played internationally in Slovenia and Luxembourg. He spent most of the last two seasons with the Drive, appearing in 75 games primarily as a reserve and averaging 7.6 points.
NHL – National Hockey League
Tonight
Detroit Red Wings at Buffalo Sabres, 7 p.m.
Winnipeg Jets at Chicago Blackhawks, 8:30 p.m.
NFL – Raiders getting closer to Vegas
The Raiders are another step closer to leaving Oakland again. The Las Vegas Stadium Authority has signed the final documents necessary to build the future home of the Raiders. Raiders President Marc Badain and authority chairman Steve Hill have signed the lease and development agreements in Las Vegas for the $1.8 billion, 65,000-seat stadium that also will serve as home to the UNLV Rebels.   The move comes a day after NFL owners voted 31-1 to approve the stadium plans and financing, including a $200 million loan from the league.
NFL – New helmet rule likely be part of replay for officiating
The NFL's new rule outlawing a player from lowering his head to initially make any sort of hit with his helmet likely will be included in replay reviews for officials. That has not been decided yet. But Commissioner Roger Goodell and competition committee chairman Rich McKay made it clear that video reviews probably will be part of the process. After noting the unanimous approval of the new rule among coaches, Goodell said on-field officials felt the same way. Late Tuesday, the owners rewrote the rule on using the helmet, making it a 15-yard penalty for any player to lower his head to initiate any hit with the helmet. While the offender could be disqualified, owners did not call for an automatic ejection on such a play _ at least not yet. In college football, when a player is penalized for targeting and a replay review affirms it, he is ejected.
NCAAFB – Watts-Jackson plans to leave Michigan State program
Jalen Watts-Jackson, who etched his name into Michigan State lore by scoring the winning touchdown against Michigan in 2015 on a botched punt, says he has requested his release from the Spartans.  In a message posted on Twitter on Wednesday, Watts-Jackson said he will be graduating this year and wants to "pursue a new program" for his last year. He has a season of eligibility remaining. Watts-Jackson has appeared in 22 games in three seasons with Michigan State. With the Spartans trailing Michigan in the final seconds three years ago, Wolverines punter Blake O'Neill failed to handle a snap. In the ensuing scramble, Watts-Jackson grabbed the ball and ran 38 yards with no time remaining, giving the Spartans a 27-23 victory .
Wrestling – Russia says US barring its wrestlers from Iowa competition
The Russian Foreign Ministry has accused the United States of trying to bar Russian wrestlers from an upcoming competition and claims the U.S. is unfit to host international sports events.  The ministry says the U.S. embassy in Moscow refused to arrange visa interviews for the Russian team ahead of the freestyle wrestling World Cup, which starts April 5 in Iowa City, Iowa.
AHL – American Hockey League
Last Night
Grand Rapids Griffins 3, Texas Stars 2 – Shootout
Chicago Wolves 3, Iowa Wild 1
ECHL – East Coast Hockey League
Last Night
Kalamazoo Wings 4, Atlanta Gladiators 3
MHSAA – High School Sports
Last Night
Baseball
South Haven 3, St. Joseph 0 – Game 1
St. Joseph 3, South Haven 2 – Game 2
Niles 8, Brandywine 0
Dowagiac 8, Coloma 1 – Game 1 – 8 Innings
Dowagiac 3, Coloma 0 – Game 2 – Suspended Bot 4 – Darkness
Softball
South Haven 2, St. Joseph 1
Colon 8, Decatur 2 – Game 1
Decatur 12, Colon 1 – Game 2
Girls Soccer
Fennville 5, South Haven 1
Girls Tennis
St. Joseph 5, Lakeshore 3
South Haven 5, New Buffalo 3
Portage Northern 8, Niles 0
Track and Field
Boys: Battle Creek Central 104, Benton Harbor 43
Girls: Benton Harbor 67, Battle Creek Central 58
Boys: South Haven 92, Paw Paw 44
Girls: South Haven 71, Paw Paw 61
Tonight
Baseball
Paw Paw at Bloomingdale, 4:30 p.m.
Lawrence at New Buffalo, 4:30 p.m.
Martin at Gobles, 4:30 p.m.
Watervliet at Hartford, 4:30 p.m.
Softball
Buchanan at Benton Harbor, 4:00 p.m. (doubleheader)
Lawrence at New Buffalo, 4:30 p.m.
Watervliet at Hartford, 4:30 p.m.
Girls Soccer
Niles at Bridgman, 5:00 p.m.
Brandywine at Hartford, 5:00 p.m.