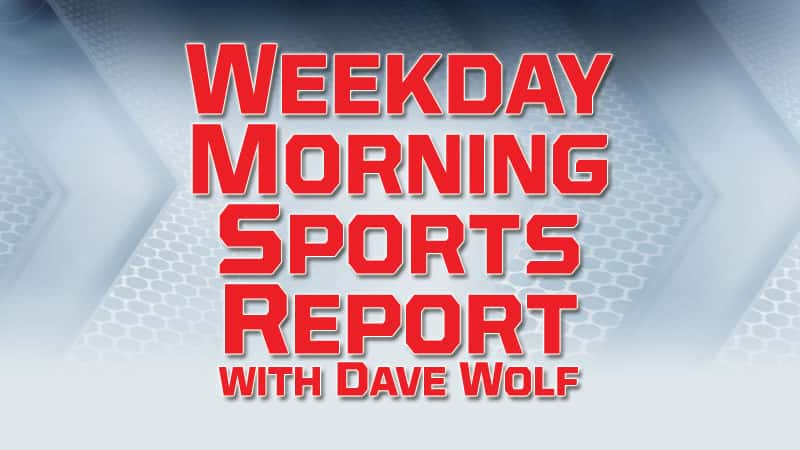 NBA – National Basketball Association
Last Night
Houston Rockets 118, Chicago Bulls 86
Indiana Pacers 92, Golden State Warriors 81
Rockets 118, Bulls 86 – Rockets extend streak to 10 games with 118-86 win over Bulls
Eric Gordon scored 31 points and tied a career high with eight 3-pointers on a night James Harden sat out to rest, and the Houston Rockets got their 10th straight win with a 118-86 rout of the Chicago Bulls on Tuesday night.  Trevor Ariza added 21 points and Chris Paul had 13 points and 10 assists in his return after missing the last three games with a sore hamstring.  The NBA-leading Rockets became the first team since San Antonio in the lockout-shortened 2011-12 season to have three winning streaks of at least 10 games in a season. They won 14 in a row from Nov. 16-Dec. 18 and 17 straight from Jan. 28-March 7.  Lauri Markkanen returned after missing Saturday's game with lower back spasms and had 22 points for the Bulls, who dropped their sixth straight.
Pacers 92, Warriors 81 – Warriors don't have enough down stretch, lose to Pacers
The injury-plagued Golden State Warriors again lacked the firepower to finish off an opponent, and Victor Oladipo scored 24 points in the Indiana Pacers' 92-81 victory over the defending champions Tuesday night. Nick Young scored 12 points as Golden State, playing without its four All-Stars for a second straight game, lost back-to-back contests for only the ninth time during coach Steve Kerr's four seasons.  Draymond Green had been set to return but was still feeling ill, while NBA Finals MVP Kevin Durant had hoped to play Tuesday but is likely to be back from a rib injury Thursday against Milwaukee.
NHL – National Hockey League
Last Night
Detroit Red Wings 5, Pittsburgh Penguins 2
Red Wings 5, Penguins 2 – Glendening scores twice to lift Red Wings over Penguins 5-2
Luke Glendening scored twice, Darren Helm matched his career high with three points and the Detroit Red Wings beat the Pittsburgh Penguins 5-2 on Tuesday night. Helm had a goal and two assists, and Frans Nielsen and Niklas Kronwall also scored for Detroit. Jimmy Howard made 22 saves to help the Red Wings win in regulation for the first time since a 3-1 victory over the Carolina Hurricanes on Feb. 24. Sidney Crosby and Kris Letang scored for the Penguins. Matt Murray stopped 21 shots.  The Penguins are the first visiting team to lose twice at Little Caesars Arena. They also fell 4-1 in Detroit on Dec. 31.
MLB – Major League Baseball – Spring Training
Yesterday
Detroit Tigers 2, Tampa Bay Rays 1
Boston Red Sox 4, Chicago Cubs 2
End of Spring Training
MLB – Sewage leak spills onto field during game at Dodger Stadium
The final game of spring training between the Angels and Dodgers was cut short Tuesday night because of a foul-smelling leak that spilled sewage onto the field at Dodger Stadium. The game was called after a 32-minute delay in the bottom of the fifth inning, giving the Dodgers a 4-3 victory over their Los Angeles rivals. The leak, caused y a water main break, left a brown mess pooling near the Dodgers' dugout in foul territory as the grounds crew worked to clean up. After about 10 minutes of waiting on the field, both teams returned to their respective dugouts. Umpire crew chief Gerry Davis announced the delay as officials tried to determine if it was a stadium or city issue. Both teams open the regular season Thursday, with the Dodgers hosting the rival San Francisco Giants and the Angels playing in Oakland.
NFL – League owners approve redefined catch rule
NFL owners have redefined a few rules at their meetings in Orlando, and there's a catch to it.  The league has redefined the catch rule to eliminate confusion and controversy about receptions. There are basically three elements defining a catch: having control of the ball; getting two feet down or another body part; making a football move, such as taking a third step or extending the ball.  Falcons chairman and committee chairman Rick McKay says the committee cited overturned receptions by tight ends James and Miller last season among the dozens of plays they reviewed "dozens of times." Packers coach Mike McCarthy says the third step recommendation was excellent and cleans up a majority of receptions that were in question. In another rule modification, using the crown of the helmet to initiate any hit will result in a 15-yard penalty.
NFL – Luck starts throwing
Colts coach Frank Reich says quarterback Andrew Luck has begun to throw as part of the rehab for his surgically repaired shoulder. Luck missed the entire 2017 season because of the injury. Reich said he hasn't seen Luck in action yet, but the franchise quarterback is clearly making progress after spending time in California working with quarterback mechanics gurus Tom House and Adam Dedeaux..
AHL – American Hockey League
Tonight
Texas Stars at Grand Rapids Griffins, 7:00 p.m.
Iowa Wild at Chicago Wolves, 8:00 p.m.
ECHL – East Coast Hockey League
Last Night
South Carolina Stingrays 2, Kalamazoo Wings 1
Tonight
Kalamazoo Wings at Atlanta Gladiators, 7:05 p.m.
MHSAA – High School Sports
Last Night
Girls Soccer
St. Joseph 2, Allegan 2 – TIE
Coloma 8, New Buffalo 0
Lake Michigan Catholic 3, Hartford 3 – TIE   
Watervliet 4, Covert 1
Harper Creek 9, Battle Creek Central 1
Olivet 2, Comstock 1
Today
Baseball
South Haven at St. Joseph, 4:00 p.m. (doubleheader)
Niles at Brandywine, 4:15 p.m.
Galesburg-Augusta at Paw Paw, 4:30 p.m.
Comstock at Lake Michigan Catholic, 4:15 p.m.
Eau Claire at Saugatuck, 4:30 p.m.
Softball
South Haven at St. Joseph, 4:00 p.m.
Niles at Brandywine, 4:15 p.m.
Galesburg-Augusta at Paw Paw, 4:30 p.m.
Eau Claire at Saugatuck, 4:30 p.m.
Girls Soccer
Paw Paw at Kalamazoo Christian, 5:00 p.m.
Kalamazoo Central at Lawton, 5:00 p.m.