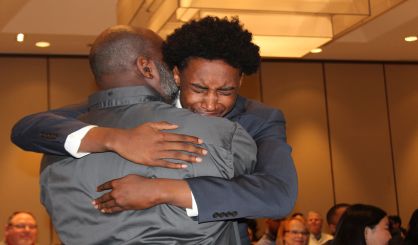 A 17-year-old who has been picked as the Michigan Youth of the Year by the Boys and Girls Clubs of America says he thinks all kids with an interest should stop by the Benton Harbor club. Quincy Sulton is a junior at Benton Harbor High School who first went to the club when he was about 12 to play basketball. Ever since, he's grown his involvement, now even working to teach drama and dance to younger kids who go. He tells WSJM News the club has enriched his life.
"It definitely helped me mature a lot with learning, "Sulton said. "The program 'Passport to Manhood' helped me grow up a whole lot and understand a lot of things so I felt that I really grew going to the club."
Sulton beat out 15 other kids to win Michigan Youth of the Year at a reception in Southfield after giving a speech.
"It was a blessing and an honor," Sulton said. "It's something I wanted for a long time and just to get the achievement feels really good."
Now that he's Michigan Youth of the Year, Sulton has received $8,000 in scholarships which ought to help as he studies youth development. He's now in the running for the national Youth of the Year title. Sulton says young people should check out the Boys and Girls Club just to see how everything fits.