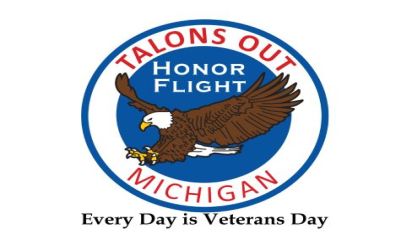 A student essay contest is being held by Talons Out Honor Flight. The organization provides veterans of World War II and the Korean War with free trips to Washington, D.C. to see their war memorials each year, so far making those visits possible for more than 800 vets. Director Bobbie Bradley tells WSJM News as Talons Out Honor Flight prepares for trip number 13, it's asking middle and high school students to identify a veteran of Korea or World War II who has passed away.
"The student can do the research, complete their essay, submit that to us, and it's an opportunity for the kids to learn about the history of a local veteran, to be able to express back what they've learned," Bradley said.
A student can pick any deceased veteran from those two wars.
"They may not have met them," Bradley said. "It could be a local hero. There are a lot of local, hometown heroes that we have heard about from World War II and Korea, and they just need to be able to research that veteran and share his story with us."
There will be a winner from the middle school category and a winner from the high school category. They'll get to go on an Honor Flight to read a eulogy for their veteran at Arlington National Cemetery. The next lower Michigan Honor Flight will be in September. You can donate to Talons Out Honor Flight at its website. Bradley says just $10 will buy a veteran's lunch during one of the trips. You can find out everything you need to know about the essay contest right here.