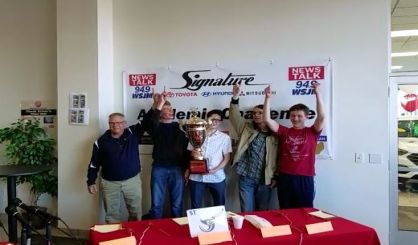 Another year of the Academic Challenge has wrapped up with St. Joseph crowned the winners. In the finals Thursday night, St. Joe beat Coloma as the wiz kids showed off their trivia skills in math, history, and current events. St. Joe Academic Challenge Coach Gary Etter spoke with WSJM News about his team after their win.
"These kids are naturally pretty bright, and kudos to them and their teachers," Etter said. "They've had a good education and they've taken advantage of that opportunity."
A surprise for the evening was the announcement of a $1,000 scholarship for Cassopolis Ross Beatty senior Amelia Ayers. She took part in Academic Challenge this year, and her coach got her there without telling her the award was coming. It'll help when she ships off to college next year.
"I plan to go to maybe a college in Maryland called St. Mary's to pursue a STEM-related field, maybe environmental engineering," Ayers said.
Amelia told us the $1,000 scholarship from Jonah McDonough State Farm was a great surprise. The tournament winners, St. Joe, get to hold on to the trophy they won last year, courtesy of WSJM.