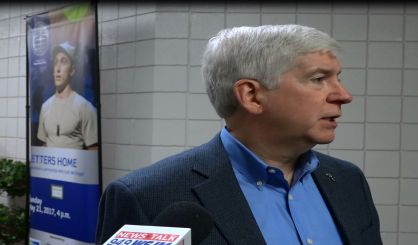 $100 million is the price tag for Governor Snyder's ambitious plan to expand job training programs for all ages. Called the "Marshall Plan for Talent," he tells WSJM News the reaction has been positive from lawmakers so far since he announced the initiative in South Haven last month.
"If you look at the future, it's going to be about lifelong learning," Snyder says. "It's not just going to be about the 18-22 year-olds, it's the fact that many people coming out of school today will probably have to be re-trained once or twice in their career."
Snyder tells WSJM News the proposal is being well-received by lawmakers, who he says recognize the need to do things differently to fill skilled trades jobs in fields like manufacturing and computer science. We asked what the biggest challenge is for him in the roughly nine-months he has left as governor.
"It's really this talent question," replied Snyder. "This is a problem if you talk to employers across the nation. They have positions open that are not being filled, often well-paying, high-demand fields. Let's make that connection happen, because we can do that better than anyone else in this country."
Snyder unveiled the "Marshall Plan for Talent" earlier this year in South Haven. We will have our entire conversation with the governor available as a podcast on Tuesday.