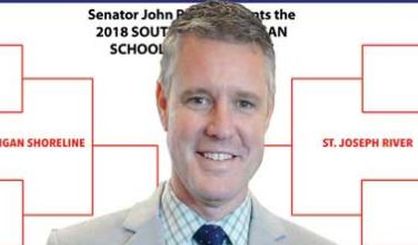 It's time once again for state Senator John Proos' Southwest Michigan Spirit Tournament. Proos tells WSJM News it's a way for communities throughout his district to demonstrate their support for the local high school, with last year's winner being Watervliet. Proos asks schools across the district to send him photos showing how they're filled with pride.
"I'm looking forward to seeing some of that great creativity that we have all throughout our school communities in the 21st Senate district," Proos said.
Communities across the 21st state Senate District are pitted against each other in the bracket-style competition throughout the spring. Round one just wrapped up on Friday. The champion will receive a special tribute from the governor and local lawmakers, along with an engraved trophy until the following year. Go to SenatorJohnProos.com to find out more.